The first thing you notice in all the photos is the smile — a mischievous, impish grin that makes Ingrid Bates' eyes light up, a clear indication she's not just turning on a "happy face" for the camera.
It's that smile that has inspired countless people, from her family, teaching colleagues, students, students' parents and friends on the Incredibates Facebook page.
And it's the spirit behind that smile that will see Bates take to the stage of the Vancouver Conference Centre May 15 to receive the 2018 Courage To Come Back award in the medical category.
"It's really important to remember that it's OK to feel bad sometimes but just don't do it for too long," the Abbotsford teacher says. "Trust who you are and that you can get through it."
There's no denying Bates has had to get through a lot.
A mother of three young children, she was 40 when she decided to get a teaching degree, taking just one course a semester at the beginning. It took her several years of balancing motherhood, university and teaching private piano lessons, but finally she was on the last lap — going from Abbotsford to SFU then out to Surrey for her practicum and then heading home, throwing a quick dinner together before teaching a private music lesson.
It was towards the end of this whirlwind that she felt a lump in her breast. Taking breaks when absolutely required as she underwent a mastectomy, chemotherapy and radiation, Bates successfully pushed through her studies and embarking on a career that gave her intense satisfaction.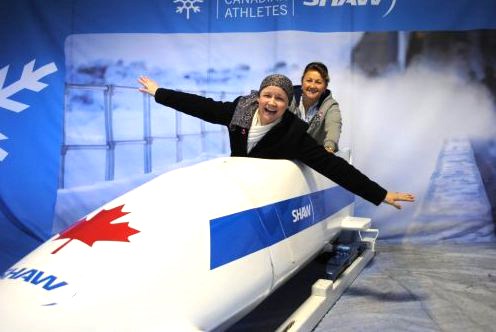 Looking back on this first leg of her cancer journey, she too can be amazed she pulled it all off.
"I think for me it's about moving forward, getting better, being better for my family, myself," she said of her motivation to juggle treatments and continuing on her quest to become a teacher. "It's about doing the very best job I can. I'd gone that far and I wasn't going to stop."
Proof of her drive is evidenced by the schedule she was somehow maintaining before she got her second cancer diagnosis.
Her oldest son Sheldon was in university; son Eric was in Grade 12 while daughter Natalie was in Grade 10. On top of her teaching job, she was also teaching night school and, while most teachers embrace the summer break, she spent that July teaching summer school. She was finally taking a break that August by going on a camping trip with her sister when she flipped her bike and dislocated her shoulder. She was in an ambulance, her mood soured by too much laughing gas, when her resilience showed a crack.
"I was so mad — why is all this happening to me?"
School had resumed when she started noticing she was getting sick more often; more than that, it was taking her a long time to recover. A cold could knock her flat. By spring break, her heart was pounding by the time she reached the top of a flight of stairs. She thought she had a heart problem that could be addressed by exercising more so she signed up for a Zumba class.
"I couldn't do the class — and that's not me," she says. "I'm the one pushing myself and laughing and enjoying it."
For the first few years after her breast cancer, she had occasionally worried about it coming back. By this time, however, all thoughts of cancer were out of her head when she went to her doctor's to see why she was so tired all the time. He looked at how pale she was and ordered blood tests. The results were immediately worrying.
Her husband Lloyd, who is a jazz pianist, and son Eric were with her when she got the news.
Unfortunately, Bates was among the one per cent of patients who, doctors believed, had developed acute myeloid leukemia as a result of her chemo treatments.
"I simply looked at the pathologist and asked, 'Will I have to do chemotherapy again?'"
The answer was yes. That night she required three blood transfusions; she spent the time doing lesson plans for the substitute teacher who'd have to take over from her the next morning. Meanwhile her husband took his cues from her. "Later he said to me, 'I just saw how you handled the news and I knew you'd be OK.'"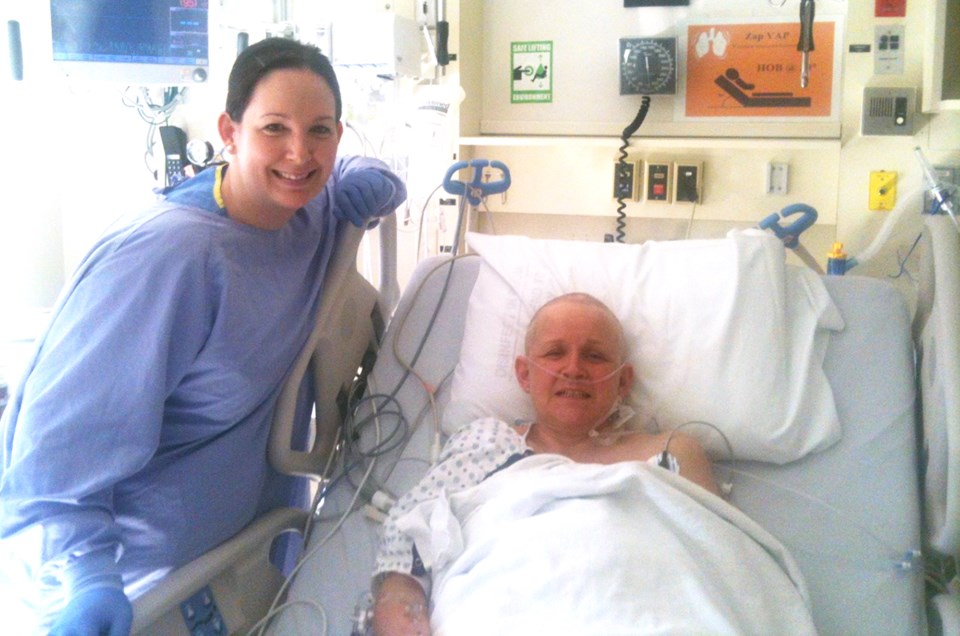 This go-round, chemotherapy was at Vancouver General Hospital where she underwent chemo every day to kill all her white cells. Acutely prone to infection, she contracted c-difficile and, with her blood pressure dipping desperately low, she was put in ICU.
It was one of the first times she felt fear. She called her husband, telling him she needing him by her side. She also said a prayer: "Please, just let me live. There is so much to live for."
During her first remission, she and Lloyd lived in an apartment in the West End because Abbotsford was simply too far away from VGH should there be a complication. They'd go for walks along the seawall, albeit very slow walks as she regained strength. Once again, she tapped her inner resources to push through it. She couldn't live her life as a constant patient. "I needed to get out and do my thing."
At times she wondered whether she was simply sanitizing her anxieties to protect herself and others, but she came to accept that her resilience was innate, an approach passed down from her grandmother and mother. "I had moments, for sure, but then you move on and you don't dwell on them for long."
There were still challenges to come. Bates needed more chemo and a stem cell transplant. Luckily, her sister Lorraine Reimer was not only a perfect match but agreed to be her donor.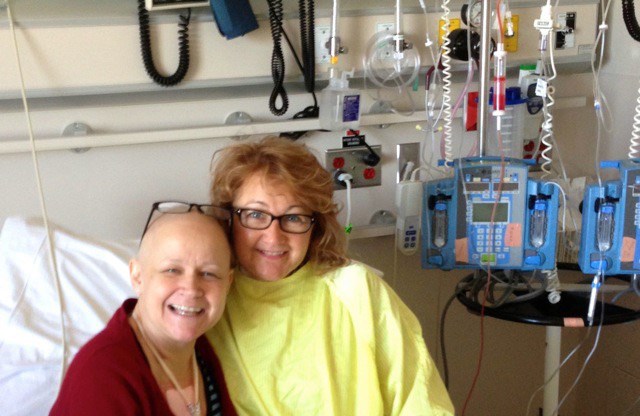 This round of chemo was brutal. It affected the lining of her mouth and esophagus, making it impossible to even swallow her own saliva. "It was like someone taking a knife and sliding it down your throat. Not just one knife but five or six."
The results were worth it though. The transplant itself is a relatively simple procedure, and she just needed time for the cancer-free cells to do their magic. "Our bodies are just so incredible and the medicine we have learned is out of this world."
Still, her travails weren't over. Just as there's a concern your body will reject an organ transplant, Bates developed "graft versus host."
"These stem cells, your infection fighters, it's almost like they get dropped behind enemy lines and they shoot at everyone," she says of her body's reaction to the transplant. "Sometimes it burns itself out but mine hasn't."
Today she's back on prednisone and will undergo further treatments.
Do you think that stopped her? She's in the midst of getting her master's degree, something she started in the midst of all of this.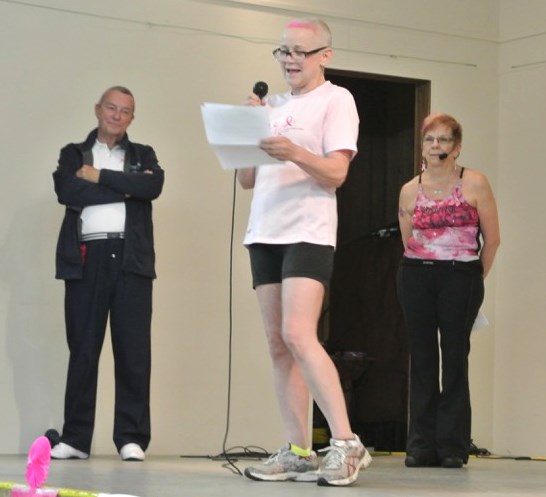 She's thrilled to be a Courage To Come Back recipient, primarily for what the awards represent: "It's so wondrous to take what you think might be ordinary people and see them in extraordinary ways."
 Although she doesn't see herself as being extraordinary, she does acknowledge her pragmatic can-do response to all of life's challenges has inspired others. It's been a hard journey for her family, but she thinks they're all better for it. "I think my children are more sensitive to others, more resilient. I hope that, too, when they saw that I hit all of this straight on and accepted it and stayed positive, that they carry through with it in their lives….
"It's having the ability to put one foot in front of the other and keep going," she says. "Life is too precious. There's so much to learn, so much to do, so many people to love. I can't imagine stopping.
"I'm just going to live as best I can. I'm not stopping."
The Courage To Come Back awards gala on May 10 is a major fundraiser for Coast Mental Health. To find out more or purchase tickets, go to couragetocomeback.ca.