Laura Saimoto has the type of grace and humility that belies her earliest life experiences.
Growing up in Kerrisdale, Laura and sister Deb were usually the only Asians in class.
Landowners didn't want to sell to her father Cy because of his ethnicity. Forced internment had just ended a few years earlier.
Yet there was Laura on Wednesday morning, with her mother Ritsu and sister Deb, beaming with pride over the same heritage that 70 years earlier made her family outsiders in Canada.
Standing in a small but packed room near Alexander Street and Jackson Avenue, Laura was moved to tears as the Vancouver Japanese Language School and Japanese Hall (VJLS-JH ) were given a National Historic Site designation by Parks Canada.
"We are so deeply joyous and grateful to see this day come," Laura said.
With roots dating back to 1906, the buildings join a select group in Metro Vancouver — Stanley Park, the Lions Gate Bridge and Gulf of Georgia Cannery in Steveston — to receive such a distinction. They're the types of designations bestowed upon significant people, places and events that have shaped Canadian history.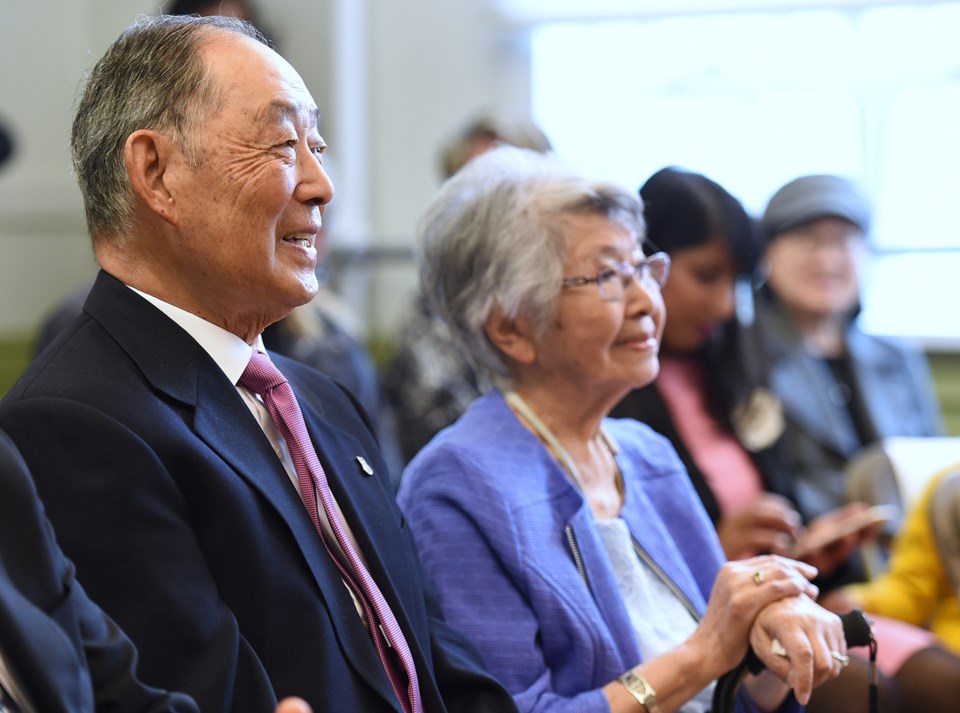 Three generations of Vancouverites were in attendance Wednesday, ranging from students who attended the school in 1940 to toddlers who call the school home today.
"I don't think there are words for what you're experiencing today," said Coun. Lisa Dominato. 
The first Japanese immigrants arrived near Powell Street in the early 1880s, many of whom worked at the Hastings Sawmill.
The school was founded by those early settlers, and Japanese-only instruction was offered until 1919. The pressures of assimilation saw the institution shift to a second-language school, as students attended nearby Strathcona elementary during the day and Japanese instruction from 4 to 5:30 p.m.
As the 1920s rolled on and the neighbourhood grew, $40,000 was raised to expand the school and add a community centre. Close to 580 stores operated by Japanese-Canadians existed near Powell Street in 1921. The hall was completed seven years later.
The VJLS-JH was the first and largest of the 50 schools operating before the Second World War, and its art deco look was designed by the same firm, Sharp and Thompson Architects, responsible for UBC's Point Grey Campus and the Burrard Street Bridge.
All the while, the Asahi Baseball team racked up nine championships at the nearby Powell Grounds, known today as Oppenheimer Park.
By 1941, the neighbourhood had about 8,000 Japanese-Canadians living in the area. That number changed dramatically within a year, as forced internment from 1942 to 1949 moved more than 20,000 people away from the coast and into B.C.'s Interior or points further east. Homes and properties were confiscated, while more than 400 business in the area were shuttered.
It was against this seemingly hopeless backdrop that community leaders lobbied successfully to retain ownership of the property in 1952. It re-opened a year later, one of the few properties returned to Japanese-Canadians after the war.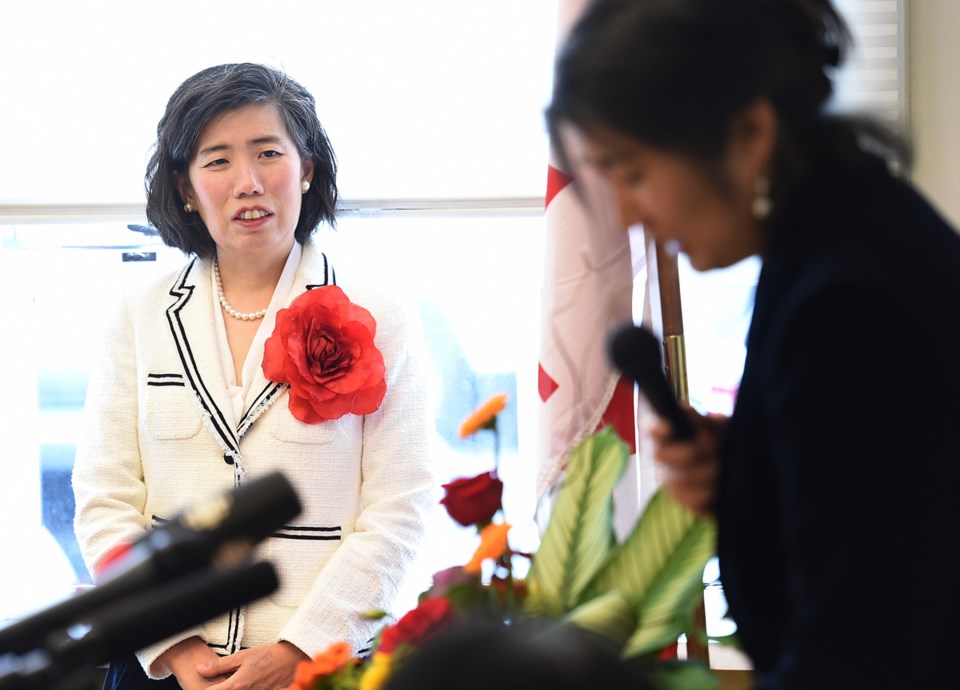 "We are humbled and grateful for the opportunity to carry on our 113-year history," Deb Saimoto said, choking back tears. "Together we will not only continue this legacy but we will transform it into an everlasting vision."
A five-storey wing was added to the property in 2000, followed by the launch of a childcare division in 2012. The buildings were granted heritage status by the city in 1995. The city formally apologized to the Japanese-Canadian community in 2013 for its role during the internment years.
"It is imperative that we fight for our rights, it is imperative that we fight for our children so that they have a place of belonging and this building is that legacy," said Vancouver-Mount Pleasant MLA Melanie Mark.
The school and hall's location, just footsteps from the Oppenheimer Park encampment, were not lost on Vancouver-East MP Jenny Kwan. She praised the Japanese-Canadian community for its inclusiveness, despite the neighbourhood's challenging conditions.
"In their hearts of hearts, they will never embark on a process of displacing people in this community. Their effort exemplifies the best of humankind," Kwan said.
@JohnKurucz