Two years after city council adopted new rules to reduce the number of illegal marijuana dispensaries operating in Vancouver, 57 pot shops continue to flout the law while 41 have closed or are no longer selling weed.
New city data released to the Courier shows only 10 dispensaries — five retail and five compassion clubs — have been granted business licences since council voted 8-3 in June 2015 to adopt regulations to control the proliferation of pot shops.
"I think the intended effect of our bylaw has had some positive effect with the explosive growth that we saw just two years ago, with an unending number of these stores opening up," said Coun. Raymond Louie, who was one of the councillors who voted in favour of the new regulations.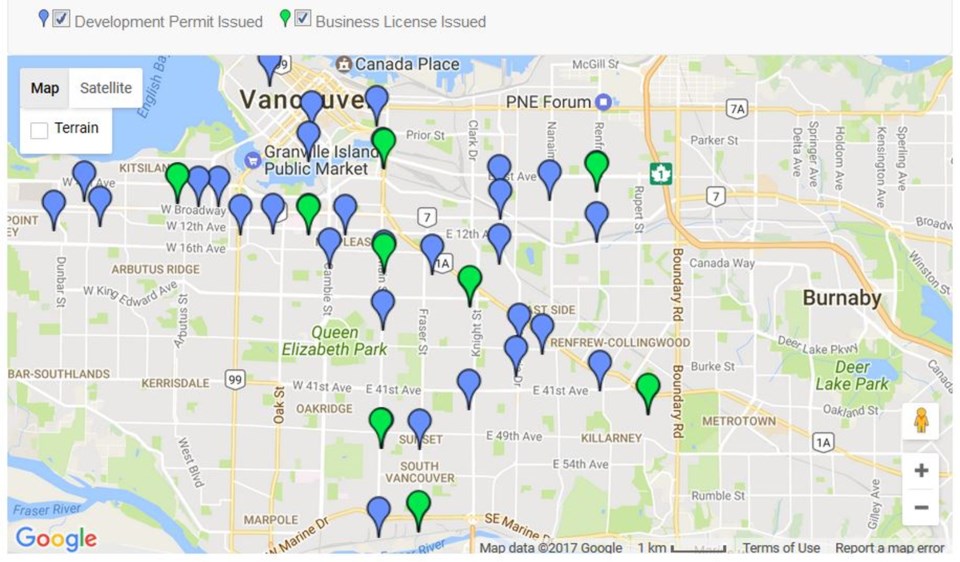 Close to 100 shops were operating in Vancouver when council adopted the business licence scheme. As of June 6, the city's data shows a total of 95 stores continue to operate, with 57 subject to enforcement and 38 allowed to stay open because they have a business licence, are close to getting one or have an application under review.
To date, the city has issued 1,677 tickets to pot shop owners for operating a dispensary without a business licence. A total of 1,077 tickets were issued for $250 while the remaining 600 were for $1,000, after council agreed in December 2016 to increase the fee. The city says 358 of the tickets were paid.
The city also filed 27 court injunction applications against operators but Louie said they have yet to be heard in court. He said he was frustrated with the court's inaction on the injunctions, saying it prevents the city from taking legal steps to shut down more pot shops.  
"We've gone through a great exercise to assemble evidence and to put in place enough of a package to file the injunction at the courts and they haven't processed them at all," Louie said. "So this is frustrating for us when we are doing our part."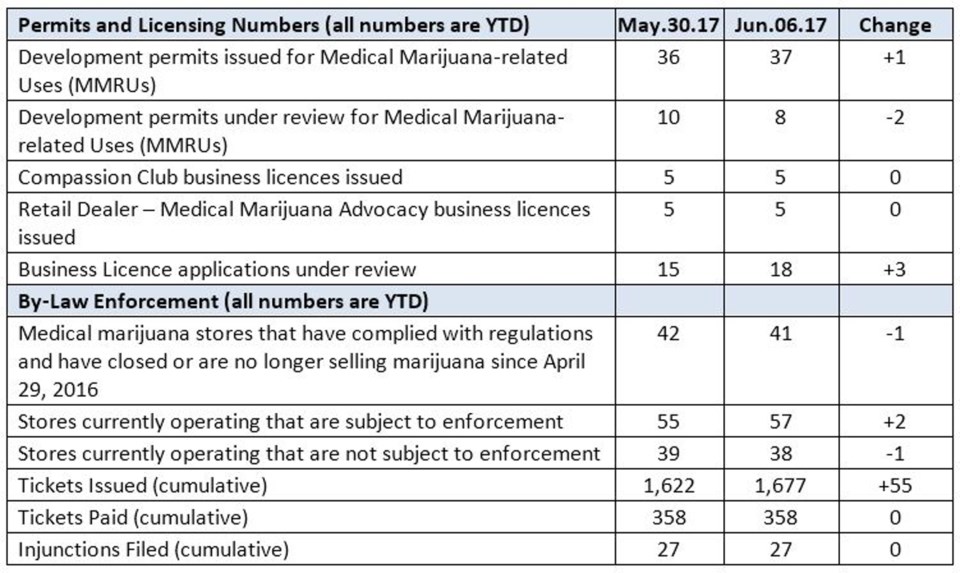 Don Briere owns three Weeds Glass and Gifts stores in Vancouver and co-owns two others. He is one of the operators who continues to operate dispensaries without a licence. He applied for a business licence but said he was rejected based on the city's rules that prohibit a dispensary from operating within 300 metres of schools, community centres, neighbourhood houses and each other.
Briere said one of his stores was 285 metres from a school.
A business licence for a retail outlet costs $30,000 per year, and $1,000 per year for a compassion club. All stores granted a licence must have met a set of criteria that includes criminal record checks for operators and meeting zoning regulations.
Briere said the city regularly tickets his stores, and he continues to dispute the fines in court. He also has lawyers acting on his behalf on a Charter challenge aimed at giving pot shop customers "reasonable access" to medical marijuana.
"A guy in a wheelchair or with walker shouldn't have to go 50 blocks or wait for the mail," said Briere, pointing to a federal court decision in 2016 that ruled Canadians have a constitutional right to grow marijuana for medical purposes. In that case, Federal Court judge Michael
Phelan noted "dispensaries are at the heart of cannabis access."
When told that only 10 dispensaries received business licences, Briere said it seemed the city's regulations "were set up for failure." With the federal government promising to decriminalize marijuana, he said the city's regulations and court action is costing taxpayers money.
"It's not very cost effective to be doing this," he said, noting he pays property taxes, unemployment insurance, WorkSafeBC fees and GST. "It would be more effective if they just licensed the ones that are reasonable, and the ones that are paying all the proper taxes."
mhowell@vancourier.com
@Howellings