A $14-million investment by the provincial government, announced Jan. 16, means Union Gospel Mission will be able to embark on the biggest expansion in its 75 years of existence.
The funding from the B.C. government's Affordable Rental Housing Program will go towards a $34.5-million project to expand Union Gospel Mission's Women and Families Centre at 616 East Cordova St.
The charitable organization operates in seven locations in Metro Vancouver, four of which are in the Downtown Eastside.
The Women and Families Centre is a three-storey building that has outreach workers and offers supports such as emergency food hampers and an afterschool program. On the second floor is what's called "The Sanctuary," a stabilization program for women and mothers with babies. It's for women who want to overcome addiction or get into recovery from addiction. Currently, there's room for up to 15 women and up to six babies in the live-in suites. The supports help them stabilize for whatever their next step is, whether it's permanent housing or an alcohol and drug recovery program. Part of its purpose is to keep moms and babies together during a difficult time.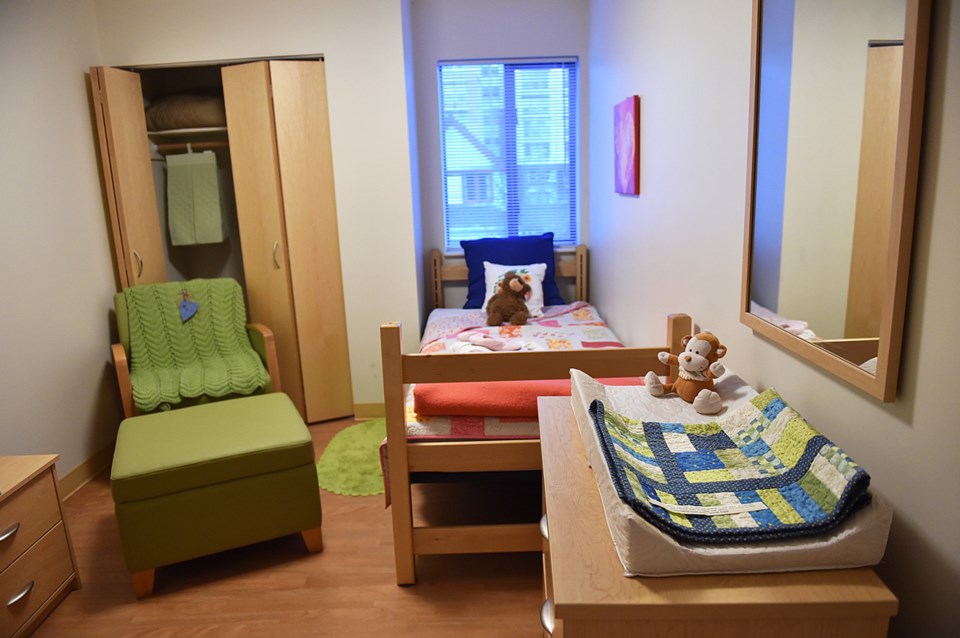 The government funding means the building will be expanded and rebuilt from the ground up, going from three to seven storeys. There will be 63 supportive housing units, of which 36 are family units at shelter rates and the remaining 27 are treatment beds. It's anticipated there will be about 120 beds across the 63 units. Construction is expected to be completed in 2020.
"This is a huge deal. This is the biggest expansion in our history. It will have an impact on thousands, if not tens of thousands, of people over the coming decades," said Union Gospel Mission spokesman Jeremy Hunka. "This is a game changer. We're in the middle of a housing crisis. We know that the child poverty rate in the Downtown Eastside is 74 per cent. That's heart breaking. That is unacceptable. How is that OK? We need, as a city, as a region, as a province, to do better than that. And this one project, [while] one announcement is not going to stem the tide, we definitely hope this will be part of turning the tide."
Union Gospel Mission is relying on private donations to make up for the remainder of the cost. It's already raised $3 million and hopes to have 80 per cent of cost of the project raised by ground breaking.
The mission has come a long way from its humble beginnings. It started small, in Gastown, across from the Old Spaghetti Factory in a space where 60 people would eat dinner and six people would sleep at night
Now, through its seven locations, it offers numerous services, including street-level outreach, a 72-bed men's homeless shelter, alcohol and drug recovery programs for men and women, career development counselling and its after-school program for kids in the Downtown Eastside. It also provides some social and affordable housing.
Hunka calls the funding to expand the Women and Families Centre "incredible."
"We're really excited about it because we're hopefully going to change the trajectory of families for good and break the pattern, or break the trap of poverty, and give families — and specifically women-led families — a place to thrive and get the supports they need," he said.
While there are other alcohol and drug recovery programs, as well as social housing, for women elsewhere in Vancouver, Hunka said what might be unique about this project is the ability to enter recovery and treatment and then move into housing in the same building "so there are these built-in supports and a community right from square one."
"We know when we change a mom's life, we change a family's life. It makes a massive difference to the kids," he said.
Tuesday's funding announcement for Union Gospel Mission was part of a larger announcement.
The Government of B.C. committed approximately $83 million towards four projects — UGM's  Mission's Women and Family Centre, one at 58 West Hastings St. operated by the Chinatown Foundation, one at 23-51 Cordova St operated by the PHS Community Services Society, and one at 301 East Hastings St., whose operator is still being determined.
"I've met some incredible, resilient people who live and work in the Downtown Eastside, and heard firsthand how crucial affordable housing is to help them focus on every aspect of their health and safety — including mental health and addictions treatment," said Judy Darcy, minister of mental health and addictions, in a press release.
"We know that for too long, people have struggled without the proper supports. These four projects will help build stronger communities, so we can help the most vulnerable in our community get the hope and healing they need."
@naoibh