Energy efficient housing advocates are pitting their designs against traditional construction to see whether their super-insulated home design can keep a chunk of ice from melting for nearly three weeks at the height of Vancouver's summer.
As part of the Ice Box Challenge, Passive House Canada hosted a kickoff event at Vancouver's Olympic Village Square on July 27, where they placed a one-tonne ice block in a super-insulated box built to Passive House standards, and another tonne of ice in a box built to BC's current building codes.
Visitors and residents are now encouraged to place bets on how long the ice will last in each box. The theory behind it is that the ice in the super-insulated box – which mimics the standards of a passive house – will fare better than its less-insulated counter-part.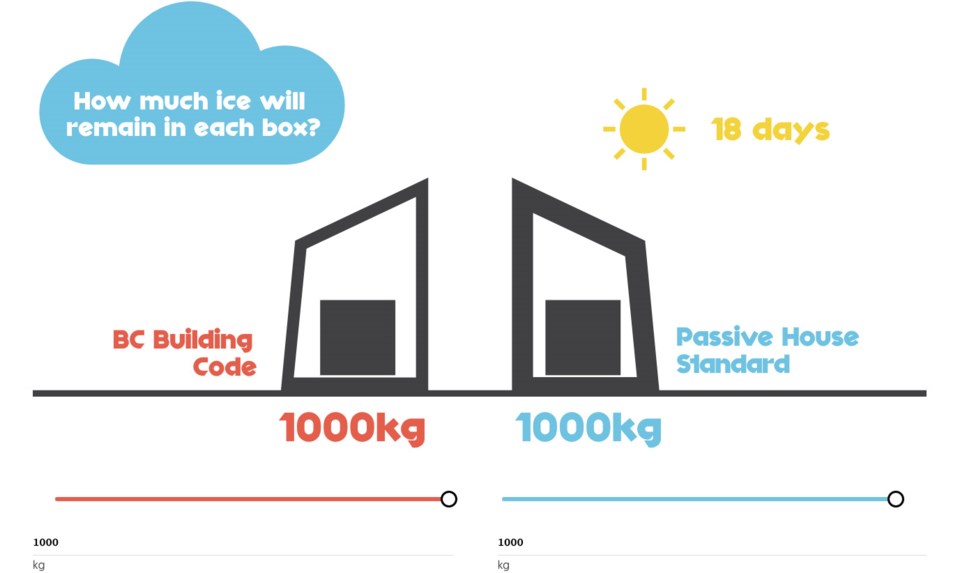 The stunt is part of an awareness campaign to promote energy-efficient designs. In a city where construction is constantly booming, Rob Bernhardt the CEO of Passive House Canada says his organization's design can play a part in the City of Vancouver's Greenest City Action Plan.
Passive Houses are super-insulated energy efficient homes that require very little grid-energy to keep them cool in the summer or warm during the winter. Already present in Vancouver, one East Vancouver house built to the Passive House standard costs only $286 per year to heat. No, it's not a coach house. It's a 2400 square foot, three-level multi-family home.
According to the city's data, buildings are the city's largest emittors of green house gas. But that's set to change with super-insulated energy efficient designs becoming more mainstream. Passive House Canada says that dozens of new high-performance buildings are currently in design or under construction in many Vancouver neighbourhoods.

Update: The final results were announced on Aug. 14 (drumroll, please):
• BC Building Code Ice Box: 407kg
• Passive House Ice Box: 639kg