UPDATE - Jonathan Simkin issued a statement Thursday afternoon addressing the controversy surrounding a tweet he sent out earlier this week.
This is his statement in full, followed by the orgininal story published yesterday by Bob Kronbauer from Vancouver Is Awesome.
Thursday July 19, 2018
A statement from Jonathan Simkin;
Last week I tweeted something about the Juno Awards that I wish to speak to. The tweet was a poor attempt made in bad taste to address a serious issue. I deeply regret my choice of words in trying to make that point.
Upon reflection, I can see that the comments were horribly insensitive, and I understand why some people have been hurt by those words. To those people, I apologize. It was not my intent to cause hurt, or to cause people who feel disenfranchised to feel even more disenfranchised.
So let me be clear, here and now. Inclusion is extremely important, and necessary. Inclusion needs to be a big part of any discussion when it comes to the music business, the media and the world around us. I feel confident that an examination of my decisions in hiring staff, in signing artists, and in how I conduct my affairs and personal life say much more about where my heart is on the issue of inclusion than a carelessly worded tweet sent from a hotel room after midnight.
Going forward, I am committed to being much more careful in my words. I will have more to say about this in the coming weeks and months, but I felt it important to address this now.
Jonathan Simkin
What follows below is the Vancouver Is Awesome story published on Wednesday, July 18.
Self-described as "Canada's Greatest Indie Music Label," Vancouver's 604 Records might have a new title to claim: "Home of Vancouver's Greatest Social Media Blunder of 2018".
More than three months after the 2018 Juno Awards took place, 604 Records' co-founder Jonathan Simkin (whom you may know better as Nickelback's lawyer) made the bizarre decision to take to Twitter to air a grievance about them. He seemed to have an issue with the choice of performers at their awards ceremony.
Judging from this tweet he sent out (screen grabbed below) he had a problem with how inclusive the national music awards program was when it came to the talent they had booked.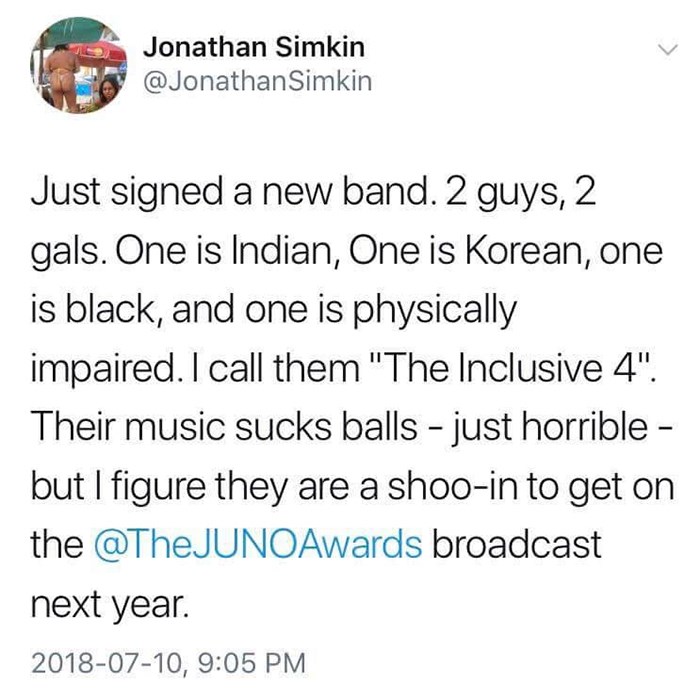 Some people who follow music in Canada, as well as some artists, took offense to Simkin's tweet which has since been deleted. In fact he deleted his entire account.
Have you ever thought of how many people of colour, women, different genders, sexual orientation, people with disabilities etc were denied opportunities for many years? It's a real process to undo that damage.

— Gillian Thomson (@gilliandthomson) July 16, 2018
Oh look, a man in a position of power in the Canadian Music Industry implying that women, poc, and disabled people have it easier. Colour me not surprised.

— Erica Mac (@Piano_Punk) July 15, 2018
tasteless words from a local music tastemaker... this is not f*cking okay. are we done with people like this yet? looking at you, Entire (Vancouver) Music Industry. 

— Alexandria Maillot (@alexandriasing) July 18, 2018
A quick glance at the lineup of artists on Simkin's label shows that at the time of this writing they seem to represent 38 white people and 8 visible minorities. While it's not The Inclusive 46, it's not an entirely white roster.
It's unclear if there's anyone with a disability on 604 Records, unless a lack of appreciation for inclusivity of all races and people with disabilities at the Juno Awards would be considered one. If it is, Simkin might be eligible for assistance under BC's Medical Services Plan.
I reached out to Jonathan to clarify what he meant by his tweet, which seems to have been the impetus for him deleting his account. He has yet to get back to me.
Jonathan gave me a call soon after this was published, a few hours after I reached out for comment. I had assumed he didn't want to speak about it, and was wrong about that.
He tells me the reason he deactivated his Twitter account was that the tweet "snowballed" and people immediately jumped to calling him a racist.
He plans to apologize to the people he has offended, and explain his position.
He says that the tweet was meant to point out the fact that, "When decisions are made just on the colour of someone's skin, that scares me."
Simkin's second-in-command at the label is a woman, third-in-command is a black woman.
When making hiring decisions or looking at artists to represent, he says he "couldn't give a fuck about somebody's colour or gender", and that he judges people on their merits.
Simkin also has a child who is legally blind, with special needs.