Three of Vancouver city hall's senior staff will be watching Tuesday's U.S. presidential election results with a little more interest than most local residents.
With a little more anxiousness, too.
That's because city manager Sadhu Johnston, chief planner Gil Kelley and general manager of development services Kaye Krishna all have strong connections to America.
Strong as in Johnston is a dual U.S.-Canadian citizen, who left Chicago in 2009 to accept a job as Vancouver's deputy city manager. The Oregon-born Kelley moved from San Francisco a few months ago to fill the planner's position and Krishna, originally from Ohio, recently gained permanent residency status.
Johnston is a Democrat. So is Krishna. Kelley wouldn't reveal his party preference but offered a glimpse into his political leanings when asked about the rumour that Americans will be piling into Canada, if Republican candidate Donald Trump beats the Democrat's Hillary Clinton.
"My friends joke with me that moving here two months before the election was my hedge against a Trump victory," said Kelley, who was San Francisco's head planner before accepting the job in Vancouver.
The trio all voted via absentee ballots. Johnston sent his ballot to Chicago, Kelley voted in Oregon and Krishna's vote was recorded in New York City, where she recently operated as a consultant and previously worked for the Department of Housing Preservation and Development.
In moving to Vancouver, they have become members of the largest U.S. expatriate community in Canada. The U.S. Federal Voting Assistance Program revealed this year that Vancouver has an estimated 183,000 eligible U.S. voters. Among those voters are Vancouver Art Gallery director Kathleen Bartels (Chicago), Translink CEO Kevin Desmond (Texas) and Pivot Legal Society lawyer Douglas King (Salt Lake City).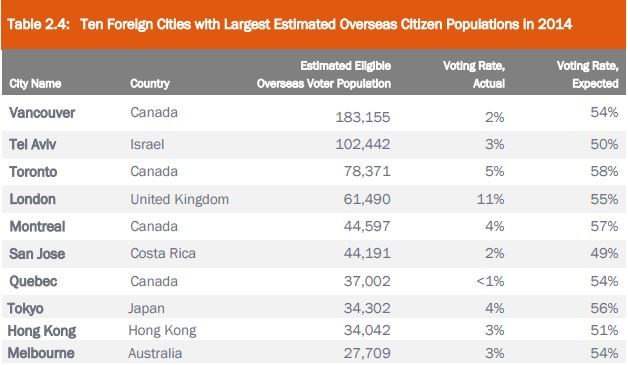 This is Johnston's second consecutive election away from the United States. But unlike the 2012 battle that saw Barack Obama hold off Mitt Romney to win a second term in the White House, Johnston is concerned about the startling level of divisiveness in America in this year's campaign.
"The stakes seem pretty high, and there's a lot of drama," he said, noting he and his wife did some door-knocking for the Obama campaign in 2008. "It's one of the things I struggled with being in the U.S., is the sense of division, and it seems very extreme and I don't think it's good for the country."
What would be good for the country, he said, is having Clinton become the country's first female president, continuing the progressive shift in the United States that put an African-American in the White House in 2008.
"It's scary to look at the extremeness in the campaign, but it's also really amazing and historic and exciting to think we might have our first female president," said Johnston, who went to high school in Colorado and has lived in New York, Ohio and Illinois. (Johnston's mother is Irish, his father Canadian. He was born in England, his mother remarried an American and moved to the United States, where Johnston became a citizen.)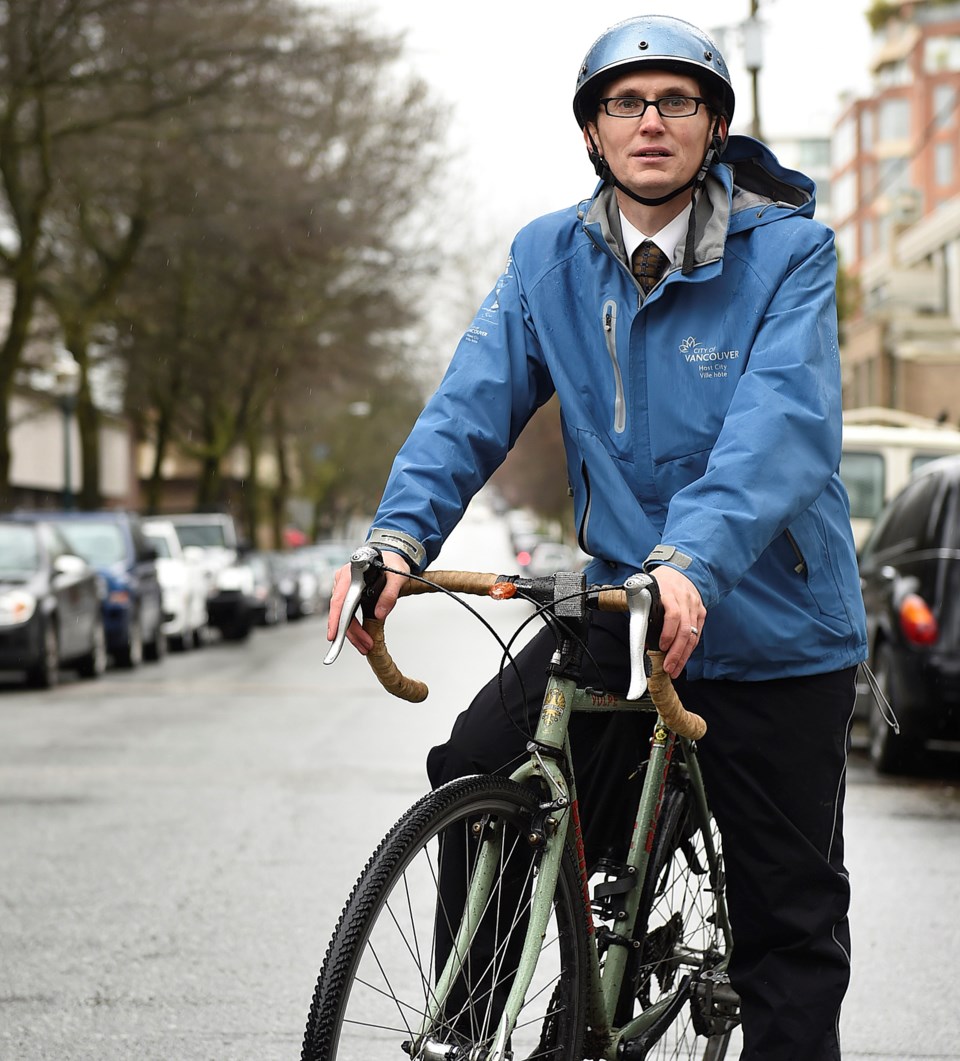 A Trump victory could, in fact, mean more Americans looking to head north, he added, noting that liberally minded U.S. voters who endured the Bush administration and stayed to embrace Obama's leadership would be candidates for moving to Canada.
"My guess is a lot of them would be inclined to be frustrated and look to Canada," he said. "I imagine we would have a lot of people looking to not be part of that [Trump] system."
Kelley laughed when asked how he explains to his new neighbours and workmates what's happening in the presidential race. Insight, he said, is not something he can provide.
"I really don't know how to explain it," he said. "Even by American standards, this one is bizarre. There is hardly explaining it to one another in the U.S. Explaining it to Canadians is a quantum leap in challenge."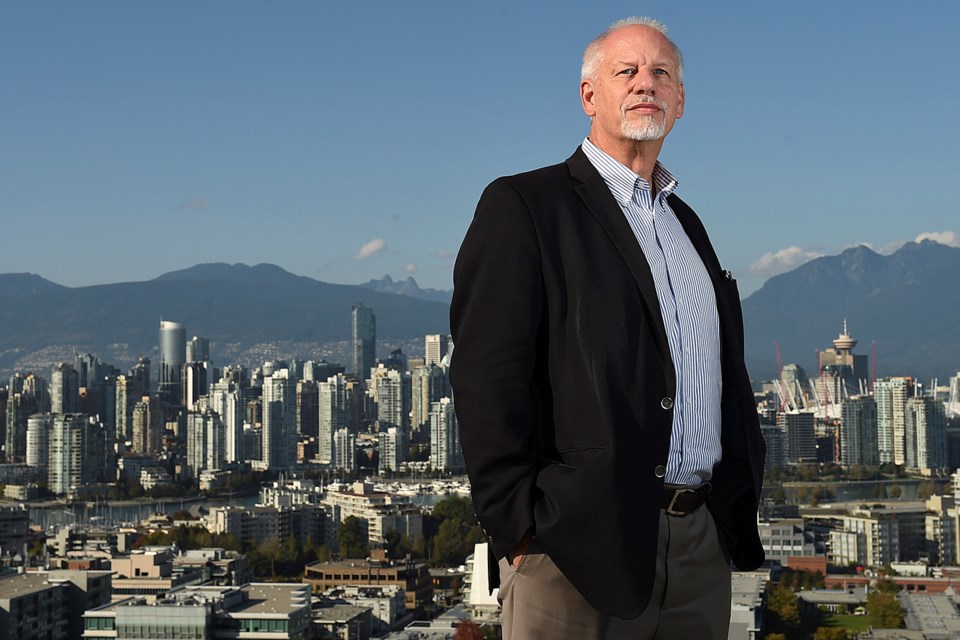 Added Kelley: "There's a sort of fantastical, unreal dimension that we haven't seen in American politics before. There's always been demagogues but this one seems to be demagoguery without any consequence. And there's a premium on entertainment value almost as opposed to serious political debate."
Getting back to the joke from friends about leaving America before Trump wins, Kelley said the opportunity to direct a planning team in a city "poised for some big and positive changes" is why he moved to Vancouver.
The fact that he's a "westcoaster" and believes Vancouver and B.C. have much in common with Oregon, Washington and Northern California are other reasons for the move.
"I kind of identify with the West Coast vibe, if you will," said Kelley, who spent 10 years in Portland as director of planning. "So far, Vancouver has been a very welcoming place. So I haven't been an outcast because I'm an American."
Krishna moved to Vancouver more than a year ago. Her husband, a Canadian and former CBC journalist, landed a job here in the spring of 2015. Krishna continued to work as a consultant in New York City, travelling back and forth across the two countries, until winning the job at city hall.
Originally from Ohio — "the big swing state," as she called it — Krishna grew up helping with elections. Her mother works for the Board of Elections in a small town in Ohio and still ensures her daughter gets her ballot.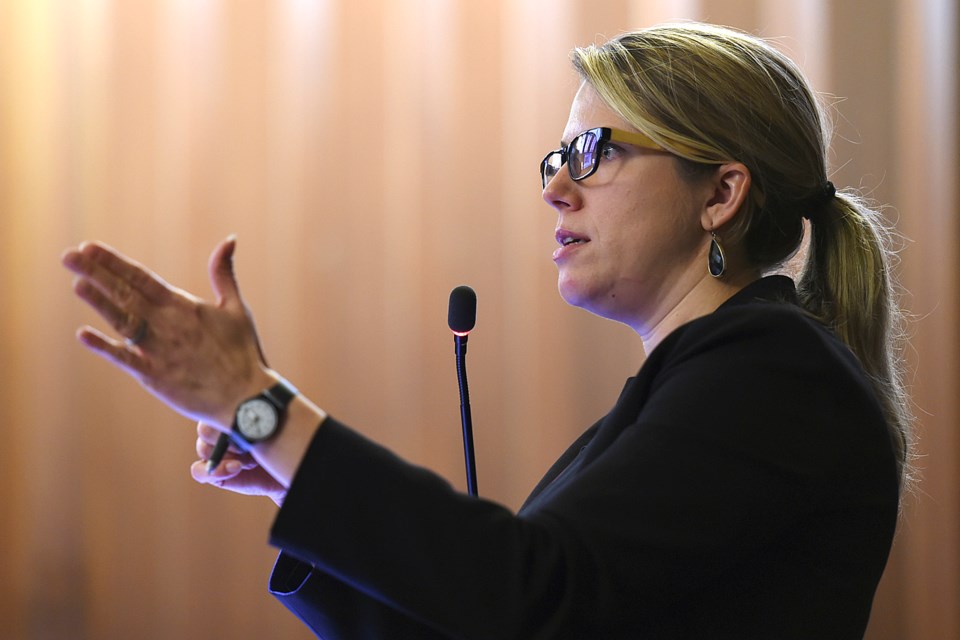 That experience working with her mother was enhanced in the mid-1990s when Krishna worked for then-Republican congressman David Hobson (Ohio) in Washington, D.C. She took the summer job when she was in college.
"This probably too much information but that's also when I realized I was a Democrat and not a Republican," she said. "That was a little bit of my own college transformation. I realized I was much more liberal than where I grew up."
Added Krishna: "And that's when I realized I am never going to be a politician, and I'm not interested. But it did get me interested in policy and more of the government side of things."
Though she's been in Canada for more than a year, and recently received permanent residency status, Krishna said it was still important to vote from afar because "it's probably the most important election we've faced."
"Just the tenor of the politics right now is so toxic and has really reached a boiling point," she said. "I think we all need to do anything we can to steer the outcome. Casting a vote from across the border is the one way I can do it. I can't imagine a Trump presidency, and it scares me."
Krishna has heard the talk about Americans leaving their country to reside in Canada if Trump wins, but she noted the same conversation occurred when George W. Bush won the White House.
"We'll see after Tuesday," she said. "But it's not that easy to just move here, either, having gone through the process. I think people don't quite understand that it's not the 51st state, or whatever. It's a different country and there's a whole process."
Krishna also learned that not everybody agrees with an American taking a high profile job at city hall. She noticed the anti-American sentiment in some of the comments she read attached to newspaper articles about her appointment.
"I think it's a natural reaction and I understand it," Krishna said, adding that she believes her experience is what landed her the job.
Johnston said as much in the reason he hired Krishna and Kelley. That reason also extends to the recent hiring of Kathleen Llewellyn-Thomas, the new general manager of community services, from Toronto.
"Having folks helping to lead the government that have experiences elsewhere, I think, adds value," he said. "I certainly will continue to look to hire Canadians. I wouldn't say that I went exclusively to find Americans for either of those positions, but the candidates [Krishna and Kelley] had a lot of skills and experiences that were attractive."
The American connection to city hall is not new.
In the 2002 civic election, three former American residents — Jim Green (Alabama), Fred Bass (New York) and Anne Roberts (Wisconsin) — were elected to city council. Current Coun. Heather Deal, originally from Michigan, was elected to the parks board. Californian Adrienne Montani won a seat on the school board.
Deal told the Courier in an email that she cast an absentee ballot in this year's election and got confirmation last week that it arrived safe and sound in Assyria Township, Barry County, Mich.
"I voted the straight Dem slate, which means I didn't get to vote for any county position like Sheriff or Drain Commissioner because they only had one candidate — a Republican. I briefly considered writing my mother in for all those positions (she was a county commissioner in the 70s). And I got my 'Nasty Woman' T-shirt in the mail."
Counting the hours until this nightmare of a US election is over. @VanCourierNews pic.twitter.com/ILn1YsSUCH

— Heather Deal (@VanRealDeal) November 7, 2016
Asked to make predictions on Tuesday's outcome, Johnston, Krishna and Kelley all hesitated before answering.
Johnston: "Looking at the polls, I would assume it will be Hillary. But there're a lot of things that could change that. So I don't know."
Kelley: "I certainly don't want to jinx it, but my sense is that Hillary Clinton will pull it out."
Krishna: "I don't know. A week and a half ago I would have said Hillary, but I really don't know. It's scary and I hate to say anything because I feel whatever I say, I'll jinx it. I'm just waiting with baited breath, like we all are."
@Howellings