Hundreds of red-clad animal rights activists are set to march through the streets of Downtown Vancouver tomorrow to raise awareness of their "ultimate goal" to close all slaughterhouses.
Last year a crowd of up to 500 people gathered for the annual Vancouver March To Close All Slaughterhouses, and co-organiser Zoe Peled expects this year's event will far exceed that.
The march is advertised as a "peaceful, inclusive, family-friendly and community-based event to promote, support and further the animal liberation movement."
Peled said the campaign began in France in 2012 and thousands of people have marched annually in over a dozen cities globally in the hope of bringing light to the suffering and exploitation of animals.
"It's arguably the biggest public animal rights event of the year," she told the Courier.
As an abolitionist, Peled said she wanted to see a world where there were no slaughterhouses because there really was "no better way to do something that is inherently wrong."
"There is no ethical way to kill an individual who doesn't want to die," she said.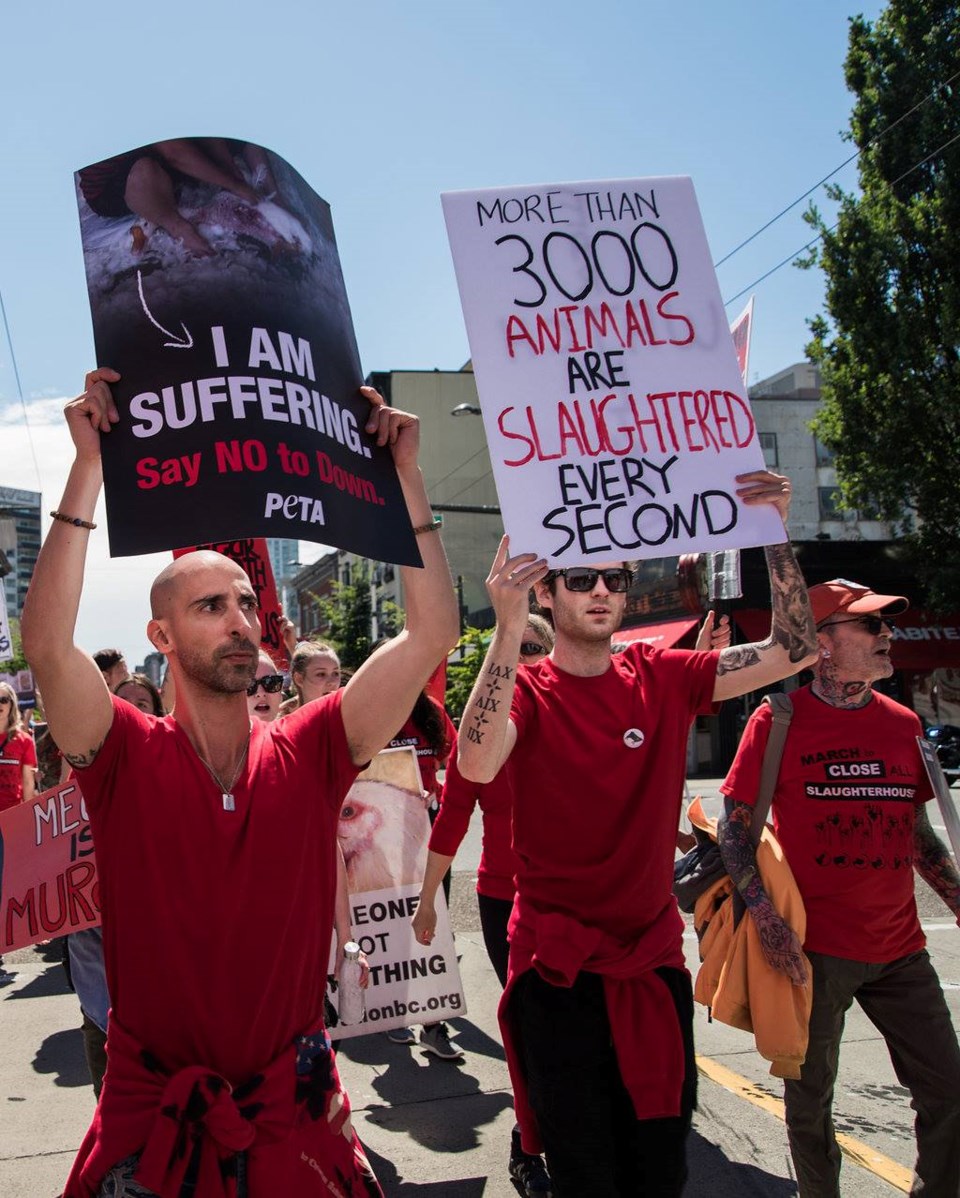 So far this year across Canada, according to Agriculture and Agri-Food Canada, the number of animals slaughtered in federally inspected establishments includes [but is not limited to]:
- 8, 738, 251 hogs
- 1, 278, 632 cattle
- 76, 814 calves
- 72, 755 sheep/lamb
The Canada Animal Kill Clock estimated, at 1:51 p.m. on Saturday, that a total of 2, 424, 365, 991 animals had been killed for food in Canada this year.
British Columbia has 57 provincial licenced slaughter establishments, according to the BC Meat Inspection Agency. While The Canadian Food Inspection Agency lists 726 federally registered meat establishments and licensed operators.
Canada's red meat industry alone – which includes beef and veal, pork, lamb and mutton, goat, rabbit, horse, as well as venison and bison – had annual shipments worth $20.9 billion in 2017, according to Agriculture and Agri-Food Canada.
Peled said she was aware animal activists had a big fight on their hands to reach their goal.
"I hope there will be a time where we have no slaughterhouses – and I truly think that we will," she said.
"Is it something that is going to happen overnight? Well, definitely no.
"That is not a logistical possibility, but I would say when we begin to build awareness and when we start to raise the voice of veganists and animal rights, all of those things contribute to us getting there faster."
Peled encouraged the community to get involved in the event.
"There is great strength and great inspiration in literally standing up for something you believe in and walking through Vancouver streets and knowing you are surrounded by hundreds of people who believe the same thing," she said.
The group will meet at the south side of the Vancouver Art Gallery at 11:00 a.m. on Sunday, June 9.
The march is set to move west along Robson Street, south on Denman Street to Davie Street, along Davie Street to Granville Street, north on Granville Street to Georgia Street and then back to the Vancouver Art Gallery for closing remarks.
For more information go to Vancouver March to Close all Slaughterhouses.