In a lawsuit filed September 11, Vancouver Community College (VCC) is alleging, among other things, that the owner of a well-known social enterprise in the Downtown Eastside misappropriated all or part of $300,000 the college contributed to a kitchen-training project.
None of the allegations has been proven in court and the defendant, Mark Brand Inc., has yet to file a response. Restaurateur Mark Brand owns Mark Brand Inc. and Save On Meats, a butcher shop and diner at 43 West Hastings Street.
The suit claims that Mark Brand Inc. approached VCC and the City of Vancouver in January 2012 to fund the Vancouver Incubator Kitchen.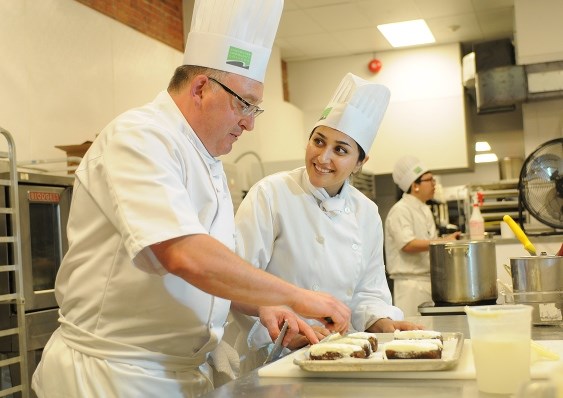 The plan for the kitchen was that VCC would be able to use the space to train its students. It would also be used to teach cooking skills to Downtown Eastside residents and be made available to community organizations to prepare food, with the goal of supporting the community, encouraging small businesses and promoting local food.
According to VCC's claim, the community college agreed to pay $300,000 and the City of Vancouver contributed $100,000 toward the establishment of a "state-of-the-art" kitchen at Save On Meats. Mark Brand Inc. was also supposed to invest $100,000 in the project.
Mark Brand Inc. was to buy the kitchen equipment on behalf of VCC, which would then own 60 per cent of the equipment while Mark Brand Inc. and the city would each own 20 per cent.
Vancity Credit Union was also a partner in the project.
In court filings, VCC alleges Mark Brand Inc. has used VCC funds intended for the kitchen for other purposes, has not bought all the equipment necessary for the kitchen and has not provided a list of the equipment bought with project funding.
VCC also alleges Mark Brand Inc. has breached the project agreement by refusing to provide VCC a full accounting of how the funds have been spent, not keeping the funds for the project in a separate bank account and not getting adequate insurance.
As well, VCC alleges Mark Brand Inc. has not obtained a lease for the premises of Save On Meats that would waive the rights of the landlord to obtain the kitchen equipment, a condition VCC says was included in the project agreement.
As a result, VCC alleges it has not received a properly equipped teaching kitchen and has not obtained ownership of the equipment required to be purchased for its benefit as set out in the project agreement. VCC alleges Mark Brand Inc. has misappropriated "all or a portion of the project funding provided by the plaintiff and the city."
VCC is seeking damages for breach of the project agreement. The college is also seeking court orders that Mark Brand Inc. produce bank statements and financial records for the Vancouver Incubator Kitchen, open and maintain a separate bank account for the project, obtain proper insurance coverage and obtain a lease for the premises under which the landlord has waived all rights to the kitchen equipment.
According to Brand's response via email to Business in Vancouver: "This filing caught us by surprise after a long and successful partnership with the college through all of their difficult leadership changes. We've provided all documentation requested and are happy to continue to work on clarification with the college as none of the people who worked on this project remain in their employ."
Brand said two cohorts of VCC students had been trained at the incubator kitchen.
VCC sent BIV a statement that asserts: "VCC was compelled to bring its action after repeated failure by Brand to live up to its obligations and after giving notice to Brand that a lawsuit would be forthcoming if it did not live up to its contractual obligations." 
City of Vancouver communications staff sent BIV an email stating that the city is concerned by the allegations and is reviewing them but "believes in the value of having kitchen space available to enable local community groups, social agencies, or entrepreneurs to provide low cost/no cost meals, and to achieve entrepreneurial or social enterprise aims." The email states that 22 community groups and start-up businesses have used the incubator kitchen since 2014.
A year ago, BIV reported that restaurant supplier Sysco had sued Mark Brand Inc. for $324,000. According to court documents filed in connection with the Sysco suit, Save On Meats was in the process of paying back over $400,000 in taxes in arrears at the time.
Brand stated he has a good working relationship with Sysco and deliveries from the supplier to his restaurant resumed September 1. But a trial date remains scheduled for November 2, according to court documents.
A claim brought against Brand in small claims court by Joanne Griffiths, who had partnered with Brand to start A Better Life Foundation charity, was resolved in November 2014 with an order that Brand repay Griffiths the $3,000 she claimed he owed her, according to court documents.
Another claim brought against Brand in small claims court by graphic designer Calen Knauf has not been resolved, according to court documents.
Brand became well known in Vancouver after he was featured in a Vancity advertisement and in two reality television shows that documented his struggle to establish a business that gives back to the Downtown Eastside community.
Brand was previously the owner of several businesses in the Gastown area, including high-end restaurant Boneta, clothing store Sharks and Hammers and Sea Monstr Sushi.
In his September 2014 interview with BIV, Brand said he had closed those businesses by choice, in part to focus on Save On Meats.
Brand is the co-owner of Persephone Brewery on the Sunshine Coast, which employs people with developmental disabilities.
Brand sits on the Presidents Group, an advisory committee to the provincial government on employing people with disabilities, alongside business leaders such as Vancity CEO Tamara Vrooman and Vancouver Airport Authority CEO Craig Richmond.
 - With files from Darryl Greer
jstdenis@biv.com
@jenstden