The Vancouver Courier picked up ten awards – two golds, five silvers and three bronzes -- at the 2015 Ma Murray community newspaper awards competition for B.C. and Yukon publications at a gala Saturday night at the River Rock Casino Resort.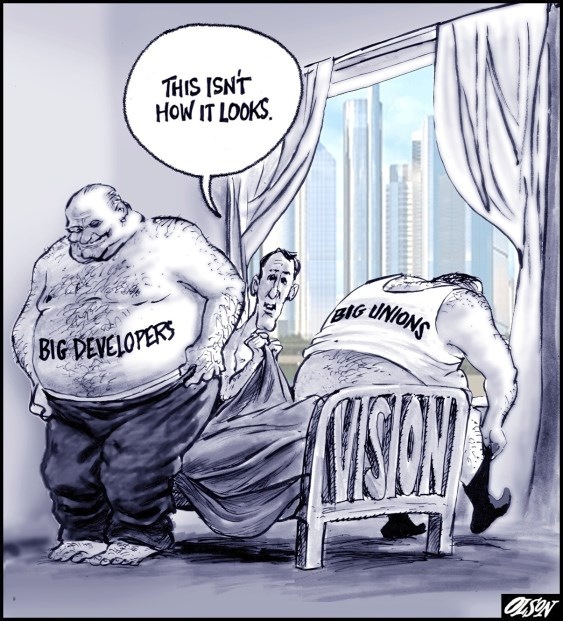 Geoff Olson won for best cartoonist his memorable take of a certain Vision politician hopping into bed with Big Developers and Big Unions, while reporter Mike Howell also won first place in the coveted John Collision Memorial Award for investigative journalism for his feature story on the problems surrounding the Marguerite Ford social housing complex in the Olympic Village.
"This in-depth report explored the tension between social goals and practical applications," judges wrote. "This reporter provided a comprehensive look at the challenge of providing housing to hard-to-house individuals in an urban community."
Howell also won a second award, this one a silver, in the best feature series category for his in-depth coverage of the top issues in the November 2014 civic election. Former intern Wanyii Lee won silver in the business writing category for her story about the changing demographics of Chinatown retailers, and staff writer Andrew Fleming was runner-up in the outdoor recreation writing category for his first-person account of exploring a massive cave on Vancouver Island.
The Courier sales team also won two silvers. Ad designer Adrian Cunningham and Tara Lalanne, director of sales and marketing, came in second in the newspaper promotion category for Digital Dentists. Lalanne and sales rep Keshav Sharma also came in second in the special publications category for their insert highlighting 17 adventure getaway options located near the city.
Former intern Jennifer Thuncher, now working for the Squamish Chief, came in third in the sports writing category for a story of the controversial Paralympic athlete practice of "boosting," and freelance photographer Rebecca Blissett won bronze in the portrait/personality category for her shots accompanying reporter Sandra Thomas' story about Elvis impersonators.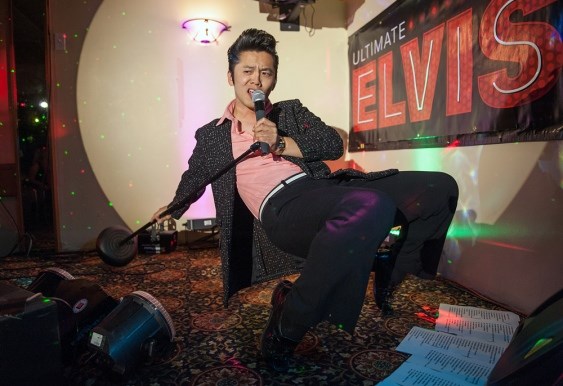 Last but not least, editor Barry Link and the Courier's editorial team also came in third in the online innovation category for the extensive coverage of the recent civic election, which included liverstreamed video interviews with the mayoral candidates of the three main political parties.
The Vancouver Courier also captured three awards in the 2015 Canadian Community Newspapers Awards competition, earning first place for best coverage of the arts, best editorial page and best local cartoon.
The Vancouver Courier captured three awards in the 2015 Canadian Community Newspapers Awards competition. The Courier earned first place for Best Coverage of the Arts, Best Editorial Page and Best Local Cartoon. - See more at: http://www.vancourier.com/news/vancouver-courier-wins-3-national-newspaper-awards-1.1806794#sthash.QguON14G.dpuf
Like the Courier on Facebook or follow us on Twitter and/or Instagram.