On a normal day, Mark Bullen likes to leave his Kerrisdale condo, walk down the street and pick up fruit and vegetables from his local produce market before moving on to Save-On-Foods to complete his shop. It's a routine the 65-year-old retiree and his wife and dog have performed countless times since moving to the neighbourhood last year.
But last week was no ordinary day. When Bullen approached Sandy Farm Market on West 41st Avenue as he normally does, he noticed the store had put up signs announcing new policies for customers — understandable in the cautionary climate of COVID-19. While he agreed with the store restricting the number of customers to no more than 15 at a time, it was the other requirement that caught him off guard: "No mask no service."  
Bullen chatted briefly to someone working at the store but says he was "brushed off" and told the store had to take these kinds of measures and there was nothing else to it.
"I thought, OK, if I could get [a mask], then I'll comply just so I can make it easy to get my groceries," Bullen told the Courier. "But there's none at London Drugs or any of the obvious places. I noticed there was a store on 41st and West Boulevard that had a sign that said you could order them."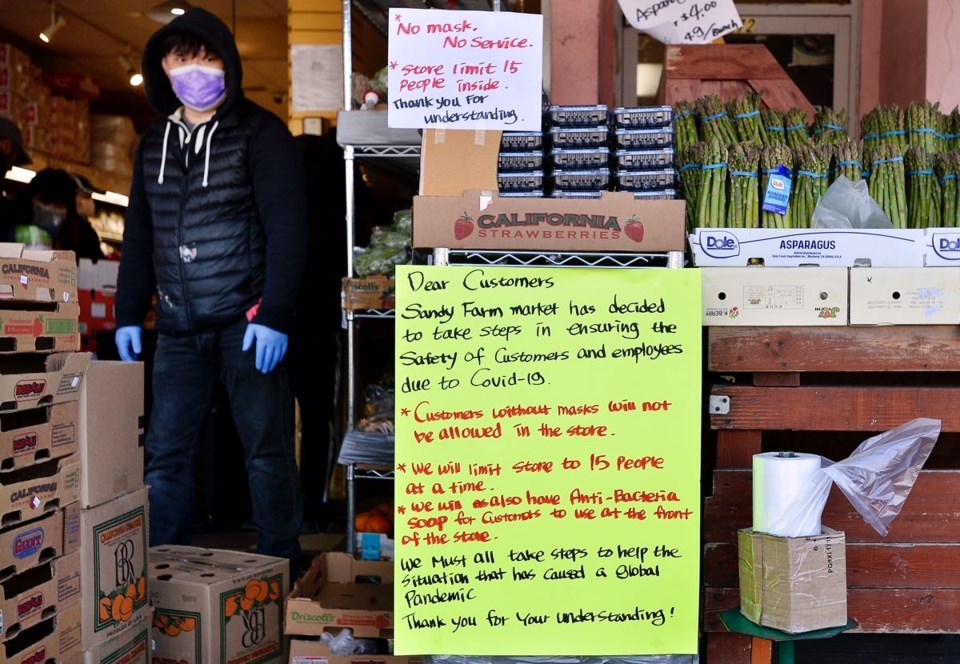 Bullen says he and his wife, who are healthy and active, have followed all the advice regarding protecting themselves and others from COVID-19. They no longer participate in group activities, and if they do step outside their apartment they make sure to keep their distance from people. And although Bullen hasn't noticed any other businesses in his neighbourhood requiring customers to wear masks, he worries that others might follow.    
"Sure, I can go on to the next produce store or to Save-On, but if this becomes a trend, it's very unfair to people," Bullen said. "We're lucky that we're mobile, we can go somewhere else, but for some people they might not be able to do that. I just think in principle it's not the right thing to be doing in this time."
He added, "I think it's important that we pull together during this crisis and doing things like this doesn't help that."
The Courier sent an email to Sandy Farm Market asking for comment, but have yet to get a reply. When a Courier photographer showed up on the premises, an employee told her to leave.
When reached for comment, the Kerrisdale Business Association said it would not comment on the matter at this time.
The Courier reached out to Vancouver Coastal Health, which said it is currently forwarding COVID-19 requests to the Ministry of Health, and suggested we pose our questions to Provincial Health Officer Dr. Bonnie Henry at her daily press conference. After queuing on the media phone line for an hour, we were not able to ask Henry for comment, although she did address the topic of face masks during her Friday press conference.
"In terms of us all wearing masks, one it's a colossal waste of masks and we know that people who aren't ill and are wearing a mask often fiddle with their face and that can be a risk for them self-inoculating and becoming ill… We need to keep the masks for where they're needed," Henry said. "And I do recognize it is an expectation and symbol of respect in some societies that you wear a mask when you're out to protect others. And I respect that… but I don't think it's necessary, and I will continue to say it's not necessary, unless you're sick yourself."
Bullen says he and his wife will get all of their groceries from Save-On-Foods for the time being, walking past the market he's forbidden to enter each time. And while he acknowledges that the store's restrictions are well-intentioned, he says they're misguided.  
"I understand the emotional underpinnings to this kind of thing and why someone might think this the appropriate thing to do," Bullen said. "But I think somebody in authority needs to go to them and say look this isn't recommended, it's not going to help and you really shouldn't do it."
mkissinger@vancourier.com