While most flights are now running on time at Vancouver International Airport, a number of them have been delayed, and a few cancelled.
The update comes after the airport alerted passengers to give themselves plenty of time to get to the airport, as well as check transit and flight times beforehand.
The airport also notes that fliers should check-in online and print their boarding passes before leaving for the airport. Alternatively, fliers can have it emailed to their handheld mobile device.
YVR WEATHER UPDATE: It continues to snow at YVR. Our crews are ready to help get you on your way safely. Make sure you give yourself plenty of time to get to the airport and check the status of your flight before you leave! pic.twitter.com/vNVaiKYWrc

— Vancouver Airport (@yvrairport) February 12, 2019
SHOUT OUT to all the airport employees working outside in the winter weather to help get us all on our way as quickly and safely as possible. pic.twitter.com/dmR61NPQHx

— Vancouver Airport (@yvrairport) February 11, 2019
What's more, a number of domestic flights flights, such as some to Victoria, Castlegar, Montreal, Nanaimo, Toronto, and Calgary, have been cancelled.
The Vancouver weather forecast calls for 15 – 25 cm of snowfall as a second low pressure system brings snow to the south coast.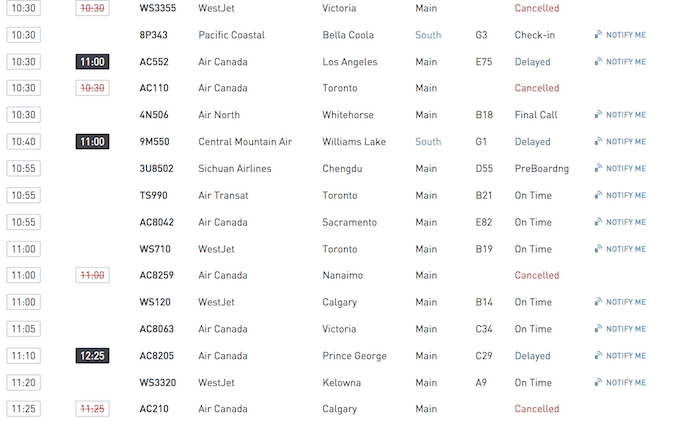 The news comes after the Lower Mainland received snowfall over the past two days, and commuter mayhem broke out across the city.
To check if your flight is on time, please visit the departing flights page on YVR.