Salvador Dali's image of a melting pocket watch is one of the most iconic symbols of surrealist art.
Starting on May 6, Vancouverites will be asking themselves just what Dali was trying to say about our subconscious notions of time.
"Salvador Dali was a painter who was fond of taking preconceived notions and turning them on their heads," said James Sanders at Thursday night's private unveiling of a Dali sculpture that will soon spend 150 days on the streets of downtown Vancouver.
Sanders is the business development manager of IAR Art Resources, which specializes in Dali sculptures. He helped facilitate the loan of Dance of Time I to Chali-Rosso Gallery whose owner, Susanna Strem, is gifting the sculpture to the city for five months.
When Dali first painted pocket watches melting over a seaside landscape in The Persistence of Memory, he was thinking about camembert melting in the sun. "It was a visual pun that amused him," Sanders said.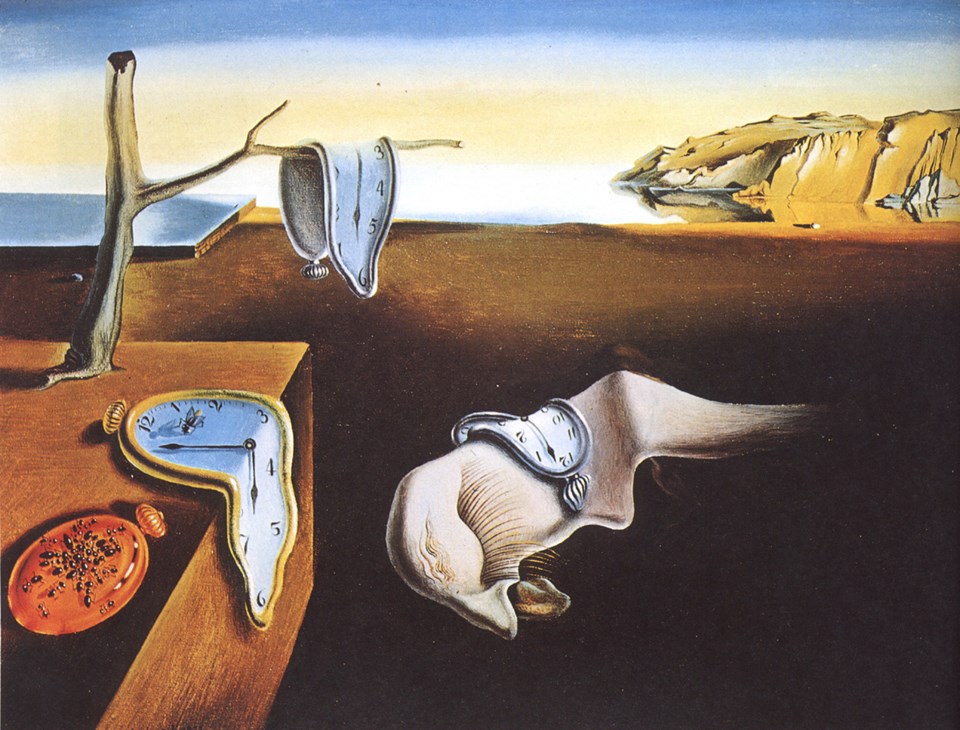 Dance of Time I is one of eight limited edition bronze statues of a two-metre tall pocket watch twisting and turning upwards. Conceived in 1979, the first cast was created at the Perseo Foundry in Mendrisio, Switzerland in 1984. Dali died in 1989.
Strem felt that as Canada celebrates the 150th anniversary of confederation, it was a good time to ponder the evolution of time and the changes that take place within it. She also feels that Vancouver needs more public art.
The melting pocket watch is "very well recognized so it's a good starting point to introduce Salvador Dali to the public," she told the Courier on Thursday night. "Art should be accessible, not always in a gallery. Public art is how we can make art part of our lives. It lifts us out of the everyday."
Asked whether she was worried people would climb on the sculpture, which is valued at $750,000, Strem says the question only crossed her mind the previous night. "I hope Vancouver will behave."
Right now the sculpture is at Strem's gallery at 549 Howe Street. On May 6, it begins five-month sojourn on West Hastings at the foot of Hornby Street. The public unveiling is at 2 p.m.. The project has been endorsed by the Museum of Vancouver and the Downtown BIA.
In the meantime, as part of the Definitely Dali project, the Chali-Rosso Gallery has 100 additional original Salvador Dali artworks, including 20 gallery size sculptures. All public donations received at the gallery, as well as a percentage of Chali-Rosso Gallery sales will go to Arts Umbrella, a non-profit arts education centre that introduces art to 20,000 young people a year.