What happened: Upscale, Seattle-based retailer Nordstrom impressed investors with its earnings report after markets closed on Aug. 21, and its shares spiked more than 10 per cent after hours. This came after a 5.53 per cent bump during the day's trading.
Why it matters: Vancouver's Nordstrom store is said to be the top revenue-generating store in the chain
Nordstrom chalked up its earnings beat to "strong inventory discipline as well as significant expense efficiencies across the company."
Positive investor sentiment has been absent from Nordstrom for a long time, as shares were down about 56 per cent year over year, before the after-hours trading bump.
Analysts had expected Nordstrom to generate about US$119 million in profit, or US$0.76 per share, but the company instead earned a profit of US$141 million, or US$0.90 per share in the second quarter, ended Aug. 3.
Sales, at US$3.872 billion, were a bit shy of the US$3.93 billion that analysts expected, and the chain slightly lowered the top end of its forward guidance.
That did not stop the giddiness of some investors.
Retail Insider Media owner and consultant Craig Patterson told Business in Vancouver that he has long heard that the Vancouver store is the chain's top selling store, with around $300 million in annual sales. He estimates that Nordstrom's other five Canadian stores — three in Toronto and one each in Calgary and Ottawa — combine to generate about $340 million in sales.
Nordstrom does not break out sales for individual stores, but Patterson said he gets his anecdotal data from real estate brokers and Nordstrom staff.
Nordstrom has 119 full department stores in the U.S. and Canada. It also operates 248 discount Nordstrom Rack outlet stores, three Jeffrey boutiques, two Last Chance clearance stores, six Trunk Club stores and three Nordstrom Local service concept locations as of Aug. 3.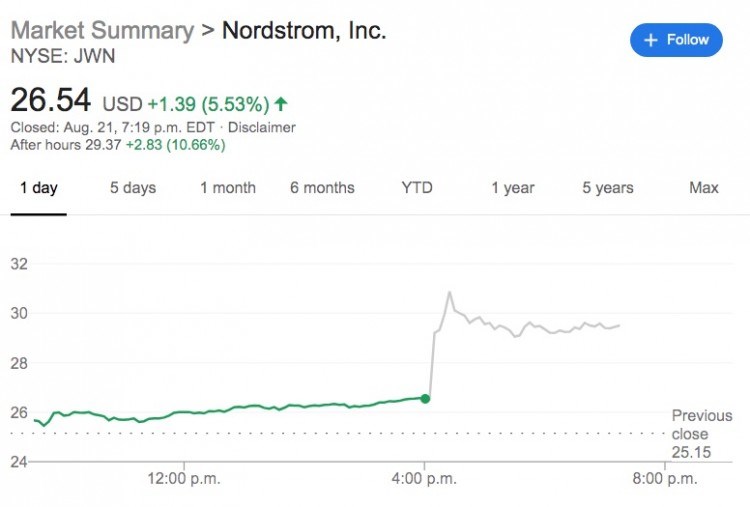 "[The Vancouver Nordstrom] has managed to surpass Michigan Avenue in Chicago and downtown Seattle, which are both very high selling units," Patterson said.
"Its exceptional location at CF Pacific Centre, occupying practically an entire city block, has made it the most prominent store in Vancouver."
When Nordstrom opened its Vancouver store in 2015 it immediately took a sizable chunk of business from the chain's flagship Seattle store because many Vancouverites were regular shoppers at the Seattle location, Patterson added.
Nordstrom's digital sales represent about 30 per cent of the business and grew at a seven per cent annual clip, according to the company.
Other analysts were guarded about Nordstrom's prospects.
Nordstrom no longer publishes comparable, or same-store-sales growth figures.
Neil Saunders, managing director of GlobalData Retail said that this omission is telling and suggests that the results make for "grim reading," particularly when considering bricks-and-mortar stores exclusively
"Our calculations back this up," he said. "For physical stores, we estimate that comparable sales in the full-price business are down by high single digits, while comparables in the off-price business are down by mid single digits. These are dire numbers and completely undermine Nordstrom's assertion that it is engineering better productivity."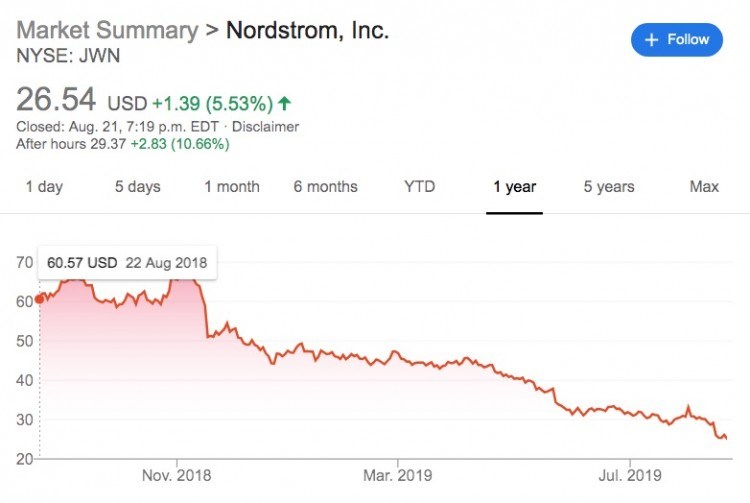 Click here for original story.