The analysis Kennedy Stewart will be able to provide political observers once Canadians choose a new government in Ottawa this month will be unlike that of any Vancouver mayor in recent history.
The part of his brain wired from years of study and practice as a political science professor at Simon Fraser University and as a seven-year NDP MP will be charged with political thought once a winner is declared.
His perspective will be unique.
Kind of like a front-row spectator with a player's knowledge.
It was Stewart's experience as an academic and profile as a pipeline-opposing federal politician that helped earn the union-endorsed independent candidate 49,705 votes to win the mayor's race last October.
But it is not, as Stewart knows, analysis or references to his time in Ottawa that Vancouver residents want from him. What they want is action on three files: housing, transit and the opioid crisis.
Stewart's mayoral campaign was run largely on his promise to bring more affordable housing to Vancouver, secure funding for a SkyTrain extension from Arbutus to the University of B.C. and reduce the number of people dying from drug overdoses.
To achieve those goals, he has made it clear — like his predecessors Gregor Robertson and Sam Sullivan did — that the provincial and federal governments have to show Vancouver the money.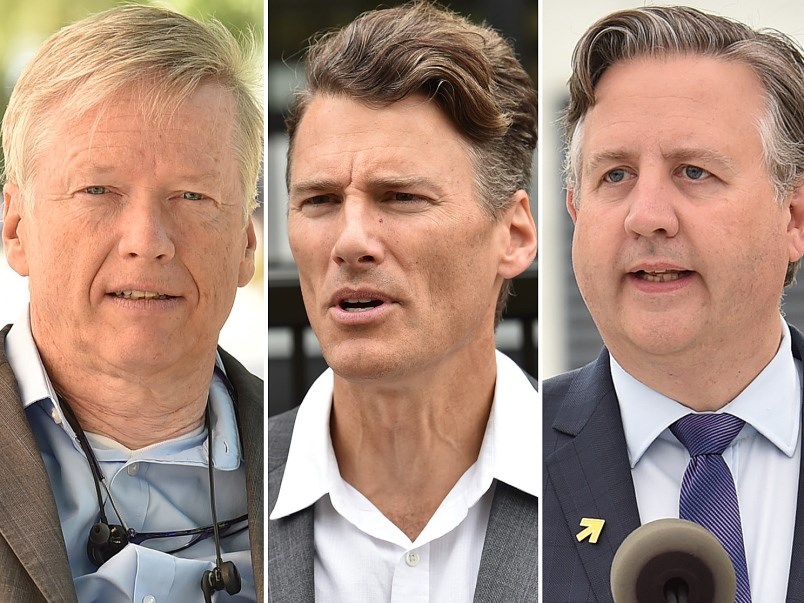 That's why this election is of keen importance to Stewart.
He knows that making an impact on housing, transit and the overdose crisis in the remaining three years of his term depends largely on a solid relationship with the party in power in Ottawa.
Same goes for his relationship with the NDP-led government in Victoria, which Stewart has praised for providing $88 million for temporary modular housing.
He's also been publicly appreciative of the 40 per cent funding commitment to the region's mayors' 10-year transportation plan and continued investments to combat the opioid crisis.
Much of that happened under the previous Robertson-led administration. Stewart's NDP lineage, however, has put him in the room and on the phone with Premier John Horgan and his ministers as he lobbies for more funding on these files.
But it is the federal election that occupies the mayor's mind these days, and has for some time, he said in a recent interview from his office at city hall.
"We had a very deliberate plan going in to this election to meet with party leaders and to tell them during those meetings what our priorities were, and to repeat those priorities in the media and try to punch through at the national level to affect the campaigns," he said, sitting on a couch in front of a window that offers a partial view of downtown.
In his short time as mayor, Stewart and his staff established strong links with the federal Liberals, although some might argue that relationship was a carry-over from the Robertson administration.
Whatever the reason — and Stewart's seven years on the Hill was surely a factor in getting past the first date stage — the relationship appeared to be flourishing as the Liberals' term came to a close.
The mayor pointed out he had a 40-minute meeting with Prime Minister Justin Trudeau at a Vancouver hotel within the first month of him being sworn in as mayor.
He met again with Trudeau at city hall in August, and they've talked twice on the phone. His staff was and still is on the phone with the prime minister's office every week, he said, noting transit, housing and the opioid crisis are topics.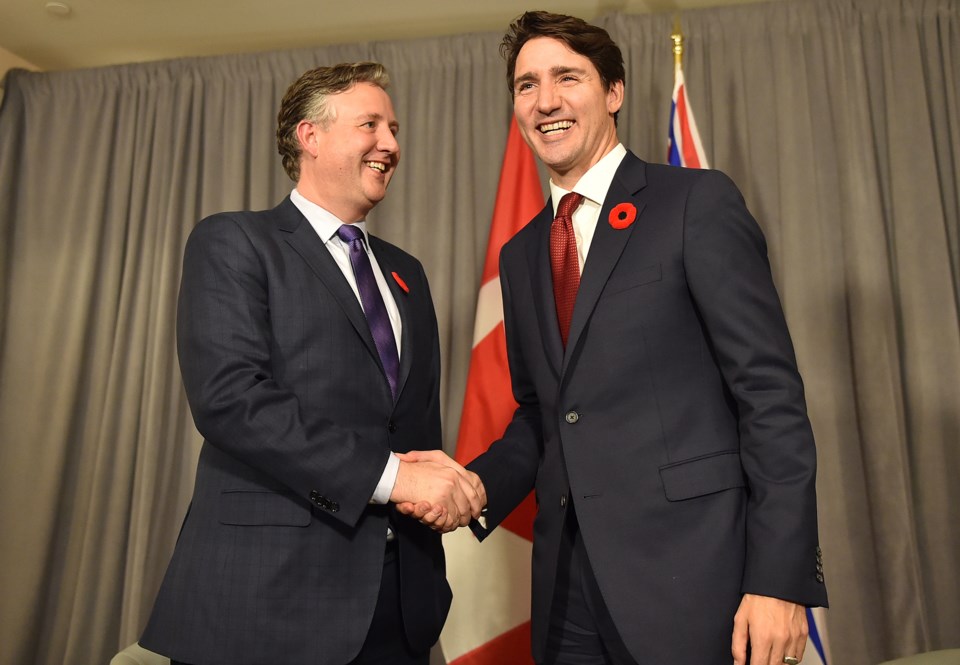 Stewart also met with Marc Garneau, who was Trudeau's transportation minister until Parliament was dissolved for the election, and Francois-Philippe Champagne, who served as minister of infrastructure and communities.
But it is Jean-Yves Duclos, who served as federal housing minister, who has been the most frequent visitor of Trudeau's now-dissolved cabinet to Vancouver.
Stewart has had "unprecedented access" to Duclos.
He met with him five times, including in August when the minister announced $184 million towards the construction of 1,100 homes in Vancouver aimed at singles and families earning between $30,000 and $80,000 annually.
"If we hadn't have had that housing announcement in August, I would not be very complimentary," said the mayor, when asked whether the Liberals' values and agenda aligned with his.
"On the housing, I think the agenda probably aligns. However, we need more. It sounds so trite to say that, but I need more. I would have liked to have a half a billion dollar announcement in August — $184 million was great, but there's huge need here."
With public opinion polls showing the Liberals with a slight lead over the Conservatives, Stewart might be best to solely focus his next three weeks on enhancing those relationships with the Liberals and ignore the other parties.
But the seasoned politician, who has operated for the most part at city hall as a diplomat with his council of mixed parties and agendas, is careful not to make assumptions or endorsements that could take his agenda sideways.
"The way I look at it is, you never write anybody off," he said.
"You always try to find places where you can build these partnerships and where you can find common ground. That is not easy because you might disagree on 95 per cent of things, but you've got to make the five per cent work."
Trudeau, Singh at city hall
Aside from Trudeau, Stewart has met with Green Party leader Elizabeth May, whom he knows well; they were arrested together on Burnaby Mountain last year for disrupting construction work at a Trans Mountain facility.
NDP leader Jagmeet Singh, who inherited the mayor's Burnaby-South riding after he won a byelection in February, is another colleague and met with Stewart last week at city hall.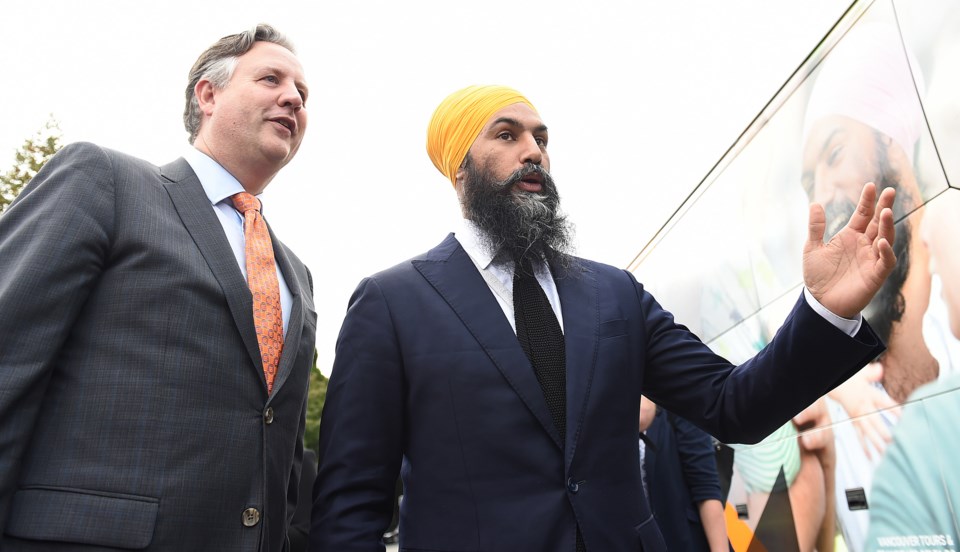 Conservative leader Andrew Scheer, who was in Metro Vancouver last Friday, has yet to make time for Stewart, whom he knows from his Speaker of the House duties in the House of Commons.
The closest the mayor has gotten to Scheer was a handshake and a few words during a Vaisakhi event in April at the Ross Street Temple in south Vancouver.
But Stewart said he has outlined his priorities with Ed Fast, the former Harper-era cabinet minister, who is seeking re-election in Abbotsford and has the ear of Scheer.
So what did they tell him?
More specifically, which leader promised to deliver on his request for more money for housing?
Did any commit to the $4 billion to extend the soon-to-be built Broadway subway from its endpoint at Arbutus to the University of B.C.?
And who is going to allow an exemption under the federal Health Act to enable a widespread clean supply of drugs to be prescribed to chronic users?
The mayor's push on that file is based on the fact that 389 people died of a drug overdose in Vancouver last year, with the majority linked to fentanyl.
There were 42 deaths in 2010.
Opioid crisis
The drug question is the easiest of the three to answer for the Conservatives, whose unsuccessful court battles in the Harper years to shut down the Insite supervised injection site on East Hastings are widely known in Vancouver.
Scheer is to the point on his party's position, leaving no room for nuance or ambiguity: "decriminalization of drugs is a terrible idea, and one that we will not ever consider going forward."
That's what Scheer told reporters in Montreal last week during a campaign stop when pressed about his approach to drug addiction. He was reminded that peer-reviewed studies show injection sites and other harm reduction measures save lives.
"I've also said that it's much more beneficial to people who suffer from addictions to have a robust recovery plan, and that the focus of government should be on getting people off of dangerous and harmful narcotics, not maintaining a life of addiction," he said.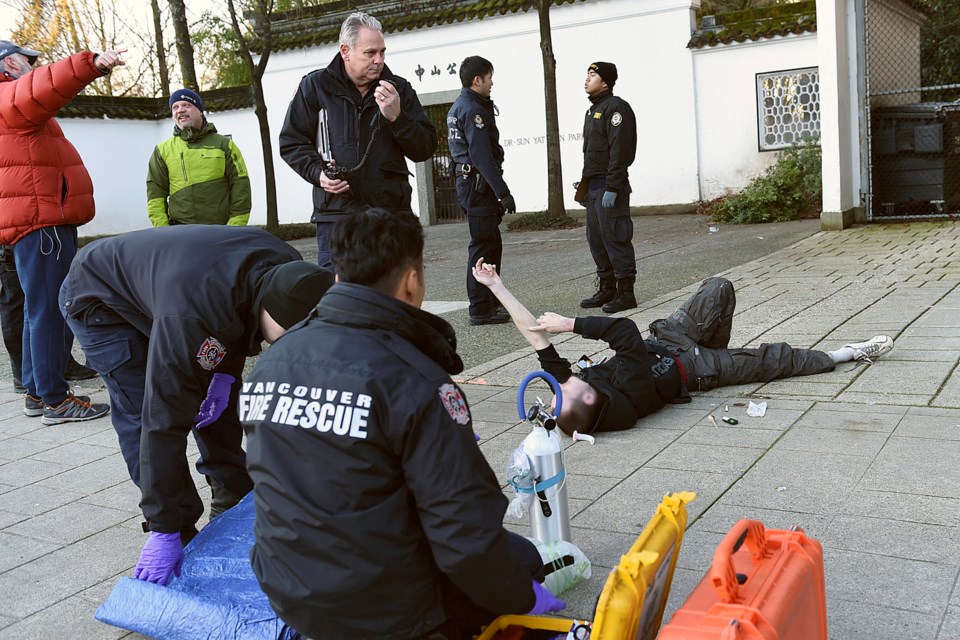 Comments like that are what Stewart called a "show-stopper" for him. But the mayor made the point that party leaders and the national media are focused on decriminalization as if it's the same thing as a safe supply, which it is not.
For Stewart, the goal is to get an exemption under Canada's Health Act to extend what already exists at the Crosstown Clinic on West Hastings, where doctors prescribe and supply chronic drug users with medical grade heroin and hydromorphone.
It's the only clinic in North America that offers this.
As the mayor explained, an exemption would allow a nurse, nurse practitioner or specially trained staff member at a non-profit to prescribe and distribute clean drugs.
"Conservatives wouldn't do this, but I think a federal Liberal majority or minority, I think could get it done," the mayor said.
"That's my feeling. And we need to do it. And, really, what's the big deal? You know, like why not try it?"
In his most recent meeting with Trudeau, Stewart said, he showed the prime minister the exact clause in the Health Act that he needs waived to make it happen.
What was Trudeau's response?
The mayor cited privacy and wouldn't get into detail, but added: "I did feel quite buoyed by the whole thing. In fact there was also a push from his side for me to do more, so I thought that's good."
Do more?
"To push more nationally for these changes."
But isn't he the prime minister?
"If you're leading at any level, if you just go out on your own, it's a lot harder," Stewart said. "So if you get support [from other politicians] on pushes for things, it's easier for them to move forward with change."
Trudeau told Global News Sept. 24 in an interview in Richmond that "we're not looking at full decriminalization at all right now."
That made headlines.
Buried in the news reports was Trudeau's first response on the drug issue: "We're moving forward on things that actually work — whether it's safe consumption, safe supply, harm reduction."
The Greens are calling for decriminalization of drugs, and May promised to declare a public health emergency, if her party forms government.
And Jesse Brown, the party's candidate in Vancouver-Centre, told the Courier he supports the mayor's push to extend the Crosstown Clinic model across the city.
"Enough is enough, too many people are dying," said Brown, who is executive director of the Vancouver Friends for Life Society.
The Greens also pledge to boost funding to community organizations to test drugs and support drug users, as well as increase supports for people living with mental illness.
Singh told reporters at city hall last week that the NDP will also call a public health emergency "on day one" of forming government.
Asked about amending the Health Act to allow for a safe supply of drugs, Singh said he was "open to anything that we can do to save lives" and has "the backing of evidence and experts."
"If there's evidence that supports a policy that saves people's lives, we've got to be open to that discussion," he said, standing in the parking lot outside the back doors of city hall.
"I've committed to changing our approach, which has been to criminalize addiction. That should not continue and I've made that clear commitment that I would not do that."
Affordable housing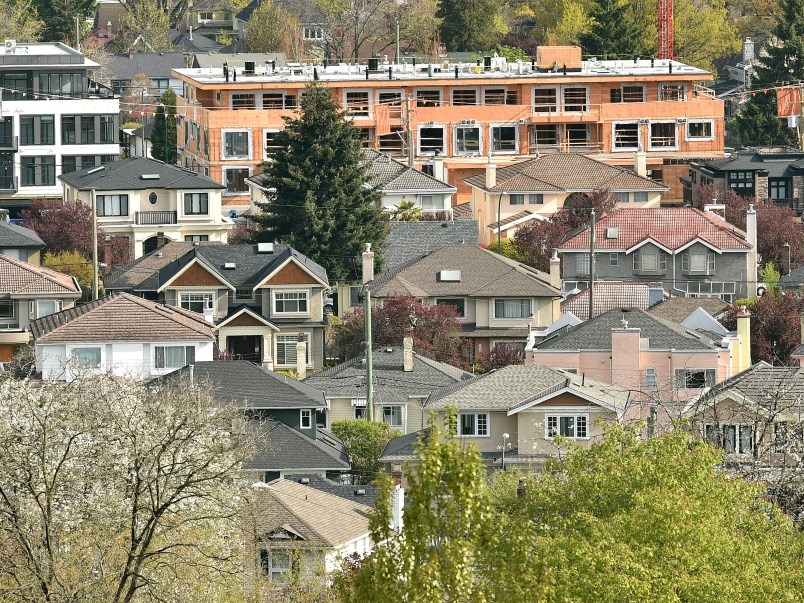 On housing, the NDP leader is promising a $5-billion investment to build 500,000 homes in Canada over the next 10 years, with half of those homes completed within five years.
A promise the mayor described as "pretty impressive."
Five billion dollars, though?
"That's right, and that's the kind of investment we need," Stewart said.
Singh was back in Vancouver Sunday, where he campaigned with Don Davies, who has served as the NDP MP for Vancouver-Kingsway since 2008.
Davies has used his re-election bid to criticize the Liberals' record on affordable housing and Trudeau's $40-billion, 10-year national housing strategy that was unveiled in Vancouver in 2017.
In an email to the Courier, Davies noted the parliamentary budget officer showed the Liberals spending on affordable housing was "19 per cent lower as a percentage of GDP under the Trudeau Liberals than it was under Stephen Harper."
"Housing experts have also confirmed that spending on housing is at an historic low as a share of the federal budget," Davies said.
"They've revealed that funding for social housing remains stagnant. And they've exposed how the Liberals inflate their numbers by treating existing programs as new ones, counting hypothetical money, and presenting provincial spending as their own."
The Conservatives rolled out a "four-point plan" last week that promises to make home ownership "more affordable." That plan includes amending the so-called mortgage stress test to ensure first-time buyers can get a mortgage.
Scheer's party also promises to increase amortization periods on insured mortgages to 30 years for first-time homebuyers to lower monthly payments.
An inquiry into money laundering in the real estate sector and making surplus federal real estate available for development to increase the supply of housing are other measures.
Wai Young, who is campaigning to get her old seat back in Vancouver-South for the Conservatives, said her party understands the needs of Vancouverites when it comes to housing.
Like Davies, she was critical of the Liberals, accusing Trudeau's government of putting "barriers" in place that have prevented prospective homebuyers to get into the market, or switch mortgages.
"Their heavy-handed mortgage stress test, their raising of mortgage insurance premiums, and their punishing new taxes on middle-class Canadians have made it harder to realize the dream of home ownership," Young said in an email to the Courier.
The Greens' Brown lives in the Vancouver-Centre riding, where he rents a two-bedroom apartment with his partner in Coal Harbour for $1,900 a month.
He moved in 11 years ago and estimates it would cost close to $3,000, if the apartment went on the market today.
Earlier this month, the B.C. Non-Profit Housing Association released the "Canadian Rental Housing Index," which showed 48 per cent of households in Vancouver-Centre were spending more than 30 per cent of their income on rent and utilities.
Another 26 per cent of households were spending more than 50 per cent, making the riding one of the most expensive in the country for a renter.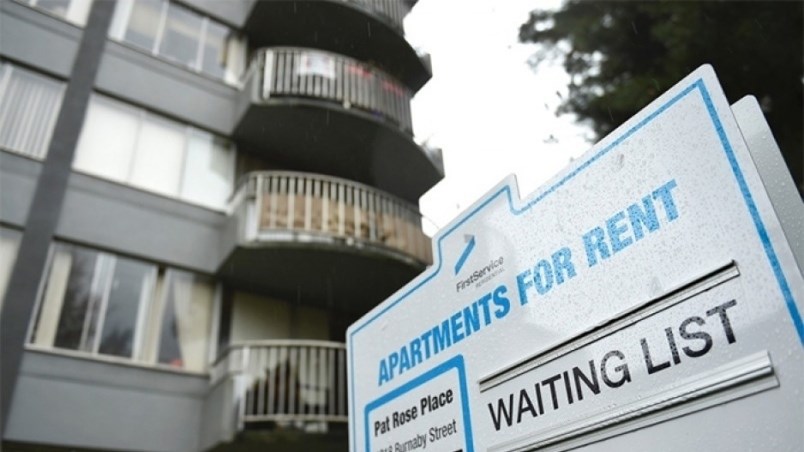 Coincidentally, it is the same riding the mayor lives and rents in with his wife, and where he ran unsuccessfully as the NDP candidate in the 2004 federal election against longtime Liberal incumbent Hedy Fry.
Among Brown's solutions to the affordable housing crisis is to increase the number of co-ops and purpose-built rentals that ensure tenants don't spend more than 30 per cent on rent.
He, as his party's platform does, reflects back to the 1970s and the-then federal government's tax incentives for developers to build rental homes.
That's how a big chunk of the West End was built, said Brown, adding that the federal government has to return to that program.
His party calls for a series of measures to address the housing crisis, including direct investments, changes to tax policies and lending and granting programs.
The party would also allow the Canada Infrastructure Bank to fund new housing and restore existing stock. It would increase the National Housing Co-Investment Fund by $750 million for new builds and boost the Canada Housing Benefit by $750 million to provide rent assistance to 125,000 households.
How much of that money works its way to Vancouver is unknown. The same vagueness is found in the housing plans of the NDP and Conservatives.
It's by design.
The lack of specifics on how one city would benefit is typical of national parties, which don't want to play cities and provinces against each other as voters go to the polls.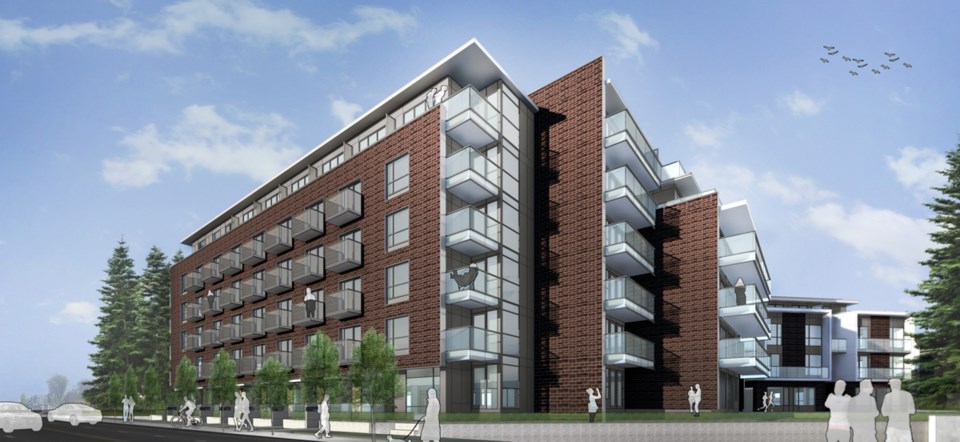 The Liberals, meanwhile, plan to continue with their national housing strategy, which has included initiatives in Vancouver, according to a progress report on the strategy released in August.
One of those Vancouver projects is the $184 million Stewart mentioned for 1,100 units of affordable housing to be built by the Community Land Trust. Of that money, $114 million is in low-cost loans.
The loans approach to funding housing is what Thom Armstrong, the executive director of the Community Land Trust and the Co-op Housing Federation of B.C., told the Courier in August was "an absolute game-changer for us."
The loans are amortized over 50 years but lock the first 10 years at a 1.5 per cent mortgage rate, as opposed to the 19 per cent Armstrong paid when he developed his first co-op in Saskatoon in 1982.
One of the Land Trust's projects at 3183 Pierview Cres. received $53 million from the federal government to build 140 homes.
Vancouver housing projects and the amount of money in direct investment or loans listed in the report include:
• Cressey Development's 111 rental units on East 18th Avenue ($40 million).
• Catalyst's 145-unit project at 188 East Sixth Ave. ($48.5 million).
• $15.2 million for a 36-unit project at 1037 West King Edward Ave.
• $12.1 million for the Covenant House expansion, and $11.7 million for the 63-unit Union Gospel Mission redevelopment.
The Vancouver Affordable Housing Agency also received $3.3 million towards the development of 600 units, and something called the "Vancity initiative" received $6 million to help develop 2,500 units.
More numbers is what Kyle Demes, the Liberals' candidate in Vancouver-East, provided to the Courier in an email in response to his party's housing platform.
He claimed that when the housing strategy reaches its 10-year end date, it will have helped more than 600,000 Canadians "find safe and affordable places to live."
If re-elected, the party will immediately expand the first-time home buyer incentive "to provide more help to communities in the greater Vancouver area by allowing homes valued at up to $789K to qualify," Demes said.
A national speculation and vacancy tax for "non-resident, non-Canadians" will also be put in place, said Demes, a director in charge of research at Simon Fraser University.
"The Liberal plan will create a new generation of housing in Canada," he said.
Broadway subway extension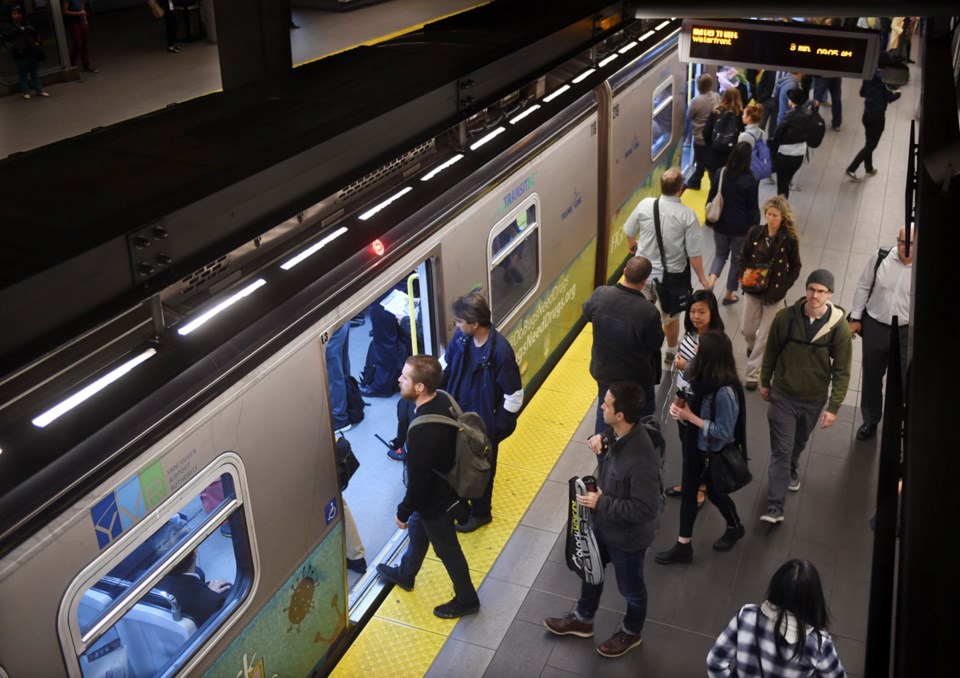 On transit, the mayor is not alone in his push for $4 billion to get the Broadway subway extended from Arbutus to the University of B.C.
(The first 5.7 kilometres of the line is fully funded and expected to open in 2025.)
He's got the region's mayors on his side, with more than 20 of them challenging federal leaders and parties in this campaign to establish a permanent transit fund.
They made a push last week at the Union of B.C. Municipalities' convention in Vancouver, where they held a news conference to warn that a SkyTrain extension to UBC is a "at risk," if the federal government fails to fund the project.
Same goes for a SkyTrain extension from Surrey to Langley and other projects outlined in the mayors' third phase of their 10-year transportation plan for Metro Vancouver.
New Westminster Mayor Jonathan Cote, chairperson of the mayors' council on regional transportation, led the news conference and said a delay in funding would only increase congestion on the roads and further crowd transit systems.
"Any federal party that wants to be serious about addressing climate change, also has to be serious about investing in public transit," said Cote, noting transit ridership has grown 20 per cent in less than three years and one million more people are expected to move to the region over the next 20 years.
The Courier asked Cote how he would rate the Liberals' record on the transit file.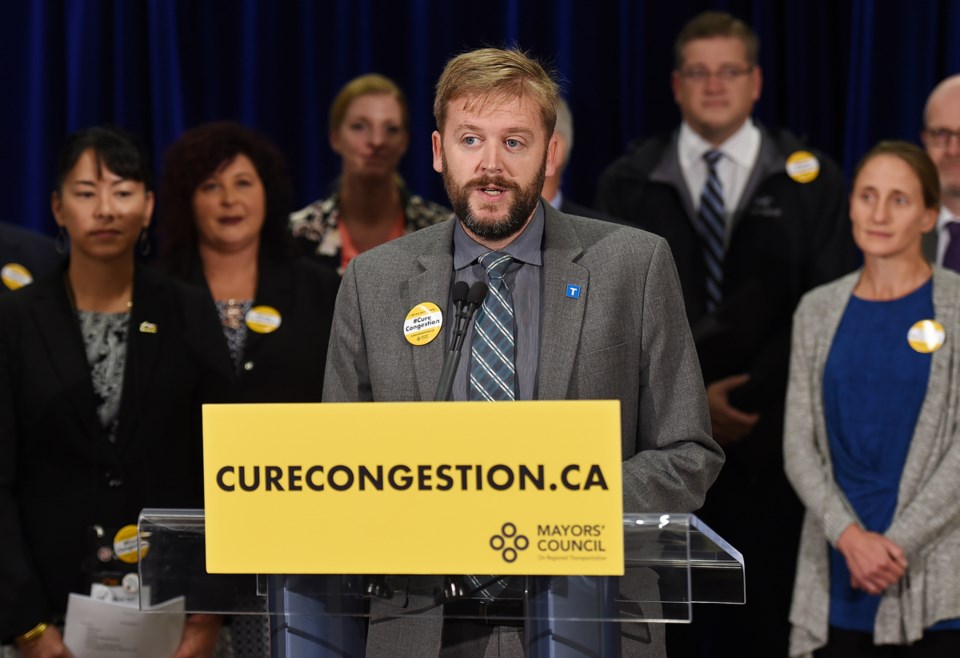 "I would definitely say a lot of the successes we're seeing in Metro Vancouver here today are a result of both the provincial and federal governments stepping up to the plate with respect to funding over the last four years," he said.
"So I would say the current government definitely was a major funding partner to make phase one and phase two [of the mayors' 10-year plan] a reality. But we're hoping, regardless of the party, we can get all of the parties saying they're willing to step up to help support the future phases."
The NDP's Davies seems to be on board, with him saying his party would create "a permanent, direct, allocation-based funding mechanism to modernize and expand public transit in communities across Canada, with an emphasis on scaling up low carbon transit projects."
But he didn't directly say whether the NDP would spend $4 billion for a SkyTrain extension to UBC. Neither did his party's leader when asked last week at city hall, although his response was favourable.
"Mayor Kennedy Stewart made it very clear that that's a priority for him, and I want to make it clear that a New Democratic government would support those types of investments," Singh said.
The Greens' Brown, a former UBC student, said his party would pay for a SkyTrain extension from Arbutus to his alma mater with "probably increased tax on corporate entities, by ending subsidies on oil and gas companies and going after off-shore tax money that's been evaded."
The Liberals' Demes was non-committal in his response, saying vaguely that "a re-elected Liberal government will continue to support local decision making when it comes to which projects municipalities and transit agencies want to build and want funded."
The Conservatives' Young didn't mention public transit in her response, only saying the Trudeau government "failed to build much-needed infrastructure in Vancouver, and especially in Vancouver-South."
Her leader was in Coquitlam last Friday, the same day an estimated 100,000 people marched in Vancouver to protest government inaction on tackling climate change.
Scheer did not attend the march but instead announced promises to build three infrastructure projects across the country, including a subway extension in Ontario and replacing the George Massey Tunnel.
The projects, he said, would reduce congestion and deliver faster commute times for everyone, "whether you drive or catch public transit," he said in a news release that accompanied his news conference.
Later that day, Cote took to Twitter to weigh in on Scheer's announcement: "Probably the most tone deaf response to today's #climatestrike."
Climate change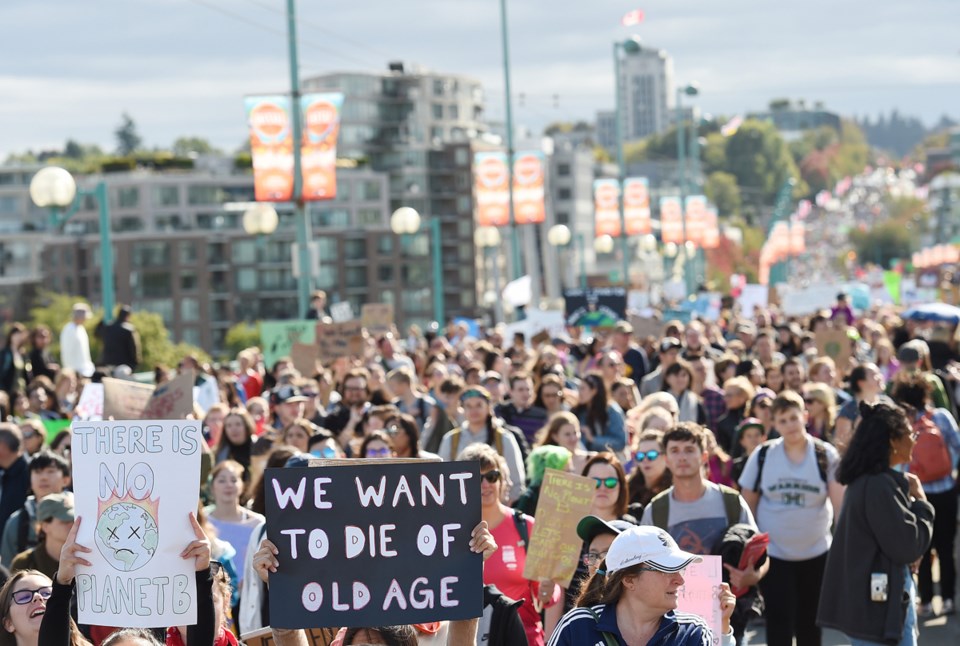 Stewart said fighting climate change is on his agenda, too.
But he believes city voters are looking to him to respond to Vancouver's housing crisis, reduce drug overdose deaths and lobby for improved transit.
"People kind of associate different jobs with different levels of government," he said. "If you asked [voters], 'What's the mayor of Vancouver responsible for?' They wouldn't say climate change."
Added Stewart: "I agree, this is a very big national issue — pipelines, carbon taxes, Paris Agreement, all that kind of stuff. I understand that nationally this is what people are focused on."
Since Stewart was elected, he has tied investing in more public transit and building affordable housing around transit hubs as measures to reduce greenhouse gas emissions.
He pointed out city council — led by OneCity Coun. Christine Boyle — has declared a "climate emergency" in Vancouver, and city staff continues to work on initiatives and ambitious targets to reduce pollution.
As well, cycling, walking and transit trips are up across the city.
The mayor will not say who he will get his vote in this election, although it's pretty much a given he wouldn't abandon his NDP colleagues at the polls.
He's been campaigning for Jenny Kwan in Vancouver-East, his former seat-mate in the House of Commons. He voted in the NDP's Vancouver-Centre nomination race, too.
And it was probably not a coincidence that he wore an orange tie on the day Singh visited city hall.
Regardless of the election results, Stewart has already booked a hotel room in Ottawa and will travel there within the first month of a winner being declared.
His focus will be on the prime minister's ministerial orders.
"There is a period of time when the prime minister — whoever it is — is writing ministerial letters and [those letters] are the ministers' orders for the term that they're the minister," the mayor explained.
"So I would like to try to get in and get my stuff written in their letters. Because once they're set, it's very hard to change them. So, for example, if I could get written in the health minister's letter 'enable safe supply,' that would be great."
So who should Vancouverites vote for?
"When I'm asked about who I'm going to vote for, most people kind of assume it [will be NDP]. But what I'm going to say is whoever is delivering the most for the city, that's who people should vote for."
The election is Oct. 21.
@Howellings