Mayor Kennedy Stewart and Housing Minister Selina Robinson refuse to predict whether the city's annual homeless count in March will show an increase or decrease in the number of people living without a home.
But both politicians say they are working together to secure land, build more homes and find housing for the city's homeless, including having 3,500 new homes underway or completed in Vancouver since 2017.
Their efforts come despite more than 2,220 people counted last March as homeless in Vancouver. It was the biggest population recorded since counts began in Vancouver more than a decade ago.
"I don't know that we've turned the corner yet," said Robinson, when asked by the Courier at a news conference Monday about what the numbers will reveal after the city's homeless count this year.
Stewart wouldn't speculate whether this year's homeless population will see a dramatic shift either way in the numbers. But the mayor urged the federal government to fulfill its promise to reduce chronic homelessness in Canada by 50 per cent by 2027.
"The federal government really has to do more," he said, noting he's made that clear with Prime Minister Justin Trudeau and Deputy Prime Minister Chrystia Freeland.
The mayor, however, admitted the city fell short of its rental housing targets last year, particularly the type of housing affordable to lower to middle-income people.
Stewart had also hoped last year's addition of temporary modular housing sites for homeless people would see a drop in homelessness, but it didn't.
Stewart and Robinson made those comments at a news conference to kick off construction of a 102-unit affordable rental home project on Southwest Marine Drive, near Ontario Street.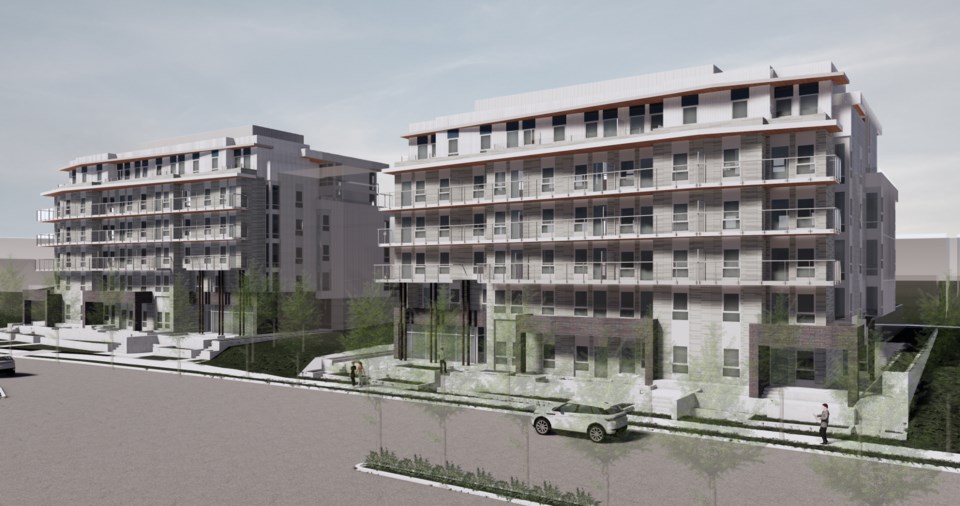 The project will see 20 homes go to people with annual incomes of no more than $26,000 per year. Another 51 homes will go to households who earn $25,000 to $73,000 and 31 homes to households with incomes of up to $113,000.
The New Chelsea Society will manage the 102 homes, which will be spread over two six-storey buildings, with studios and one, two and three bedroom homes targeted to families and seniors.
The provincial government is funding the project and the city donated the land, which used to be residential property. The land is worth about $22.7 million.
Robinson said such a project helps reduce homelessness by adding more housing for people currently in supportive housing which, in turn, opens up space for people living on the street.
Supportive housing is housing that gives tenants access to health care and counselling as they stabilize from a life lived on the street, or in other precarious living conditions.
The minister used her opening remarks to criticize the previous Liberal government and accused them of ignoring the housing crisis and "as a result, they were leaving people behind."
Homeless count statistics show there were 1,364 people counted in 2005. That statistic rose to 2,223 people in last March's count.
Robinson said it was important to understand the state of homelessness in B.C. when the NDP-led government took power in 2017.
She pointed out the government's temporary modular housing program, which saw 605 units built in Vancouver, eliminated the "Sugar mountain" homeless camp in the Downtown Eastside.
The program had the same effect in other parts of the province, including in Surrey, where a strip in Whalley was notorious for homelessness and drug use.
"We've made significant inroads and there's more to do, which is why our government is committed to building thousands more of the modular supportive housing," Robinson said.
The mayor, meanwhile, said he will travel to Ottawa next month to continue lobbying the federal government for more housing money and to respond aggressively to the opioid crisis.
The high price of housing coupled with the fentanyl crisis, he said, is creating a deadly combination for the city's most vulnerable. The mayor continues to push for a "safe supply" drug program for chronic drug users.
"I'm being listened to, I'm getting the meetings, I'm getting the calls, I'm getting the visits," Stewart said. "That makes me feel like we're very close."
@Howellings