The City of Vancouver will have to spend roughly $1 billion over the next 82 years on infrastructure to prepare for an anticipated sea level rise of at least one metre by the year 2100, city council heard Wednesday.
Without spending the money, damage would be significant to the city: about 13 square kilometres of land and buildings valued at more than $7 billion would be vulnerable to flooding, according to modeling done by the provincial government's coastal flood risk assessment program.
While the city has made some efforts to mitigate damage—such as increasing the minimum flood construction level for buildings from 3.5 metres to 4.6 metres—it has not developed a comprehensive plan to address future flooding and anticipated storm surges that would affect residents living on higher ground.
To understand better how to spend $1 billion on a plan, city council unanimously approved Wednesday up to $500,000 to hire a team of national and international experts to develop solutions for Vancouver's most flood-vulnerable areas.
The approval of the $500,000 is contingent on the city's planning department securing another $500,000 from senior levels of government or private foundations such as the Rockefeller Foundation for a total budget of $1 million.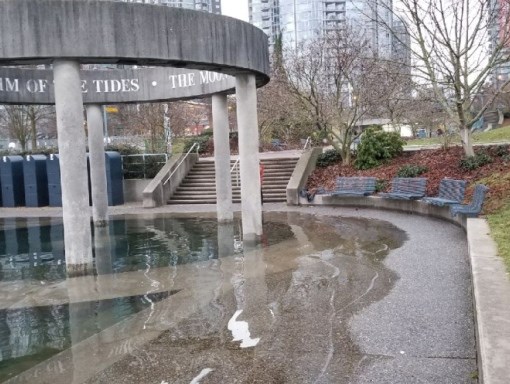 Gil Kelley, the city's chief planner, told the Courier he anticipated hiring five to six teams of experts, which would include biologists, engineers, planners, landscape architects and urban designers, who would liaise with communities, including the Musqueam Indian Band.
Each team would be responsible for creating designs for specific areas of Vancouver, with False Creek, the Fraser River and other low-lying areas being likely spots, Kelley said.
"We're not looking for a singular sort of a magic bullet, but actually some pretty informed design thinking about how we might—over time—implement these ideas and implement infrastructure funding and so forth and so on," he said. "Sometimes, just doing the most immediate thing is not always the best idea in the long term. So that's, I think, why you want this interdisciplinary look at it, and to work with the communities that actually live there and who know the landscape."
In San Francisco, where Kelley was director of citywide planning before becoming Vancouver's chief planner, a similar design challenge was conducted and produced award-winning work. The idea for the challenge was inspired by a competition in New York City to address the flood-related gaps identified after Hurricane Sandy in 2012.
While some residents may conclude flood mitigation is solely about fortifying the city's seawall and building retaining walls along the shoreline, Kelley acknowledged that will likely be part of preparing for a flood. But, he added, designing buildings and using land to allow water to move in and around spaces is also part of the thinking from urban designers.
"Are there parts of the shoreline, and other parts of Vancouver that we say, 'Gee, it's OK if they flood, actually.' Maybe we don't need to protect them as much," he said. "Are there ways that we can raise critical infrastructure in buildings that we now put underground? These are some of the questions that need exploring."
Kelley pointed to the Northeast False Creek lands and the East Fraser Lands property on the banks of the Fraser River as areas where the city has ensured buildings and roadways will be built on higher elevations. Setbacks from the water and raised dikes are other measures.
"But we're doing this kind of one at a time, and we need to step the lens back a bit and take a broader look at the landscape," he said, noting the shoreline is core to Vancouver's identity, with beaches, restaurants and housing. "The sea level rise is challenging that notion of how are we going to maintain that identity, and how do we preserve those values of the closeness to water that we love—well into the future when we could see two to three metres of sea level rise, ultimately."
Residents living on higher ground should also be concerned about flooding, he said, noting storm surges can back up sewers and overflow drains and dump toxins into False Creek and other waters surrounding Vancouver.
"Frankly, if the sewers back up, it doesn't matter whether you're in a low area or high area, your toilet is not going to flush," he said. "Or if a bridge or road is taken out of commission, it doesn't matter where you live, you may not be able to get to work. So it affects everybody."
@Howellings