The amount of oil that spilled from a freighter into English Bay last week is more than the original estimate of 2,700 litres and could be as much as 5,000 litres, city manager Penny Ballem told city council Tuesday.
Though Transport Canada continues to investigate the spill from the Marathassa bulk grain carrier that occurred April 8, Ballem said her information from officials is "it's probably going to be in the range of 3,000 to 5,000 litres."
"We don't know the exact number," she said in providing an update to council on efforts to clean up the spill. "Hopefully, that will come out over the coming days but that's in the hands of Transport Canada."
Ballem made the comment after arriving from a base at the port where she met with Canadian Coast Guard and other officials involved in the cleanup of the spill of bunker C oil, which was used to fuel the ship.
The Marathassa, which is managed by Alassia NewShips Management Inc. in Athens, Greece, was on its maiden voyage from Busan, Korea when the spill was first reported by a recreational boater at 5 p.m. last Wednesday.
Ballem showed a map of the spill, which highlighted the path of the oil. It washed up on several beaches on or near Stanley Park, over to the shoreline in North Vancouver and into Vancouver Harbour.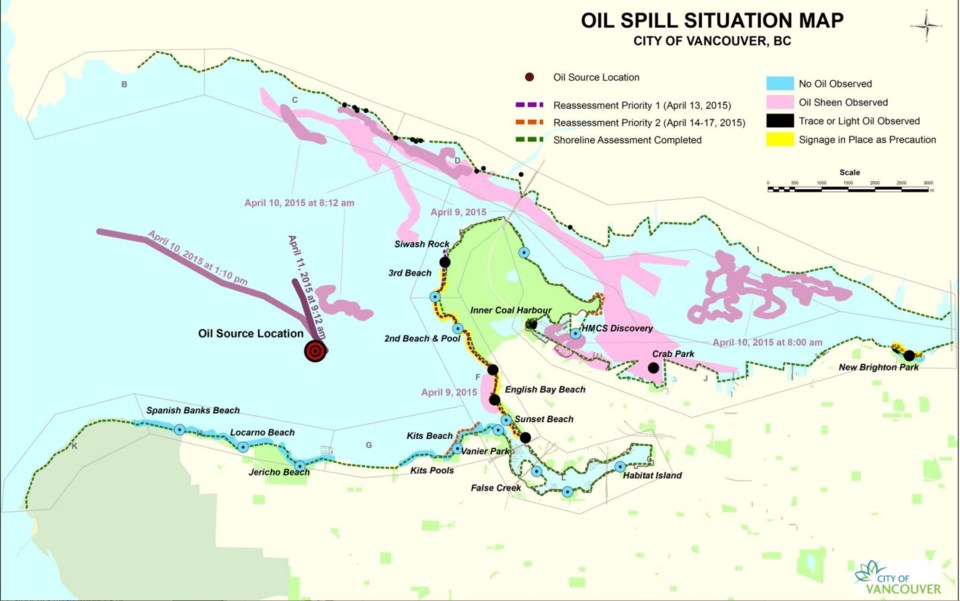 Globules of the highly toxic and viscose oil also reached the shore of New Brighton Park near the Ironworkers Memorial Bridge, some 12 kilometres from the source of the spill.
At least seven ships in the waters off Stanley Park were also contaminated by the oil as the slick moved north across the ocean. The ships have since been cleaned. Ballem said officials don't know how much of the oil came to rest on the seabed.
Up to 20 seabirds were affected by the spill, with one having to be euthanized. At least three birds are being treated by a wildlife rescue association in Burnaby.
Though Ballem said the city could have been notified sooner of the spill, she did not criticize the Canadian Coast Guard's response time to the spill.
"We need to figure out was it adequate, and what is adequate and not only just adequate but what should we expect in this city," she told reporters after her presentation to council.
Ballem said she wants to compare the response to what the "international benchmark" is for similar-sized spills in other port cities in the world. A timeline of the response released by the city shows the Coast Guard received a report at 5:10 p.m. on April 8 about a slick around a bulk carrier. A boom was secured around the Marathassa at 5:53 a.m., April 9.
Mayor Gregor Robertson, however, said he had a lengthy meeting Saturday with Canadian Coast Guard and he came away concluding the response was "not good enough."
"We have the largest port in Canada, the biggest port on the west coast of North America and should be able to deal with these types of spills very urgently," he told reporters. "For a small spill, it was a slow response. For a large spill, it's unthinkable how much damage would be done in those initial hours. We clearly have to have more resources, more capacity to respond to a spill of any size."
When reminded of Ballem's position that she could not say whether the response was adequate or inadequate, the mayor agreed more information is needed on how other agencies working in ports around the world respond to spills.
But, he said, "just looking at the basic information of a ship immediately off shore of the largest port in Canada, adjacent to the most precious park in the world in Stanley Park, and port infrastructure minutes away from that spill site, it's hard to believe that we couldn't have had a quicker response."
Robertson and Vision Coun. Kerry Jang pointed to the closure of the Kitsilano Coast Guard base and other cuts to marine services as a factor in not having a quicker response to the spill.
Vision Coun. Geoff Meggs said there has to be a better way of detecting an oil spill than having a recreational boater report the slick to authorities.
"It's never been clear to me what would have happened had he not been there and prepared to phone it in," Meggs said. "It's beyond belief to me that it was a recreational boater, but thank heaven he was there."
Coast Guard Commissioner Jody Thomas issued a statement April 12 describing the response, which involved the Western Canada Marine Response Corporation, as "exceptional."
Thomas said 80 per cent of the spill was contained and recovered in 36 hours.
She also noted the Kitsilano Coast Guard base "never provided these types of environmental response operations, and its presence would not have changed how we responded to this incident."
Ballem noted near the end of her presentation that she and city officials planned last Thursday to conduct a mock "table-top" exercise on an oil spill. When deputy manager Sadhu Johnston called her in the morning to tell her about the spill in English Bay, she didn't believe him.
"He said, 'No, no it's real,'" she said.
twitter.com/Howellings