The drug overdose crisis that continues to plague the city and rest of the province is showing no signs of abating with statistics released Tuesday indicating Vancouver saw 33 suspected drug deaths in January.
If that pace continues, Vancouver could equal or surpass the city's deadliest year for overdose deaths, with 365 recorded in 2017. Total deaths for the province in January reached 125, the majority of which occurred in Vancouver, Surrey (15) and Victoria (14).
That's on overall decrease of 17 deaths from the 142 recorded in January 2017, according to the BC Coroners Service, which cautioned the statistics are preliminary and could rise.
If there is any good news to glean from the statistics for Vancouver, it's that the 33 deaths in January were 18 fewer than the 51 recorded in January 2017. The 51 deaths were the highest monthly total last year, with the average being 31 per month.
The lowest number of deaths in Vancouver last year — 18 — were recorded in October. But the deaths spiked again in November and December, with 29 people dying in each month.
The coroners' report released Tuesday doesn't indicate how many deaths were linked to fentanyl, although more than 80 per cent of people who died in Vancouver and across the province in 2017 had fentanyl in their system.
A graph in the report compares the number of overdose deaths to other common causes of natural deaths that occurred in B.C. from 2010 to 2017. Drug deaths more than doubled the number of suicides, more than tripled motor vehicle accidents and surpassed homicides by an extraordinary number.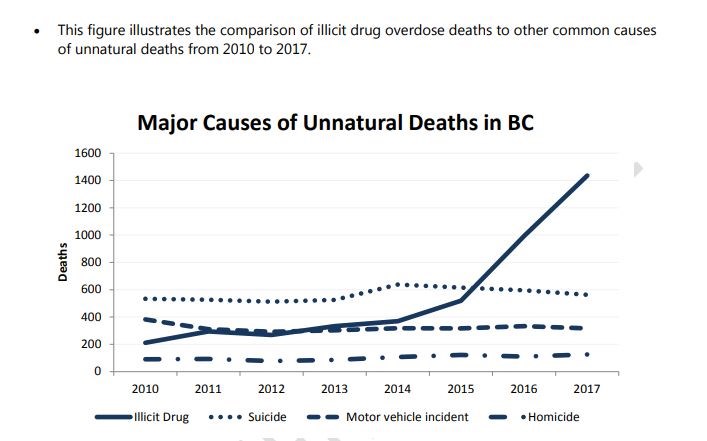 Other findings of the report include:
Fifty per cent of those who died in January were aged 19 to 39; individuals aged 19 to 59 have accounted for 94 per cent of deaths. Males accounted for 82 per cent of all deaths over the same period.
More than 90 per cent of overdose deaths occurred inside (65 per cent in private residences, 30 per cent other inside locations) and five per cent occurred outside in vehicles, sidewalks, streets, parks and other areas.
There were no deaths at supervised consumption or drug overdose prevention sites.
More fatal overdoses occurred during the days following income assistance payment — Wednesday to Sunday — than all other days in 2017 and into January 2018.