The location of the annual 4/20 pot protest is once again up for discussion and at least one park board commissioner is hoping to see it move on from Sunset Beach.
Non-Partisan Association commissioner Tricia Barker is set to bring forward a motion at the next meeting that would see the park board ask city council to continue to look at different venues for the event "in order to move this event to a more appropriate location that will not cause disruption to West End area residents, seawall users and Vancouver Aquatic Centre patrons, with the goal of having this event relocated by 2020."
Barker said that she has nothing against cannabis or the movement, it's just about following the rules in place.
"It's never had a permit to be there and it keeps on operating and especially during the campaign I found a lot of people were really upset [with] the fact that, you know, we have bylaws, we have rules and people can come in and just disregard that… For me it is a pretty simple premise, there's no smoking in parks and we should actually go along with that."
The annual "smoke out" has been taking place in Vancouver since 1995 and up until 2016 it had been held at Vancouver Art Gallery. As the event grew in popularity it outgrew the space and a decision was made in early 2016 to move 4/20 to Sunset Beach.
However, the park board commissioners at the time were not on board with the move.
"On behalf of the Board, I would like to express our grave concerns that this took place without the knowledge of the elected Board of Commissioners," Sarah Kirby-Yung, who was board chair at the time, wrote in a letter to Mayor Gregor Robertson. "Consequently, I think it is important to clearly inform you of the position of the Vancouver Park Board, which has serious concerns regarding this illegal, unsanctioned, and unpermitted event. The Board does not support 4/20 taking place at Sunset Beach." 
In the letter, Kirby-Yung asked the mayor to direct city staff to work with organizers to identify an alternate location. Commissioners went a step further in 2017 and adopted a resolution to not approve or permit any future 4/20 and/or cannabis events on any park board property, despite staff recommending that commissioners issue a permit for the annual event.
In March 2017, city council considered a motion to work with organizers to identify another location but deferred the motion back to staff for consideration pending the legalization of cannabis.
In light of the legalization of recreational cannabis, which went into force last October, Barker would like to see council revisit the idea.
Organizer Dana Larsen said that other locations have been considered but finding another suitable location for an event of that size is difficult. An estimated 40,000 people attended last year's rally.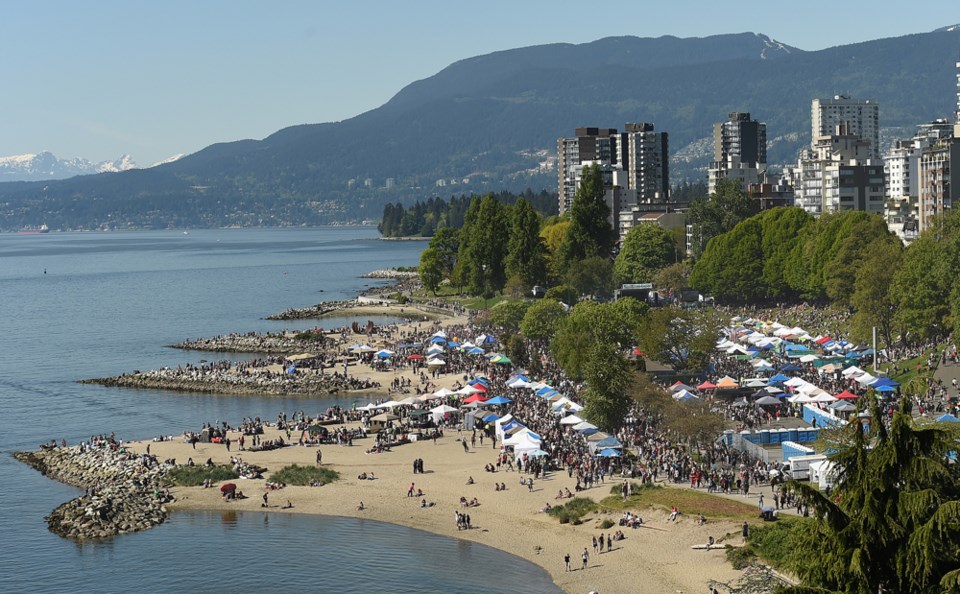 "We thought about a lot of different parks in the city, really, there was a few different spots that we looked at and thought about but mostly they were either too small or not particularly accessible or difficult for safety purposes," he said, adding the PNE was considered as a potential location back in 2017 but the idea was ultimately rejected by the PNE board.
"In my opinion that's one of the only other places in the city that would be suitable for something like this…," Larsen said. "We're fine at Sunset Beach. It's a great venue. If it was any other kind of event they'd be happy to give us a permit it's really just bias and stigma against users that is the root of the issue here, in my opinion."
Even with the legalization of the recreation use of marijuana, Larsen said the 4/20 event is still a protest.
"There's been some positive changes to the cannabis laws, our work is by no means done and there's plenty of flaws and problems and punishments and restrictions under this legal regime that have to be dealt with," he told the Courier Friday afternoon, adding that he was about to head to a pot protest at city hall "to try and stop the city from shutting down some of the dispensaries that are serving medical patients who have no alternative at this point.
"There's still ongoing issues and even when things are legal it doesn't mean that there's no room left to protest or complain."
In her motion, which will be considered at the Feb. 11 park board meeting, Barker would also like to see staff look into options to preclude the sale of cannabis and cannabis-related products at the 2019 event. And that staff look at ways to minimize the impacts on West End residents "in regard to air quality, noise and music levels, traffic disruption and restricted access to the seawall."
 "We close down that part of the seawall, we close down the aquatic centre, the roads are closed down in that area for these thousands of people," Barker said.
"If you're going to hold a big function like that, the policing, the road closures, citizens are going to get pretty upset."
@JessicaEKerr
jkerr@vancourier.com