Homicide investigator Sgt. Mike Heard says that it's the connection with one victim's family in particular that has left a lasting impression on him and his career.
Heard was named the Vancouver Police Department's 2019 Police Officer of the Year Thursday morning at the annual Vancouver Police Commendation Ceremony. The awards recognize police officers, civilian staff and regular citizens for acts of bravery and going beyond the call of duty.
Heard, a 20-year veteran of the force, has been with the department's homicide unit for almost 10 years and was promoted to sergeant two years ago. Of all the murders he's investigated over the year, he says it was the case of Rose Paul that has made a lasting impression on his life.
"[It] still drives me to this day," he told the Courier after accepting his award.
In March 2015, Paul's body was found in the basement suite of a home on East 22nd Avenue near Main Street. Her boyfriend, Daniel Alphonse Paul, was on the run for a month before police caught up with him. He was convicted of second-degree murder in the case and in December 2017 he was sentenced to life in prison with no chance of parole for 21 years.
Heard and his brother, who was his partner at the time, worked on the case.
"For me, we made a ton of connections with the family and still to this day we're invited to family events and family barbecues," Heard said.
"I think for me to have that strength to go on and see the importance and kind of partake in family events like the funeral and family ceremonies for Rose Paul going forward, I think it's been a huge lasting impression on me… and having their support and still to this day continue to meet with them, see them go to different events within the community, for me, has kind of been life changing."
In his award write-up Heard was described as a "tenacious investigator and an exceptional leader" who has taken on some of the department's most challenging cases. He leads one of the teams of investigators and at the time the awards were announced the team had secured charges in 100 per cent of the last 10 cases.
"My team and I have had just great success and we've been lucky on all the files we've gotten, the last 10 murders, we've solved all of them."
Heard was chosen as the Police Officer of the Year for 2019 for his "remarkable level of commitment and leadership, maintained throughout lengthy and complex investigations, and resulting in extraordinarily successful results."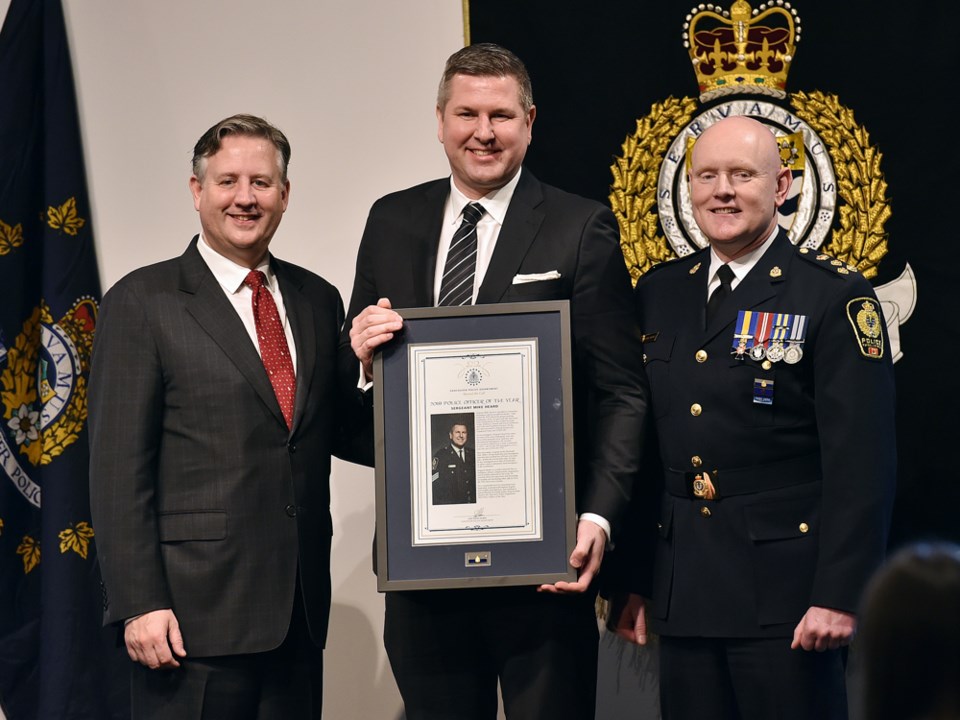 Other awards handed out included:
Jim and Vicki Chu Community Safety Leader Award – Aleya Trott
Trott has been the executive director of the West End – Coal Harbour Community Policing Centre since July 2010. Described as a "tireless advocate for the safety of her community," Trott has focused on volunteers and in the past eight years increased the number of volunteers from 45 to 172 to help run programs like bike and foot patrols, Speedwatch, distracted driver initiatives and elder abuse workshops.
She also volunteers with a number of organizations in the community, including the West End Community Response Network for vulnerable adults, the West End Seniors Planning Table, and the Living in Community Steering Group advocating for sex workers. She also serves as an after-hours crisis response worker for VPD and Coquitlam RCMP victim services units.
Vancouver Police Board Awards of Merit
Zoran Brankovic and Nathan Jones worked together in April 2018 to help a distraught man contemplating jumping off the Powell Street railway overpass.
Eleonora Beniamino, Malik and Muhsin Al-Maamiry, Nicolo Mari, Benjamin Smith and Craig Vandermeer were all recognized for their part in helping others, including a severely injured pedestrian, and pursuing and stopping a suspect.
Joe De Jesus and Irfan Elahi were awarded for their actions in the face of a violent attack at the Bentall Street Canadian Tire store in November 2016. De Jesus, who was working in the hunting and firearm section, was seriously injured when a man started smashing glass cabinets in an attempt to get a rifle. Elahi, the store's loss prevention officer, called 911 and followed the man out of the store, and started kicking the assailant as police officers fought to apprehend the man.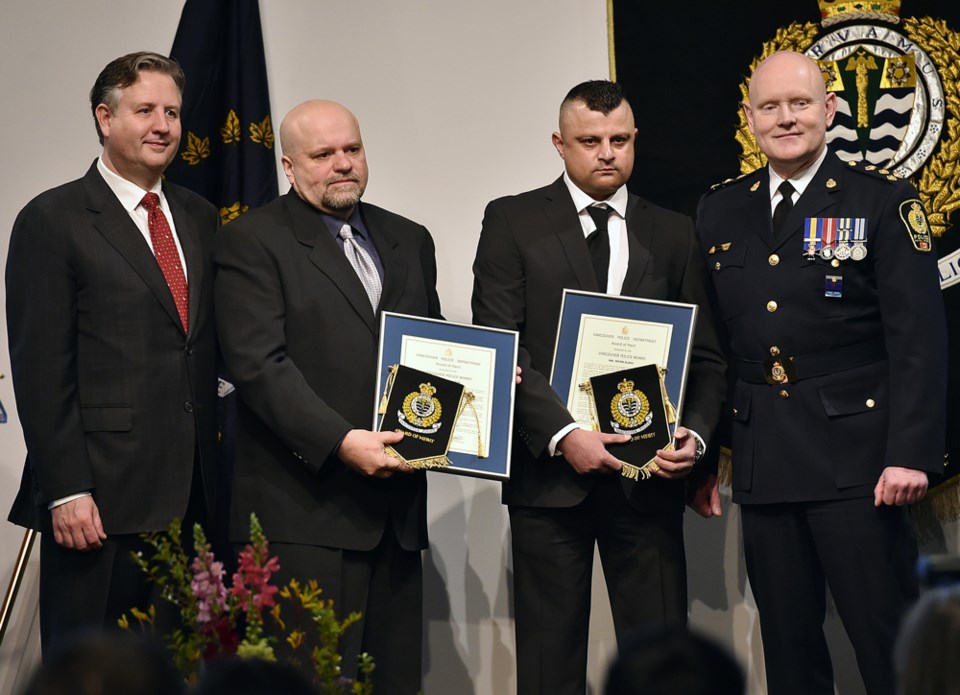 Jonas Dow, who is also a Crown prosecutor, was awarded for chasing down, tackling and holding a man who had stolen an elderly man's bag near the Main Street SkyTrain station.
Karl Dey leapt into action not once but twice in the span of a few minutes. In December 2017 he chased down a man seen running out of a Gastown store with a high-end purse and flagged down police. A few minutes later, as he was returning to his water delivery truck, he chased down a man who had just sexually assaulted a woman in another store.
Derrick MacNeil, Jeff Taylor and Kristian Evans worked together to help get people and animals out safely after fire broke out in an apartment building on Thurlow Street in December 2018.
Megan Deacon, Sharmin Lyon and Li Chun Tsao came to the aid of a police officer who was being assaulted by a suspect who had allegedly just assaulted a security guard in Chinatown.
Mitchell Tulk helped police apprehend a man who had fled from an officer and became violent and was actively resisting arrest.
Randall and Yutah Helten helped a neighbour who had been stabbed by his roommate. They let him into their home while the suspect was still in the area, rendered first aid and called police.
Matthew Carvalho and Jaewoo Lee sprang into action when a man armed with a knife entered a downtown Starbucks and started making demands. Lee, the evening shift manager, tried to calm the man while getting customers and staff to safety. Carvalho put himself in harms way and tackled the suspect to the ground. The two men worked together to disarm and hold the man until police arrived.
Here is the full list of award recipients: