Nothing could wipe the smile off Insp. Jim McCardell's face Friday morning as his daughter joined the ranks of the Vancouver Police Department.
"It was unbelievable," he told the Courier after his daughter, Madison McCardell, was sworn in along with 18 of the newest members of the department.
Const. Madison McCardell is now the third generation of the McCardell family to serve with VPD. Her father, who currently oversees the department's emergency response team, K9 unit and negotiators, is a 33-year veteran of the force. His father, Percy McCardell, also served with VPD, retiring as a staff sergeant in 1972 after 33 years.
"We'll be closing in on 100 (years) once she retires in 2050, I guess," Jim McCardell said.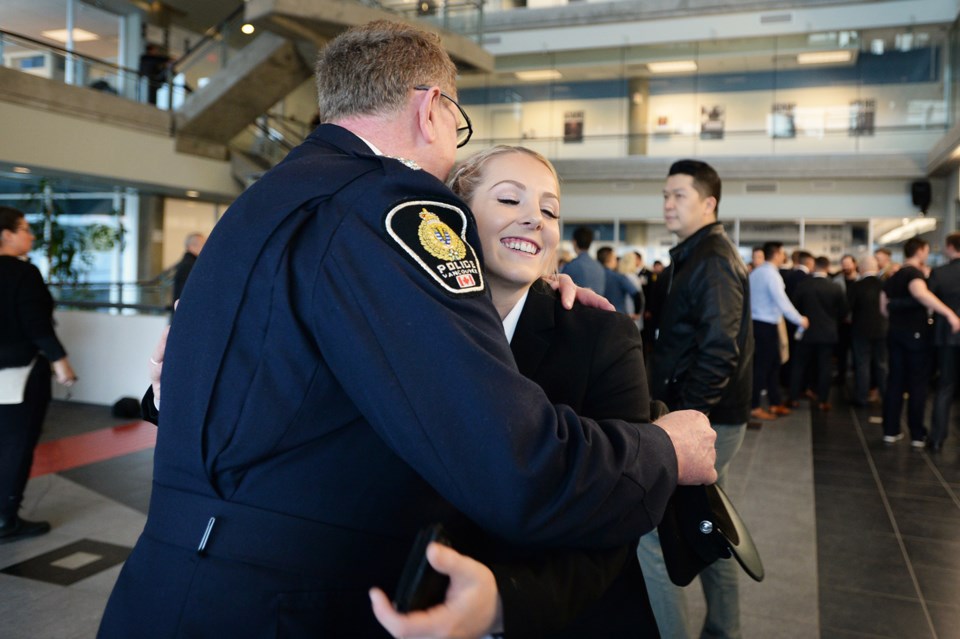 Madison McCardell first started thinking about following in her father and grandfather's footsteps in Grade 9 after spending the day at work with her dad.
"It was take your kid to work day and that showed me a bit of each department," she said, adding that she decided she wanted to pursue a degree in kinesiology first.
She studied at the University of B.C. Okanagan and after graduating with a bachelor of arts in human kinetics was hired by VPD as a special constable in 2017 and started working at the jail. She said the experience working in the jail helped confirm that she wanted to go into policing, something that had always been a part of her life.
"I grew up with the police department," she said. "I went to events, I went to Christmas parties, a lot of our family friends are respected police officers, so it's just being around the environment and working in the jail… that kind of pushed me in the right direction. It just helped reassure me that this is what I wanted to do."
Things have changed since her grandfather Percy McCardell joined Vancouver Police Department during the Second World War.
"He told me stories growing up and he said when he got hired, which was of course during the war, they gave him billy club and a gun and he was in a suit and they said you need to walk from here to here on Fraser Street and that's how you started," Jim McCardell said. "Things have changed a lot, they really support these kids with lots of training."
Madison McCardell and the other new recruits will now spend most of the rest of the year in training at the Justice Institute of B.C. before hitting the streets of Vancouver.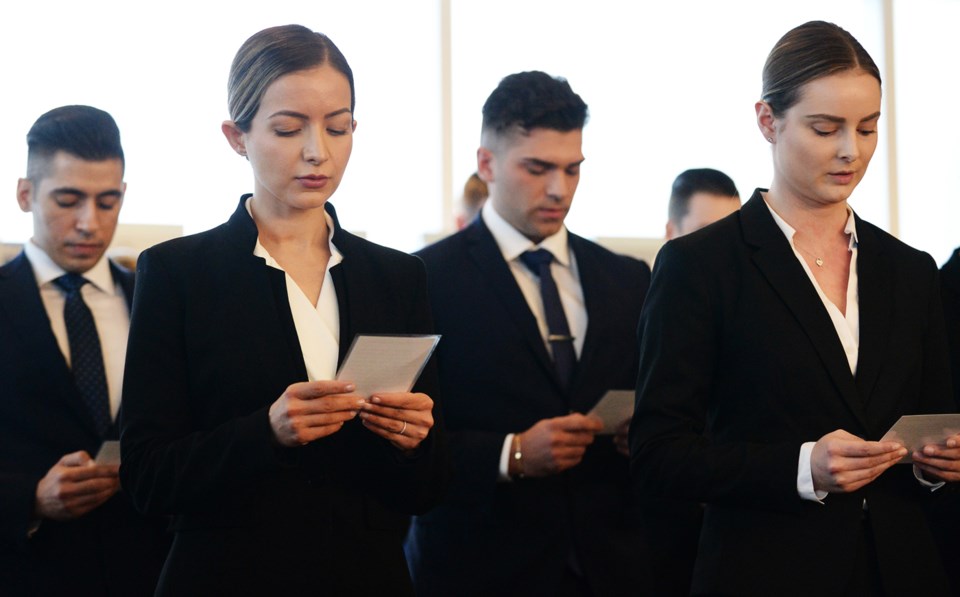 Meet the rest of VPD's newest recruits:
Const. Mitra Ardoueiazar
Ardoueiazar was born in Tehran and moved to Vancouver with her family when she was nine. She has a bachelor of arts in criminology from Simon Fraser University and has worked with B.C. Corrections since 2011 where she is currently a supervisor and a use-of-force trainer for the emergency response team. Since joining B.C. Corrections she has been recognized with the BG Robinson Award for her strong work ethic and has received a commendation for meritorious service. Ardoueiazar is fluent in Farsi.
Const. Lisa Babcock
Babcock was born in New Westminster and raised in South Surrey, where she graduated from Elgin Park Secondary. Growing up she excelled at figure skating and went on to become a volunteer teacher in the Can Skate Canada program, and also volunteered with the SportAbility, BC Sledge Hockey Association. Babcock worked in law as an administrative assistant before being hired by VPD. She has volunteered with the Salvation Army in the Downtown Eastside and as a crisis line support worker at Options Community Services, and currently volunteers with KidSport Canada.
Const. Riley Bowra
Bowra was born and raised in Surrey where she attended Fraser Heights Secondary School. In 2018 she graduated from SFU with a bachelor of arts with distinction, majoring in criminology. She also obtained a certificate in police studies. Bowra's passion for policing began when she worked as a front line support worker in Surrey. In her spare time, she has volunteered as a mobile crisis response worker, as a crisis line operator, and with the Big Sisters. Bowra is fluent in French.
Const. Jeffrey Ching
Ching was born in Red Deer, Alberta and raised in Coquitlam. He attended Centennial Secondary where he swam at the provincial level with the Hyack swim team. In 2011, he graduated from SFU with a bachelor of arts degree, majoring in psychology. Ching has worked as a call-taker and dispatcher with E-Comm and was a member of their critical incidents team, and volunteered with the Crisis Intervention Centre and Suicide Hotline. Ching speaks Cantonese.
Const. Christina Coburn
Coburn was born and raised in the Lower Mainland. She has a bachelor of arts degree in geography and political science from the University of Victoria. Coburn has worked with the Canada Border Services Agency since 2009 and was recognized for her quick and selfless response during an incident with a shooter at the Douglas Border Crossing. She was awarded the Queen Elizabeth Diamond Jubilee Medal and President's Citation for Bravery.  
Const. Evan Diamantopoulos
Diamantopoulos was born in Vernon and raised in Surrey where he graduated from Earl Marriott Secondary School. Growing up, he excelled at hockey and played at the junior level. After high school, Diamantopoulos enrolled at the JIBC and a diploma in law enforcement studies. He has worked in the security and loss prevention field, and has been recognized by his management team for arrests and recovery of merchandise. He has also volunteered with the Surrey Crime Prevention Society and the JIBC Police Academy.
Const. Avneet Dhillon
Dhillon was born and raised in Surrey. Growing up, he excelled at soccer and played for gold level team and trained at a soccer school for elite players. After graduating from Fleetwood Park Secondary he attended the University of Alberta where he studied science and psychology. While at UofA he helped his parents buy a business and obtained a real estate licence. After completing his degree, Dhillon continued to work in the family business and began volunteering with the Surrey Crime Prevention Society.  Within a few months of volunteering, he was recognized as 'volunteer of the month' and promoted to team lead. Dhillon is fluent in Punjabi.
Const. Rachael Doherty
Doherty was born in Surrey and graduated from Sullivan Heights Secondary. Growing up, she trained as a dancer and acrobat, performing with the B.C. Lions, during the 2010 Olympics and with Cirque Du Soleil in Las Vegas. She has an associate of arts degree in criminology from Kwantlen Polytechnic University. In 2017 she was hired as a special municipal constable and has worked in all three components of the program — traffic authority, community safety officer and guard at the jail. Doherty has also volunteered with BC Corrections and Big Sisters.
Const. Brian Haddon
Haddon was born and raised in Langley. Growing up, Brian was inspired by his father to pursue a career in policing. In Grade 12, he completed the VPD Student Challenge, which helped solidify his goal of becoming a police officer. Haddon is an accomplished piper and earned scholarships to SFU where he played for the school's world-renowned pipe band. He has worked as a security guard and loss prevention officer, and as a special municipal constable with VPD.
Const. Danton Jung
Jung was born and raised in Vancouver. Focused on becoming a police officer, Jung attended SFU where he graduated with a bachelor of arts in criminology and a certificate in police studies. He also has a crime and intelligence certificate from BCIT. Jung has worked as an advisor and fraud analyst at financial institutions, and He has volunteered with the Crisis Centre of BC, South Vancouver Community Policing Centre and the Project 529 Garage bike registry. He was hired as part of the VPD's covert intercept unit before becoming a special municipal constable working in traffic authority and community safety before becoming a full-time jail guard.
Const. Jason Maharjan
Maharjan was born in New Westminster and raised in Kelowna where he attended Rutland Senior Secondary School. He completed mechanics training from BCIT in 2008 and worked in that field for a short time before pursuing his interest in personal fitness. Striving towards a career in policing, in 2016 he started working with the VPD's covert intercept unit and was subsequently hired as a special municipal constable. He has volunteered as a coach and with BC Special Olympics.
Const. Cole Nelson
Nelson was born in Richmond and grew up in Squamish and Whistler where he played a variety of sports, including hockey where he was the captain of his Junior B team. He previously worked in the restaurant and HVAC industries and obtained a diploma in criminology from Douglas College. Nelson has volunteered at the Grandview – Woodland Community Policing Centre and for the last two years has worked as a hockey coach and mentor for the Canuck Autism Network.
Const. Brad Procyshyn
Procyshyn was born in Burnaby and raised in Surrey. He attended SFU where he earned a bachelor of arts degree, with Dean's Honours, in health science. In 2017, he was hired as a special municipal constable and has since taken on a full-time jail guard position. Procyshyn is a fitness enthusiast and has trained in Muay-Thai, Jiu-jitsu and Police Judo.  He has volunteered with Surrey Crime Prevention Society, St. John Ambulance Brigade and Operation Red Nose.
Const. Katrina Ranger
Ranger was born in Moscow, Russia and moved with her family to the Surrey/White Rock area at age three. She participated in various sports and martial arts, and played the saxophone in the high school concert and jazz band. In 2018 she obtained a bachelor of arts degree in psychology from UBC and has experience in the customer service industry.
Const. Edward Saxton
Saxton was born in Germany and grew up in England, immigrating to Canada with his family when he was 14. After graduating from South Delta Secondary, he worked in the grocery and hotel industries and took opportunities to travel the world. In 2013, Saxton graduated from BCIT with an electronics certificate and joined the Canadian Armed Forces. After basic training he was posted to construction engineering in Comox and also served one tour of duty in Kuwait, and another in Inuvik, Northwest Territories.
Const. Joelle Sexsmith
Sexsmith was born in Chilliwack and raised in Salmon Arm. She graduated high school with honors and attended Okanagan College where she excelled in her studies. She transferred to Trinity Western University to complete her degree in human kinetics and graduated with a 4.0 grade point average. In a recent position with Mercy Canada Sexsmith worked with young women struggling with addiction, disorders and abuse issues.
Const. Zachariah Wigood-Sinclair
Wigood-Sinclair was born and raised in Kitchener, Ontario. In 2010, he graduated from Cameron Heights Secondary and enrolled at Fanshawe College where he completed a diploma in police studies. He worked for Paladin Security as a mobile and healthcare security officer before being hired as a VPD special municipal constable in 2017. Wigood-Sinclair has also volunteered with Project 529, a stolen bike recovery program.
Const. Nicholas Wilkinson
Wilkinson was born in Burnaby and raised in Surrey. He graduated from Holy Cross Regional High School and attended Kwantlen Polytechnic University where he obtained an arts certificate. He worked with Paladin Security Group as an acting shift supervisor at the Surrey Memorial Hospital and in 2016 was hired as a special municipal constable and worked as a community safety officer and jail guard. He has also volunteered with the Surrey Crime Prevention Society.
@JessicaEKerr