It will still cost more to rent an apartment in Vancouver than in any other major Canadian centre, but it appears the gap may be closing, according to PadMapper's latest rent report.
This is particularly true for two-bedroom apartments. The average Vancouver rent for this home type remained unchanged in March at $3,130 — the highest in the country. In second place was Toronto at $2,160, making the average two-bedroom rent 45 per cent higher in Vancouver than in Canada's largest city.
Just two months ago, that gap was 60 per cent.
For one-bedroom units, the average Vancouver rent also remained stable in March, sitting at $1,900. This was just under 12 per cent higher than the average of $1,700 in Toronto.
Although rent was stable in Vancouver in March, prices in this city will remain on an overall upward path, said Chrystal Chen, data analyst at PadMapper, because of high demand coupled with low supply.
"Many millennials are attracted to what Vancouver has to offer — job opportunities and great amenities from being such a modern city — but they cannot afford to own a home yet, so they turn to renting, which drives up demand," Chen said. "The lack of available multifamily housing right now also feeds into the growing prices, since detached single-family homes can only house so many people.
"Until new supply — that can house more than just one family — is created, prices in this market will continue to rise."
In Victoria, the average rent for a one-bedroom apartment dropped 3 per cent in March to $1,250, while two-bedroom rents jumped 4.8 per cent to $1,540.
Top 10 highest rents across Canada in March (source: PadMapper):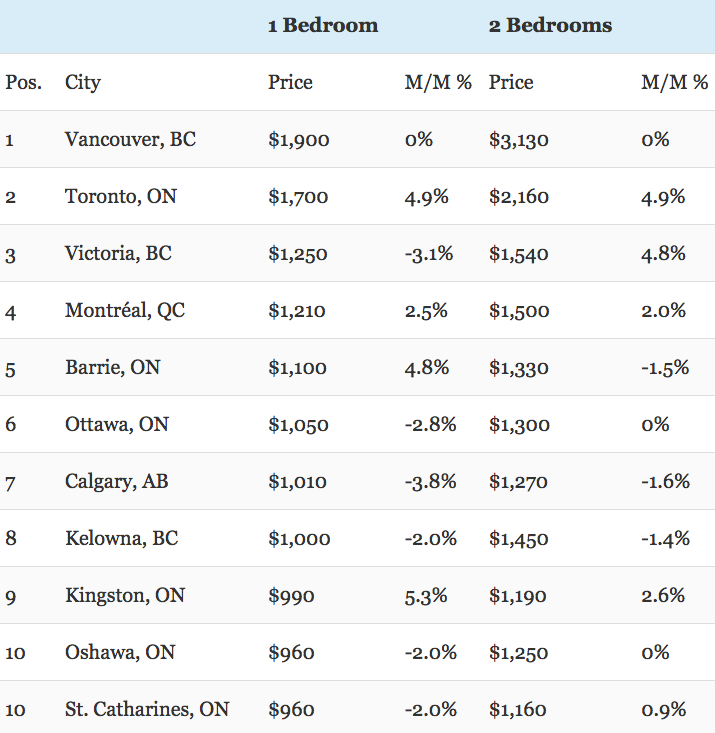 The original version of this story can be found at: https://www.biv.com/article/2017/3/average-rent-unchanged-vancouver-march-still-canad/