It's been 25 years since Vancouver's first 4/20 pot protest and, as the controversy surrounding the event continues to grow, organizers think this year's event will be the biggest one yet.
This year, April 20 happens to fall on a Saturday, 2019 marks the 25th anniversary of the protest/festival, it's the first 4/20 since the legalization of recreational cannabis in Canada and last week organizers announced music headliner Cypress Hill.
"…We're expecting a very big crowd but it's pretty hard to estimate," organizer Dana Larsen told the Courier, adding that total attendance throughout the day could top 100,000.
Planting a seed
The event had a humble beginning in Vancouver. The first 4/20 was held at Victory Square on Thursday, April 20, 1995. It was the brainchild of Danna O'Donnell (nee Rozek) and Cindy Lassu.
O'Donnell is originally from Ontario and moved to Vancouver in early 1994, lured by the city's cannabis culture. She and Lassu were working at the Hemp BC store, which sold cannabis-related paraphernalia, when the idea for a pot protest was hatched.
"I was pretty young at the time and I wanted to get together with like-minded people to do some activism," said. "I thought we could come up with some kind of group… so I kind of organized a meeting night inviting people to come over and see what we could come up with and we decided to form a group. We came up with the name Hempology 101 and our motto was going to be 'Legalization through education.'"
O'Donnell said the group planned to host events, hand out pamphlets and organize marches advocating for the legalization of marijuana, and came up with the idea to hold an event on April 20 (4/20).
The number 420 became synonymous with cannabis in the 1970s. As the story goes, a group of high school students in California, who called themselves the Waldos, met every day after school at 4:20 to smoke pot. The term became popular among fans of the Grateful Dead and then was picked up by High Times magazine.
Vancouver's first 4/20 was small. O'Donnell said there was about 100 people, some speeches, and, at 4:20, everyone lit up. The entire event lasted no more than a couple hours, O'Donnell said.
Larsen was there.
"I am the only person who's been to every single one, all 25. I wasn't an organizer for the first several years, but I was at the very first one," he said, adding he remembers people were nervous about openly smoking cannabis as a group in the park.
"There were no vendors," O'Donnell said with a chuckle. "It was just, like, an information table with pamphlets."
Larsen said that first event "planted a seed that has really grown into something that is really quite amazing."
O'Donnell left Vancouver for the Kootenays later in 1995, but 4/20 was here to stay.
It was held at Victory Square again in 1996 before moving to Vancouver Art Gallery in '97.
"It really grew at the art gallery and became a real staple of the Vancouver cannabis scene," Larsen said. "We sort of evolved from smoking cannabis to giving cannabis away at 4:20, [which] became a big tradition at the event, giving out joints at 4:20 and we started raffling off cannabis and making it available that way."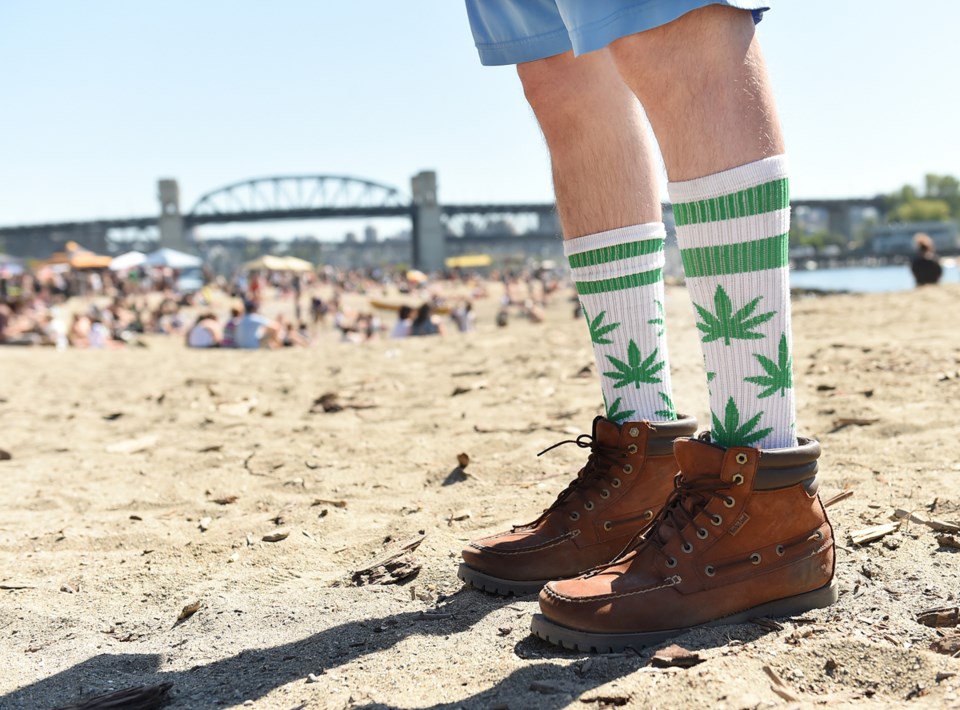 Toking care of business
Longtime marijuana activist David Malmo-Levine was one of the main organizers for many years and, Larsen said, was the one who started organizing the selling of cannabis at the event.
"He would encourage all the dealers and purchasers to come to the middle of the circle and kind of create a safe space where you could buy and sell cannabis," Larsen said.
The event grew more popular, attracting bigger and bigger crowds every year. By 2007, more than 7,000 people were attending annually and the event started to evolve. Larsen said it was around that time that someone first set up a table to sell cannabis during the festivities.
"The next year there were five tables and then there was 20 tables and then we started getting so many tables that we needed to create some order, so we started reserving booth spots at the art gallery and we used the money from that, which was a lot lower than it is now because the money's gone up, to cover things like staging and security and printing fliers and the costs to go along with having an event," he said.
By 2014, crowds were surpassing 30,000, spilling out from the art gallery and forcing the shutdown of Hornby, Howe, Robson and Georgia streets.
"By 2015, which was our last year at the art gallery, the event was so huge," Larsen said. "We had multiple first aid stations, we had two stages, [there was] a lot of effort to control and cover all the costs involved.
"The selling of booths has always been to raise the money to pay for the event itself," he said. "Since moving to Sunset Beach, we've charged more for booths every year, including substantially more for some of them this year than last year, in an effort to raise money to cover the significant costs involved in this event."
This year, booth spaces range in cost from $550 to $1,000. As well, there are a limited number of free spaces available on a first-come, first-served basis. Larsen said these days it can cost upwards of $100,000 to put on the event, in addition to money paid to the city and park board.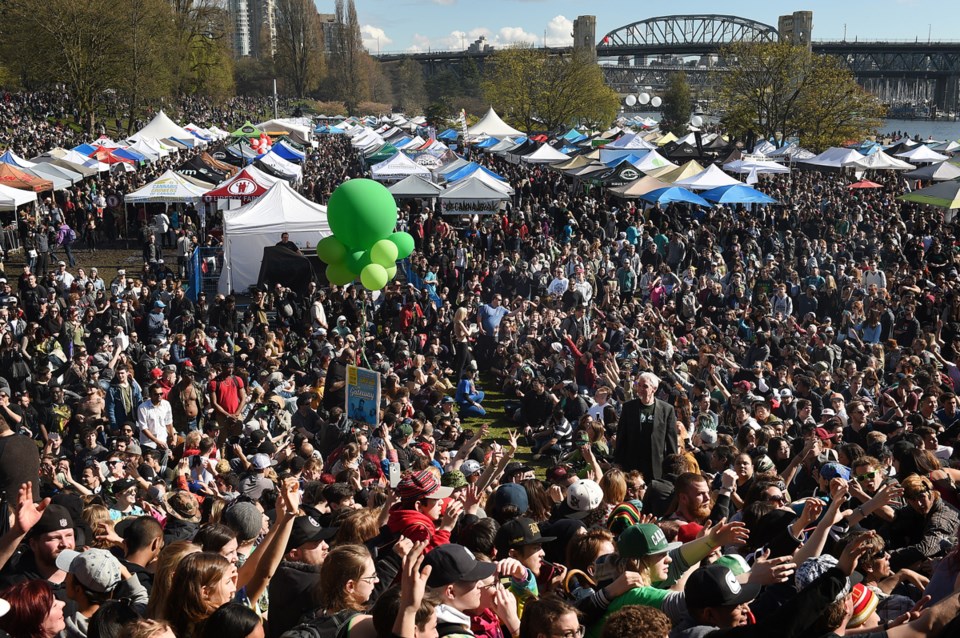 "We provide several first aid stations, we have private security, we have fencing and staging… it's a substantial list of costs," he said.
According to a July 2018 memo from park board general manager Malcolm Bromley and city manager Sadhu Johnston, last year's 4/20 cost the city and park board more than $300,000, and the park board sent organizers an invoice for $64,870 to cover event-related costs including staffing expenses, sanitation costs, parking and restoring grass areas at Sunset Beach.
The city also sent an invoice for $170,796 for additional costs including police and fire services, and emergency management. Larsen said organizers paid the park board invoice, spent $30,000 on a turf protector in an attempt to mitigate damage to the grass at Sunset Beach and donated $8,000 to local charities.
"We're actually the only unlicensed protest in the city that covers any of these costs and the only bill we don't pay is the policing bill, which maybe we could if we could raise a lot more money but that requires even more booths and more sales," he said. "So I find that we're caught in this bind because the same people who say, 'They should pay every penny of their costs,' are the exact same people who are saying, 'They shouldn't have booths and raise money, it's just a trade show.' And so what do they want from us? Do they want us to raise money and pay for the costs of our event? Or do they want us to stop doing that and to not cover anything and to put even more costs on the taxpayer?"
Smoke on the water
While the size of the event has grown over the years, so, too, has the controversy that surrounds it.
Since 4/20 moved to Sunset Beach in 2016, Vancouver Park Board commissioners have been vocal in their opposition. At the time, the board sent a letter to then mayor Gregor Robertson expressing "grave concerns."
It's gone ahead year after year without a permit. In 2017, organizers applied for a permit and park board commissioners responded by adopting a resolution to not approve or permit any future 4/20 and/or cannabis events on any park board property, despite staff recommending that commissioners issue a permit for the annual event.
Earlier this year, the park board voted unanimously to ask organizers and city council to find a new location. Additionally, the PNE board has said the event is not welcome there.
And, earlier this week, commissioners voted in favour of an emergency motion, introduced by NPA commissioner John Coupar, directing staff to immediately contact 4/20 organizers to ask them to cancel Cypress Hill's performance "in an effort to control crowd size and possible damage to Sunset Beach Park."
Larsen said organizers have no intention of cancelling Cypress Hill's appearance, calling the motion a "silly suggestion."
Critics say that 4/20 flouts the park board's bylaws prohibiting smoking in parks and beaches, disrupts the West End neighbourhood, costs the city and park board too much money and, with recreational cannabis now legal in Canada, many say there is no longer a need for a protest and the event has become more of a commercial venture.
Larsen and O'Donnell disagree.
"It is needed because the laws aren't very good yet, they're not where they need to be. They should be allowing small farmers easier access to be able to produce," O'Donnell said. "The cannabis industry should be looking at the wine industry and having farm gate sales and tastings and whatnot on farms. And it's not like that right now. Things still need to progress.
"The laws are too tight right now."
"The reality is, for us, the event is a protest of unreasonable cannabis laws," Larsen said. "The way we protest is to give away cannabis, is to share cannabis, is to sell cannabis and to use cannabis in a stigma-free, open and free environment the way we believe that legalization should look like largely, and so it's intrinsic to the event."
Larsen also thinks 4/20 deserves a little recognition.
"I think Vancouver should be proud of 4/20," Larsen said. "I think that we should be proud of our cannabis community and the wonderful influence they've had on the rest of Canada and on legalization in general."
@JessicaEKerr