Sashaying across an East Vancouver classroom floor, about a dozen elementary students sang and danced to "Picking Mushrooms," a well-known Chinese folk song used in celebratory settings. 
Up next was a rap interpretation of the Chinese animated character Mulan.
Both performances were sang entirely in Mandarin by kids spanning cultures from across the globe. Events like these were a bit of an anomaly 10 years ago at Norquay elementary, though the school's Early Mandarin Bilingual Program is actively changing that.
A first of its kind in Vancouver and established in 2011, the curriculum blends Mandarin and English instruction for kids in kindergarten through Grade 7. The first stream of students to go through the entirety of the program leaves the Norquay doors in June. Parents, administrators, PAC members and curriculum writers got together at Norquay March 8 to celebrate that fact.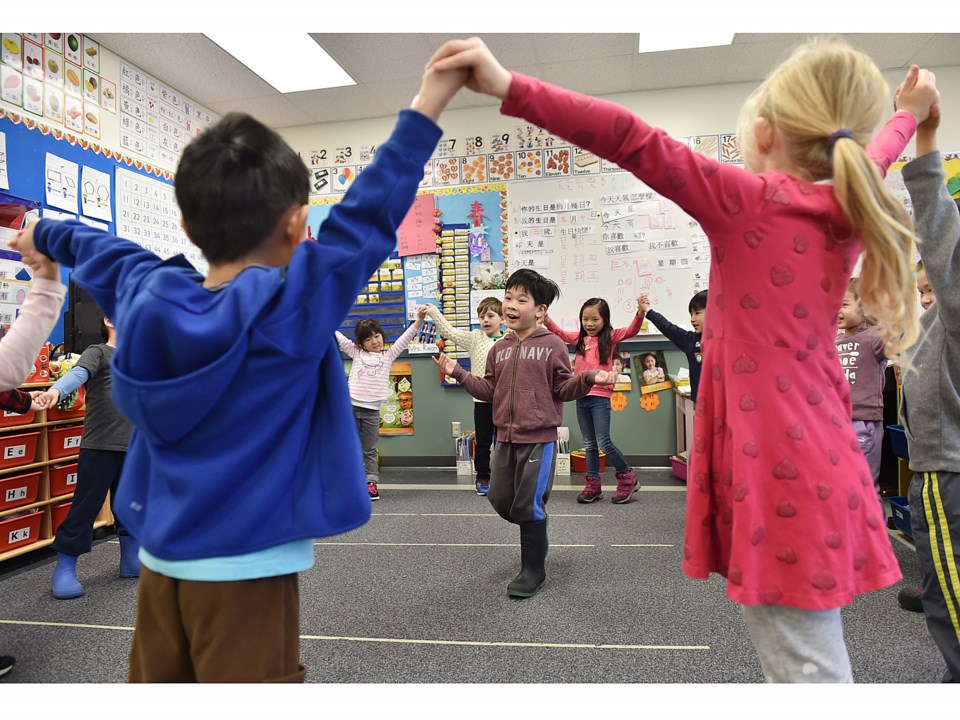 "It's incredible. From day one the teacher is speaking to them, from the day they arrive at school, in Mandarin and they don't know any different," said Shauna Cook, the school's PAC representative for the program.  "My husband and I are blown away when we hear our kids speak Mandarin."
Aged six and eight, Cook's two sons are among roughly 190 students in the program, which is offered exclusively out of Norquay. The curriculum includes an even split of English and Mandarin instruction, and where possible, the same teacher delivers both lessons.
Talk of setting up the bilingual model gained traction in 2008 and was buoyed by a small, but vocal group of parents. B.C.
Parents for Mandarin founder Eileen Sue and a handful of other parents started with a petition. That petition led to face time with school trustees and administrators, which gave way to larger conferences and more lobbying. The program arrived at Norquay in September 2011.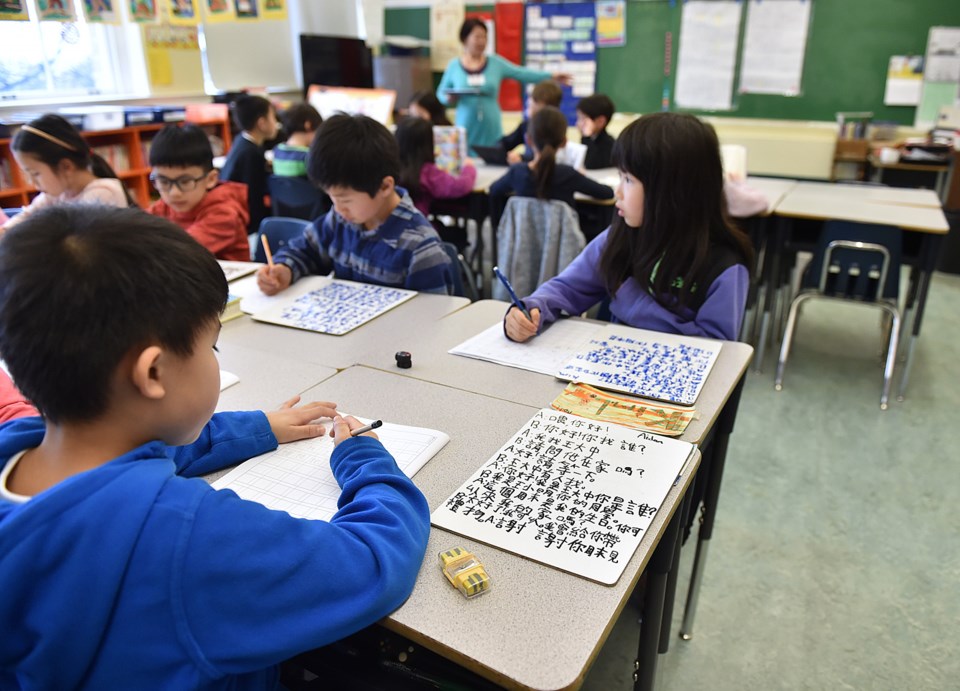 Having been at Norquay since the program's beginning, kindergarten teacher Pinky Kwan estimates that at least 50 per cent of her students come from Mandarin backgrounds.
"Then we have quite a few that have no Mandarin at all and there's no tie to the culture whatsoever," she said. "In my class right now, we have quite a few where both parents have no Asian background and don't speak any Mandarin."
Kids with siblings already in the program are given preference during each year's intake of roughly 20 students, though the program isn't geared towards native Mandarin speakers actively using the language at home. The thinking there is to allow for a common starting point for all students who are just starting out.
A lottery determines each year's intake across a number of VSB Choice programs such as French Immersion, Montessori, Fine Arts or Indigenous Focus. Parents list each of their three choices by priority. The current school year saw more than 90 applicants select the Mandarin program as their first choice: 14 were accepted on account of having siblings in the program, while six other new students were accepted. A separate intake for more seasoned speakers in grades four to seven will be launched later this year.
"The parents really want Mandarin because everything is coming out of China right now," Kwan said. "They see China as part of the future career path, they see the children as having more opportunities with Asian countries like China or Taiwan. A lot parents want to give them a useable language. It's much more useable than taking other languages, especially in Vancouver."
Christepher Wee teaches Grade 1 at Norquay and is part of Ministry of Education team that helped develop the program's curriculum. Early years focus on phonetics and sounds, characters and script are introduced later.
The end goal is practicality: allowing students to speak with grandparents, order food or act as a basic interpreter between school staff and Mandarin-speaking family members.
"That's something our team has been adamant about: that we are not only teaching things that they'll remember from a textbook, but that we're teaching things that are authentic that they can use," Wee said.
The district's well-documented problems of teacher recruitment and retention are found at Norquay as well. The ideal scenario sees the same teacher delivering all of the instruction across both languages. When that's not possible, the school leans on a "team teaching" model that divvies up those lessons between two teachers instead.
"It does affect staffing because if you don't have teachers who are qualified to teach both, then the program can't run," Wee said.  "So you have to come up with creative solutions."
Those leaving the program in June have the option to continue their high school studies in Mandarin at Windermere secondary school.
"For the parents and for the staff, it's been a huge journey and a huge accomplishment that they've taken these students from kindergarten right through to grade 7," Norquay principal Tim Krug said. "It's reflective of the teaching and of the parents' investment of the program."