Vancouver's CF Pacific Centre and Oakridge Centre have been ranked as the second and third most productive shopping malls in Canada, according to a new Retail Council of Canada report. 
The Canadian Shopping Centre Study 2018 found Pacific Centre and Oakridge sales clocked in at $1,690 and $1,594 per square foot from June 2017 to June 2018, exceeded only by Yorkdale Shopping Centre in Toronto, at $1,905 sales per square foot. 
Yorkdale is Canada's most profitable mall three years running, but with seven of the top 30 centres located in Metro Vancouver, the Lower Mainland has the nation's largest per-capita concentration of productive shopping centres, according to the report.
Western Canadian malls account for twelve of the report's most profitable malls.
Burnaby, Richmond, Edmonton and Calgary malls also cracked the top 10, with Surrey, West Vancouver, Winnipeg and Coquitlam shopping centres making an appearance in the top 30. 
Most malls experienced a year-over-year increase in revenue. In 2018, 12 of Canada's top 30 shopping centres recorded annual sales per square foot exceeding $1,000. In 2017, just eight Canadian centres exceeded that threshold.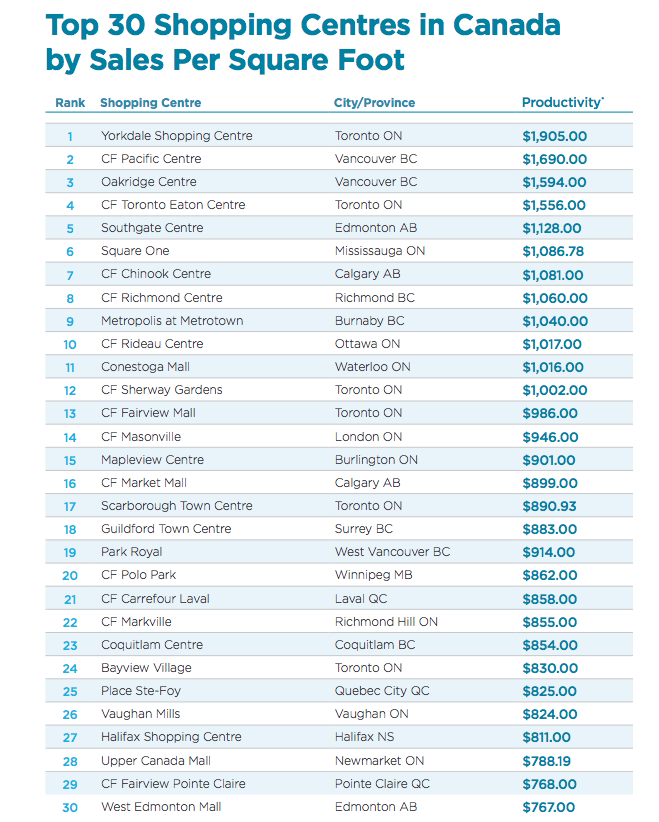 Click here for original article.