The Non-Partisan Association secured a fourth seat on Vancouver city council Saturday after Hector Bremner convincingly won a byelection race that saw the ruling party's candidate limp to a fifth-place finish.
Bremner's 13,372 votes, which gave him 28 per cent of the overall vote, were more than double the 5,411 garnered by Vision Vancouver's Diego Cardona. Cardona, a 21-year-old rookie candidate, was thought to be a contender for the vacant seat because of the party's nine-year reign at city hall.
"I'm stunned, it's fantastic but I didn't take anything for granted," said Bremner from a restaurant at the Century Plaza Hotel on Burrard Street, where he celebrated with about 100 supporters, including NPA Coun. George Affleck, former attorney general Suzanne Anton and former Liberal MLA Lorne Mayencourt.
Second place went to longtime anti-poverty advocate Jean Swanson, who ran an energetic campaign that was focused on media attention-grabbing policy for housing such as a "mansion tax" and a four-year rent freeze. A five-dollar per month bus pass for low-income people and allowing permanent residents to vote in the next civic election were other planks in her platform.
Swanson, who is in her 70s, ran as an independent but was endorsed by COPE. She won 21 per cent of the vote with 10,263 votes. Green Party candidate Pete Fry (9,759) and OneCity's Judy Graves (6,327) finished third and fourth respectively. Only 11 per cent of 441,000 eligible voters cast a ballot.
"We were the ones that raised the issues in this campaign," Swanson said by telephone from a restaurant on Commercial Drive, where she celebrated with her supporters. "We set the agenda, more or less, and I'm pleased with that."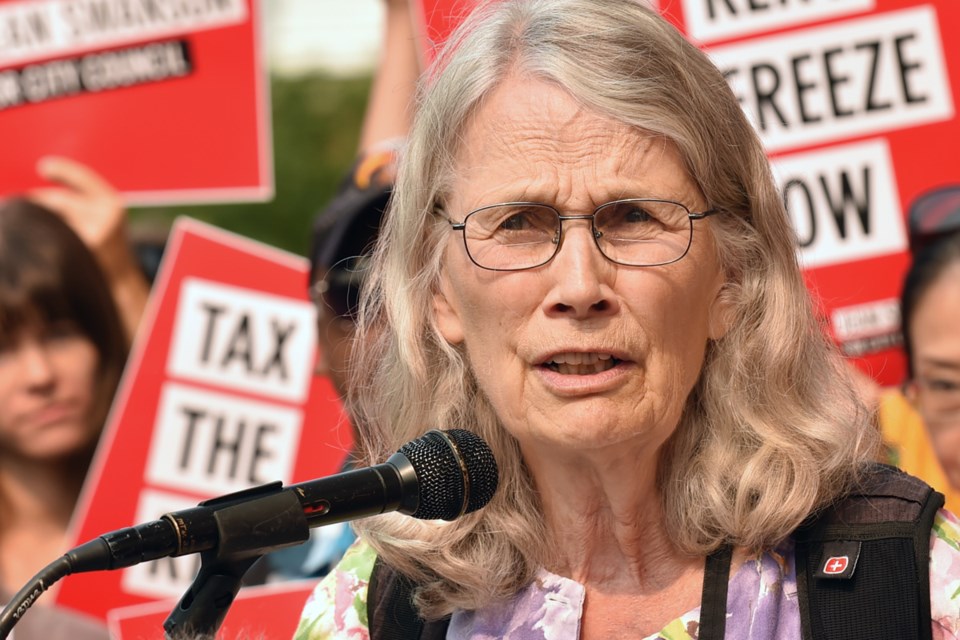 The NPA has not occupied four seats at city hall since it held power between 2005 and 2008, when then-mayor Sam Sullivan and five of his councillors formed a majority. Bremner's victory is a blow to the Mayor Gregor Robertson-led Vision Vancouver, which won three consecutive majorities on council in 2008, 2011 and 2014. In the other race Saturday on school board, Vision won three of the nine seats.
Prelude to general election
Bremner's victory could be viewed as a prelude to next October's general election, but the new councillor said he and his NPA colleagues on council — Affleck, Elizabeth Ball and Melissa De Genova — will have to first earn the trust of the electorate over the next year.
"I'm not going to predict anything about next year," he said. "What I'm going to say is that anything could happen in the next 12 months. We're not going to be assuming anything."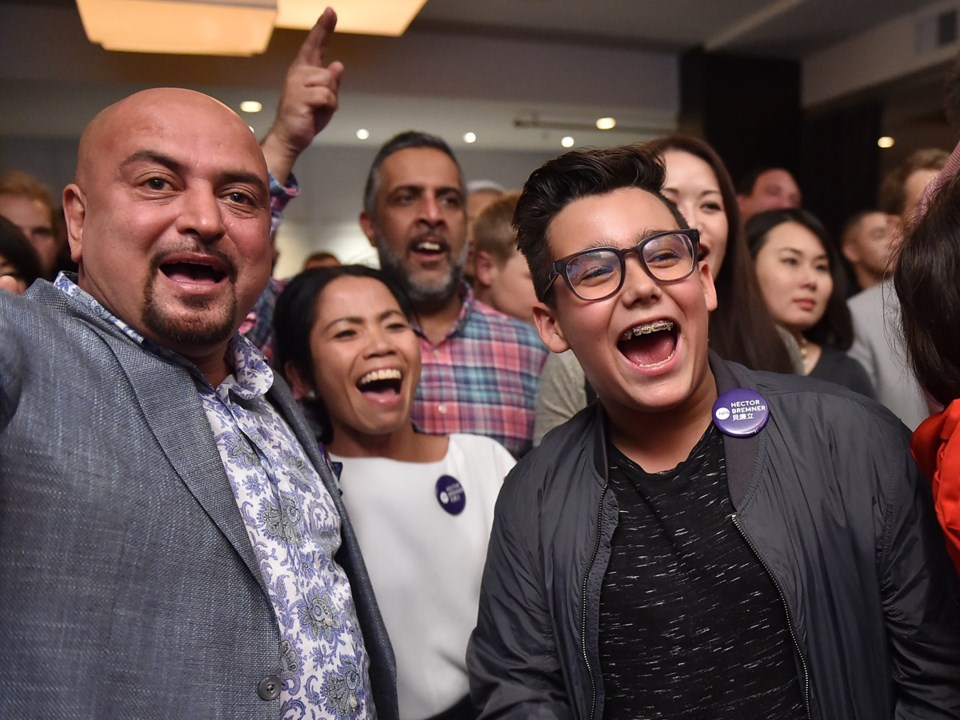 Vision still holds six seats on the 11-member council, but Bremner said the signal from voters Saturday was that "Vision is done." The 36-year-old new councillor, who focused his campaign on solutions to the affordable housing crisis, said voters were upset with how the price of a home, the cost of rent and lack of affordable housing have all spiked under Vision's watch.
"Vision has believed that they could blame other levels of government for this, but I think the voters are smarter than that," said Bremner, whose platform included stopping the "piecemeal building-by-building" rezoning policies of Vision, using more city land to build homes and streamlining the building approval process to get housing built faster in Vancouver.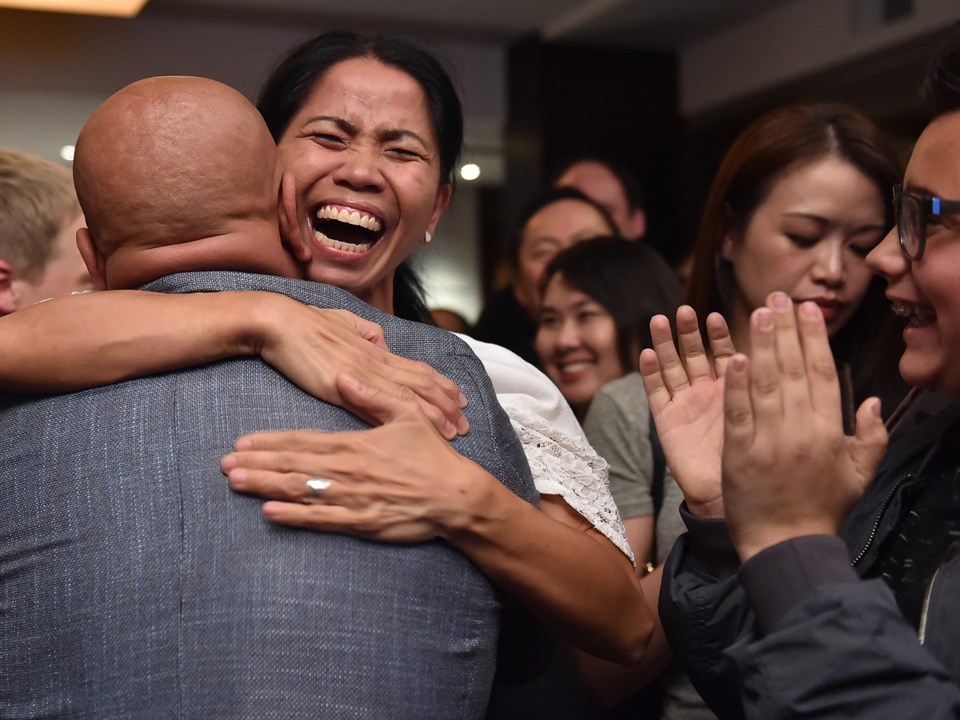 Vision's polling must have concluded Bremner was going to win because for the first time in the party's election night history it held a private affair with candidates Saturday night. Vision has traditionally opened its election night party to the public and media, allowing for easy access to candidates and celebratory photographs.
The Courier requested an interview with Cardona by phone Saturday, but he was not made available for comment. Vision, instead, issued a news release that quoted Robertson.
"Tonight's results are not what our team hoped for," the mayor said. "We knew this byelection would be difficult. Our city faces real challenges. Vancouverites are frustrated, particularly around housing affordability, and they expect more from us."
It was Cardona's race to lose. He belonged to a well-funded machine in Vision Vancouver, had the mayor promoting him on social media and in videos. Vision councillors Andrea Reimer and Raymond Louie campaigned with him and helped him pull the vote.
He was supposed to be Vision's "fresh new voice," a tag line that was steeped in the party's gamble to run an unknown instead of someone with a profile.
The $1.5-million byelection was called after former Vision councillor Geoff Meggs resigned his seat in the summer to become chief of staff to Premier John Horgan. The NDP government later decided to tack on the school board race to the ballot. The former Christy Clark government fired the board last year for not balancing a budget.
Along with Vision's three seats won Saturday on the nine-person board, the Greens showed well with three, the NPA won two and OneCity made history by electing its first candidate to civic government in Carrie Bercic.
Voter turnout 11 per cent
How the 11 per cent voter turnout factored into the final results is unclear, but it demonstrated how the progressive votes won by Swanson, Fry and Graves put a dent in the normally vote-getting machines of the NPA and Vision. Voter turnout in the 1992 byelection was 10 per cent.
In Mount Pleasant, at the Eight and 1/2 restaurant owned by Green Party park board commissioner Michael Wiebe, Fry had to explain for a second time in three years why he lost a council race. The Strathcona community activist finished out of the running in the 2014 general election.
"Obviously, I'm disappointed but I'm ultimately quite happy because the results show that the Green Party is now the new sort of progressive choice party for Vancouverites," said Fry, who reiterated a promise during the campaign to run again in the 2018 council race.
Fry said he knew he was in tough against the NPA and Vision, two well-funded parties that have spent millions of dollars on campaigns and have dominated city politics since 2005. The Greens estimated they would spend $40,000 in this campaign. The new NDP government in Victoria has promised to ban big money from civic campaigns, possibly by the 2018 civic election.
"As a lot of us predicted, the B.C. Liberals would throw a lot of money and juice into winning back Vancouver, and they did," said Fry, referring to B.C. Liberal veterans involved in the NPA's campaign.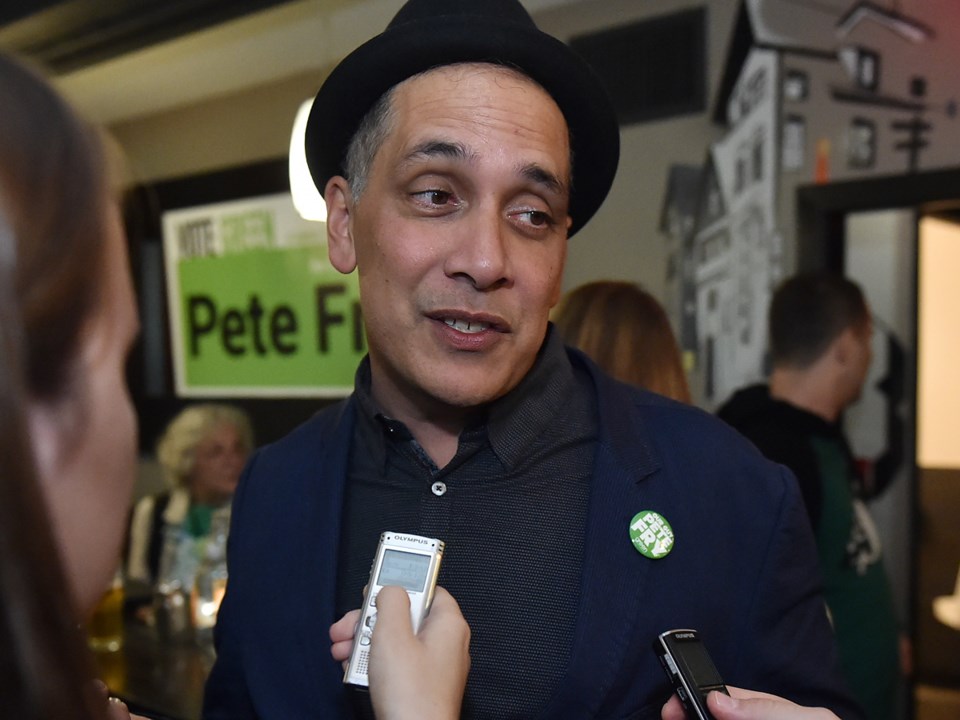 Green surge
The Greens made some gains in the 2014 race by re-electing Adriane Carr to council. Wiebe and Stuart Mackinnon also won seats on the park board. Janet Fraser, who topped the school board polls Saturday night, was elected in 2014 to school board, but was later fired along with the rest of the board for failing to balance a budget.
All were on hand at the restaurant Saturday, with Carr disappointed that Fry won't join her on council.
"I wanted Pete to win, of course, but to me the results point to him winning in 2018," said Carr, standing on a sidewalk outside the restaurant on East Eighth Avenue, near Main. "It's clear that the voters are dissatisfied with Vision, the results show that, certainly on council."
Mary Jean "Watermelon" Dunsdon of Sensible Vancouver and independents Gary Lee, Damian Murphy and Joshua Wasilenkoff finished well back in the race.
The Edmonton-born Bremner is a vice-president of public affairs for the Pace Group. He ran unsuccessfully with the B.C. Liberals in New Westminster in 2013 and is a former assistant to then-housing minister Rich Coleman. He also worked as an oil and gas lobbyist.
Bremner rents a three-bedroom condo downtown for $2,750 per month, where he, his wife and two children live. He told the Courier in a previous interview that he knows what it's like not to have a home, having lived through his parents' business going bankrupt in the 1990s.
"At one point, in Calgary, we had kind of what you would call a [single-room-occupancy hotel] almost and we couldn't afford to eat and pay rent," he said the day after he won the NPA's nomination race. "So the guy took mercy on us — the landlord. He would move my father and I from unit to unit as one was available… we had two mattresses on the floor and a red toolbox to sit on. That was my life for a long time."
Bremner said in another interview during the campaign that he would commit to donate his $82,000 councillor salary this year to "whatever worthy cause." Council meets next week but Bremner will not take over the vacant seat until he is sworn in Oct. 31.
Saturday's byelection was the first in Vancouver since 1992. In the city's 125-year history, only 16 have been held at the civic level. The general election will be Oct. 20 next year.