The amount of time it takes Vancouver police officers to respond to an emergency call such as a robbery or a burglary in progress is increasing year over year and Police Chief Adam Palmer predicts it will not get any better until more officers are hired.
The average response time for an emergency call has gone from eight minutes and 33 seconds in 2008 to nine minutes and 43 seconds in 2017. That increase of more than a minute was captured by the department in data recorded between January and June of each year for the past decade.
Also, response times for what police categorize as priority two calls, which could include a suspicious man prowling around a property, increased by 41 per cent in recent years. The gold standard for a police department responding to an emergency call in a city the size of Vancouver is seven minutes.
"Response times are going to continue to go up, I have no doubt about it," Palmer told the Vancouver Police Board July 20 when asked by board member Thomas Tam to explain the increase in response times.
The chief said calls for service have increased "dramatically" in recent years, with officers responding to up to 50,000 more calls than they did seven years ago. That increase has come while the department has had to hold back on hiring new officers because of budget constraints.
"Right now, you've got fewer people, more calls for service – it's going to take us longer to get there," said the chief, agreeing with Tam that traffic congestion is also a factor in the slow response times. The chief emphasized the most recent response times are an average, with officers getting to some calls faster than others.
After the meeting, Palmer told the Courier the department had 60 fewer officers in 2016 than in 2011 to handle the increase in calls. When asked if hiring more officers is the solution to faster response times, the chief said "we've done everything else – deploying efficiently, making sure we had the right number of people on shift, making sure we're shifted properly, making sure that we're deployed in the right squads and teams throughout the city. So, yes, we do need more officers."
Palmer made the comment with Mayor Gregor Robertson, who doubles as chairperson of the police board, standing next to him. Ultimately, it would be up to city council to approve millions of dollars in spending to hire more officers.
The mayor prefaced his remarks on response times with noting the VPD's work in the city has led to a recent decrease in property and violent crime. He noted the department was also doing an operational review to assess response times and its workforce before making recommendations to council for the 2018 budget.
"I think we're due for increasing the members on the frontlines and making sure response times don't keep going up," Robertson said.
Other statistics for the period covering January to June, year over year, showed the number of times police used the Mental Health Act to apprehend a person increased from 1,145 in 2010 to 1,377 in 2017. Bank robberies also jumped from 27 for the first six months of 2016 to 40 for the same period this year. Police attributed the increase to three serial bank robbers.
Most recent statistics from the VPD: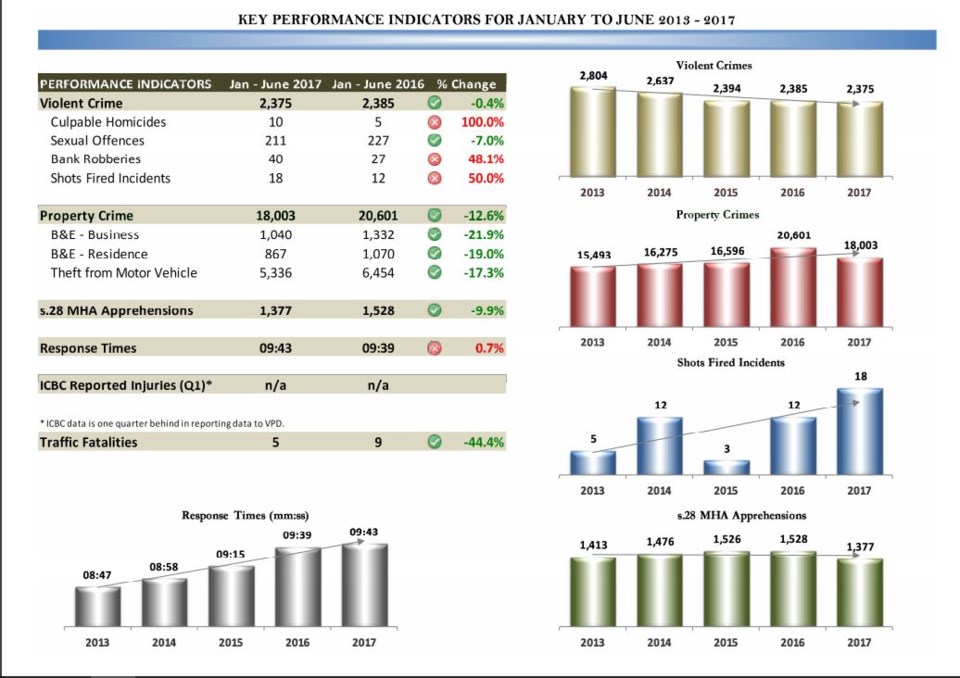 mhowell@vancourier.com
@Howellings