With fall on its way, the Resort Municipality of Whistler is warning people to take precautions when accessing its extensive trail network.
"The main message really is that if you're heading into the Alpine Trail Network or the Rainbow Lake Trail, you really need to know the restrictions before you go, and be prepared and respect the environment," said Whistler Mayor Nancy Wilhelm-Morden.
According to RMOW staff, the muncipality's trail system is busy and there have been instances of people heading out onto the trails wholly unprepared.
Whistler is therefore encouraging the public to plan for the unexpected and pack backcountry essentials, such as extra food and water, emergency shelter, and bear spray.
In a nutshell, it wants people to treat a trip on its trail system like they would any other backcountry expedition.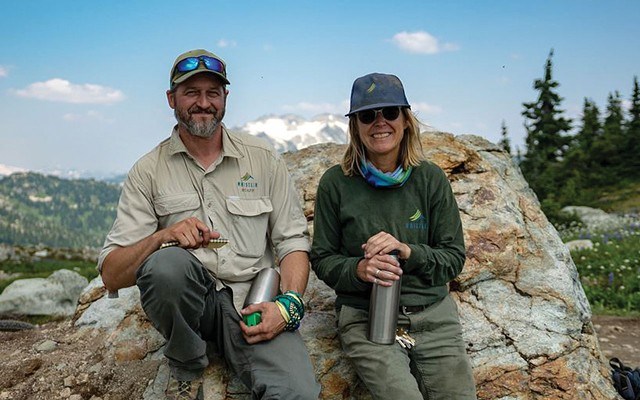 To get its message out, Whistler is utilizing two trail rangers, who can be found on Mount Sproatt and in the 21 Mile Watershed area.
"They perform a number of services," said Wilhelm-Morden. "For example, they can provide first aid if required."
Other duties include trail monitoring and maintenance, outhouse cleaning, and public education—such as where on-leash dogs are and aren't permitted.
According to Brad Sills, Whistler Search and Rescue manager, the addition of RMOW multi-use trails on Mount Sproatt to the RMOW's trail system has led to an increase in mountain biking-related injuries.
"Up until last fall, mountain biking has been a very small percentage of the calls that Whistler Search and Rescue attends," he said.
While the team traditionally attends one or two such calls a year, last year they attended seven, largely from mountain bikers going over the bars. And this year, they've already responded to four.
"We're now talking about backcountry cycling," said Sills, who applauds the RMOW's program as a great way to reach people. "When you get injured, your options are very limited. It's very much like ski touring. Would you go to 6,000 feet (1,828 metres) with Lycra? That's what we're seeing."
Sills said that in order to improve things, more mountain bikers will need to adjust and get used to carrying important gear when they hit the trails.
"Everybody likes to ride a mountain bike without a pack — or God forbid you have a pannier — but that's where we're headed," he said.
A list of equipment to bring when you're travelling on Whistler (or for that matter any) trails can be found at whistler.ca/culture-recreation/parks-trails/adventure-smart-summer-hiking-and-biking-safety.
For more news and features about Whistler go to Pique Newsmagazine.