Tears welled up in Lenka's eyes as she looked at the pile of rubble that was once her home.  
The past two days have been an emotional rollercoaster for the 32-year-old, her fiancé Peter, and their neighbours, after an aggressive fire destroyed their West Fourth Avenue apartment complex and the businesses below – including popular Mexican restaurant Topanga Café, a foot reflexology centre and an appliance store.
"Honestly this is something you never think is going to happen," Lenka, who asked for her surname not to be published, said. 
"You can lose everything in 10 minutes."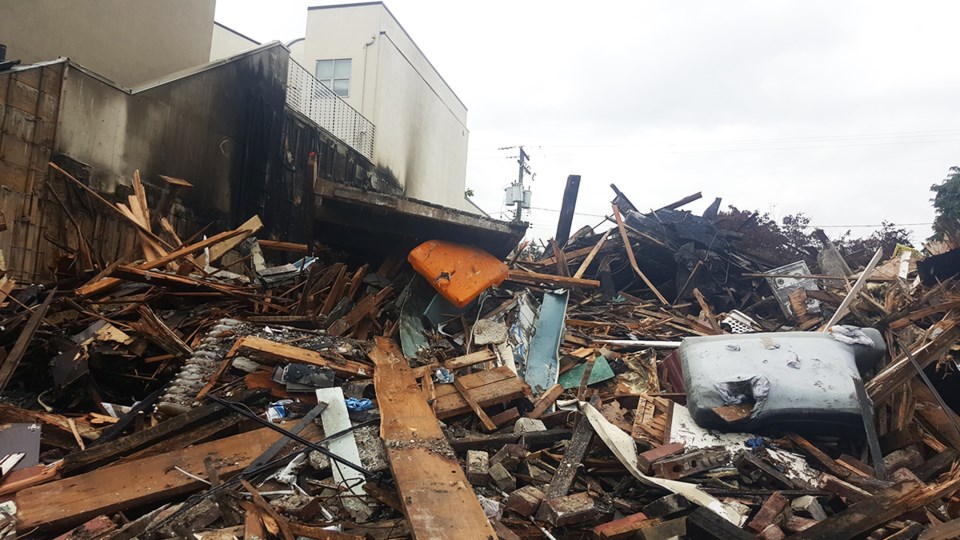 Lenka was almost lost for words when she described the moment her fiancé yelled "grab your purse, we have to get out of here."
"We woke from the alarm in the building," Lenka said.
"It started going at 5 a.m., but it was hard to say what was happening.
"Peter went to go and check out the back door but there were already flames."
With their back exit blocked the couple ran out the front entrance.
"We ran for our lives basically and the firefighters came after that," Lenka said.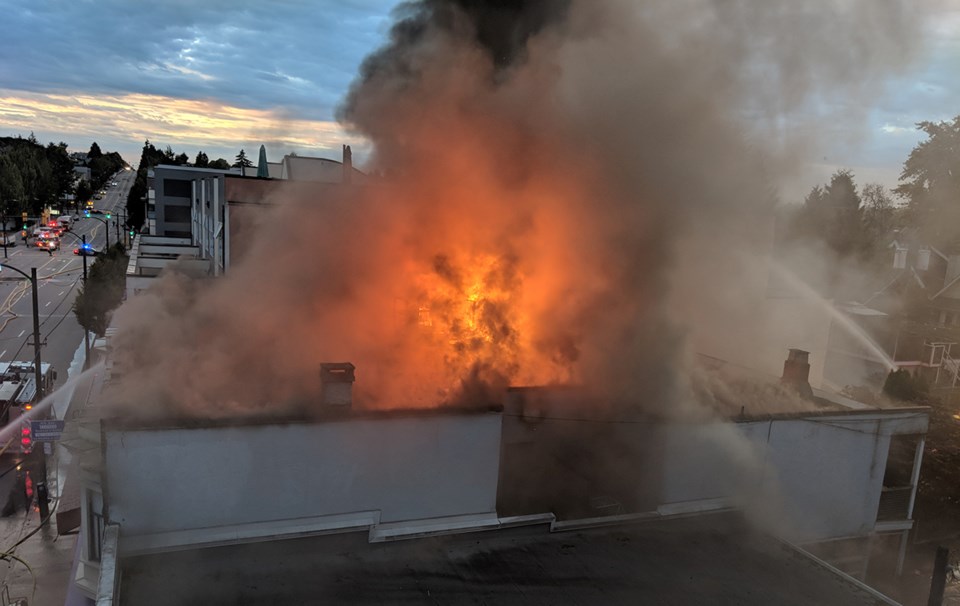 When they got outside they saw their neighbour's apartment was already ablaze.
"We just saw the huge fire, we don't know how it started.
"And then the apartment right next to ours was just all on fire, our apartment just started to burn after that, within five minutes.
"It felt like they (firefighters) would be able to save half the building but then it just went up so quickly.
"It just all happened so fast. There was no time for anyone. I can't imagine if we had slept for five or 10 minutes more, it is hard to say what would have happened."
"We are just lucky we are alive."
Meanwhile, the building manager, Terry Bercovitz, was driving as fast as he could to the building. He said July 5 was a day "he will never forget."
When he first got the call from the monitoring company he said his first thought was "it must be a false alarm."
As he headed north on MacDonald Street, he could see smoke filling the sky.
"I knew right away that this was real. I floored it to the building, trying to call tenants on the way," Bercovitz said.
"I got there, and could see smoke pouring out of the rear of the apartment building, where four tenant apartments are located.
"I felt sick to my stomach, thinking someone could be trapped."
Thankfully, all tenants were safe. 
"I was so thankful all got out. I was heartbroken to see their homes and lives going up in the fire and smoke."
Bercovitz is calling on the community to "step up and help the devastated tenants" by donating to a crowdfunding page set up to help them get back on their feet.
It has been tough for the young couple, originally from Slovakia, to come to terms with what has happened. They had made Kitsilano their home for about four years, previously living in Whistler.
"We wanted to start a new life here and we finally got settled," Lenka said.
"We just loved this place so much. It was just the perfect place to live."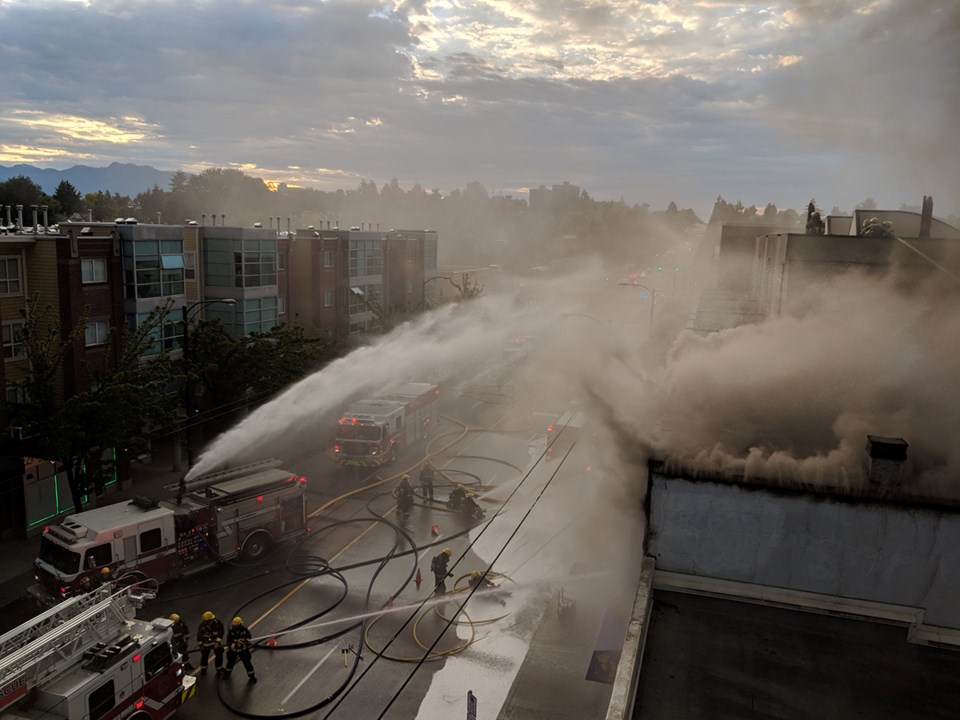 Unfortunately, the couple and another tenant in the building did not have insurance. They said they would be forever grateful to the community for helping them.
"It is unbelievable the community support and generosity," Lenka said.
"We don't have our families here, so we are so grateful to everyone supporting us."
The couple is living with friends while they search for a new home.
"I'm trying to look at it in a positive way, like everything happens for a reason but it's hard. It has been very emotional.
"We have to start again from scratch. We lost everything. We just hope things get better. We have to move forward."
It's the second Gofundme crowdfunding page to be set up for victims of the blaze by Cat Haggquist. Haggquist was determined to help her friends Bronwen Smith and John Prowse, who lost everthing in the fire on their wedding anniversay, including their rings. 
Smith is an actor who co-founded Classic Chic, a theatre troupe that celebrates women in roles that usually go to men. Haggquist said she was not surprised by the outpouring of support for the couple, known affectionately in Vancouver's acting world as Johnwen.
"They are enormously generous themselves," Haggquist told the Courier.
"They give their time and talent and are selfless friends.
"Many people have experienced their generosity and kindess and want to pay them back."
The fundraiser has now raised over $26,000.
Haggquist said her friends were so overwhelmed with the community's support they wanted to help their neighbours, suggesting the second fundraiser.
"They were quite concerned for their neighbours and they wanted to reach out to them and help," she said.
"At the same time the building manager called on me to help the other tenants because he saw what we had done with the first campaign.
"I said I was happy to help. The friends of my friends, are my friends."
Haggquist said she knew how important the community in the apartment complex was to to her friends. 
"The community they had was meaningful to them and now it's gone," she said.
"I also have so many memories in that building. I feel a loss for a space that I know, that was shared by people I didn't know." 
She encouraged the community to do what they could to help.
"Every little bit helps," Haggquist said.
What caused the fire is still unknown.
To donate go to: Support for Families of 2906 W.4th