The 2019 federal election campaign has mercifully come to an end, with polls closing in Vancouver at 7 p.m.
The Courier's crack team of reporters and photographers will be out in the field covering the results as they unfold like a poorly constructed burrito, and we'll be live blogging the entire juicy mess below. Join us, won't you.
Keep refreshing this page for up-to-date results.
11:48 p.m.
And that's it for us at the Courier. Thanks for following along. See you tomorrow with more news and post-election analysis. Good-night.
11:46 p.m.
Hedy Fry among three Liberal incumbents to win in Vancouver. Read more HERE.
11:10 p.m.
NDP's Don Davies makes history as longest-serving MP for Vancouver-Kingsway. Read more HERE.
11:03 p.m.
Greens once again fail to gain ground in Vancouver this election. Read more HERE.
11:01 p.m.
Conservative Wai Young calls Liberal win a 'sad' day for Canada. Read more HERE.
10:32 p.m.
Vancouver federal election results: Same as it ever was. Read more HERE.
10:28 p.m.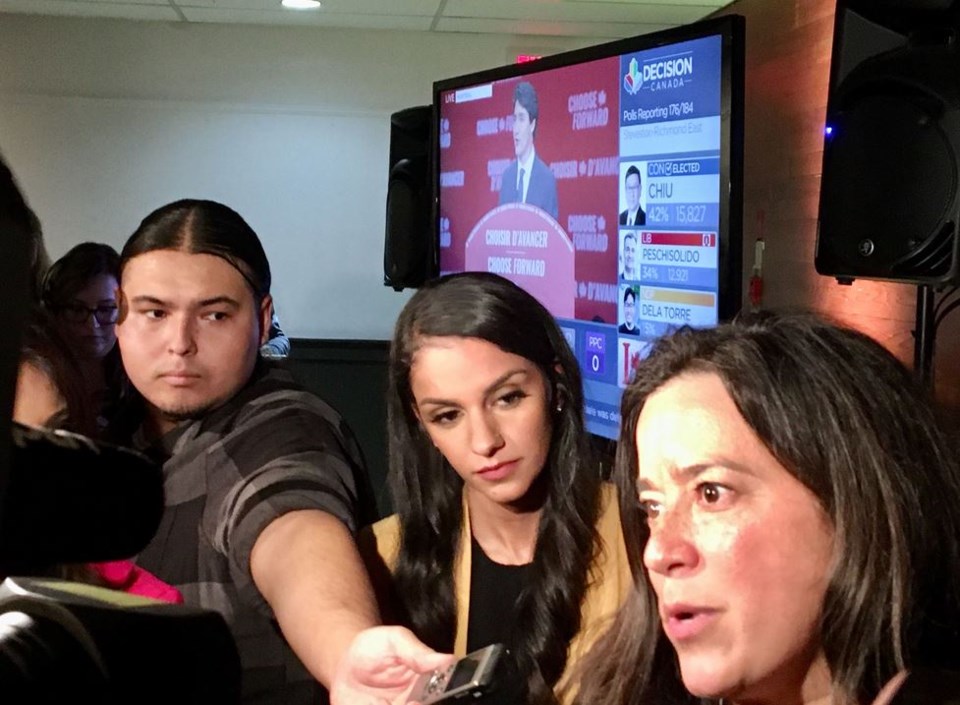 Mike Howell: "Check out the dude on the tv as Wilson-Raybould spoke to reporters about her indy victory."
10:17 p.m.
Jody Wilson-Raybould retains her seat in Vancouver-Granville. Read Mike Howell's story HERE.
9:50 p.m.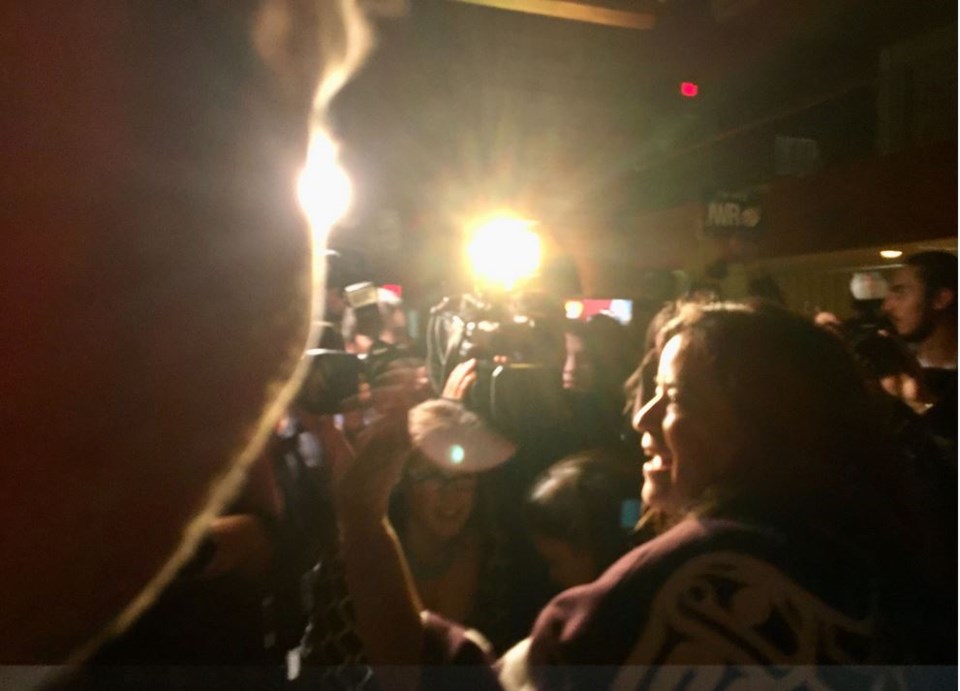 Mike Howell at Jody Wilson-Raybould's election party: "She's here, she won. Entry song is Elton John's 'I'm still standing'"
9:47 p.m.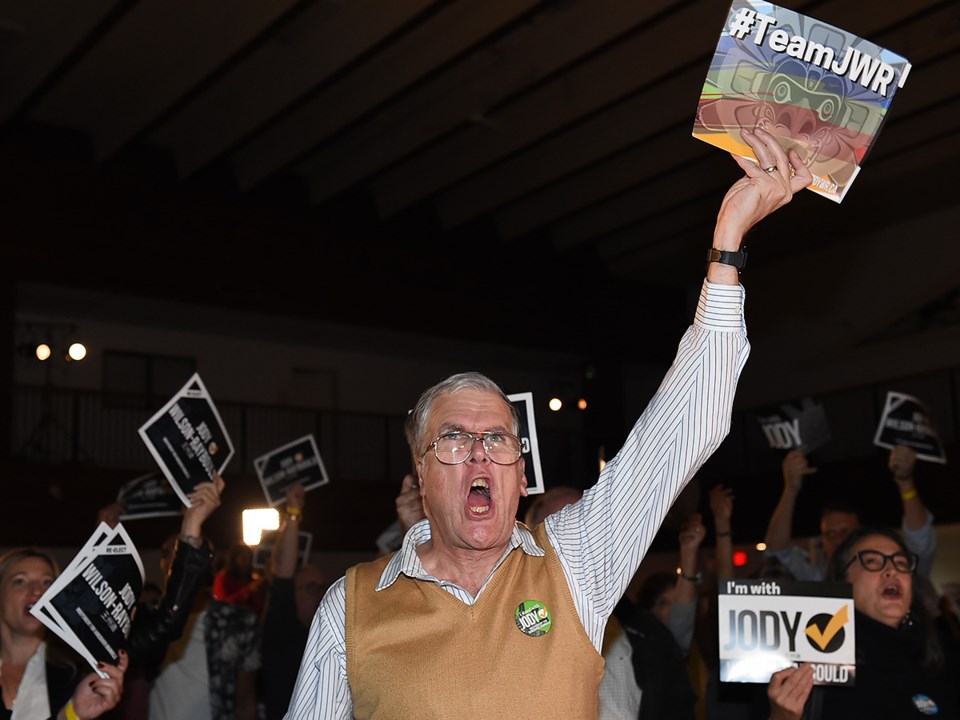 It looks like Vancouver Granville incumbent Jody Wilson-Raybould is heading back to Ottawa, but this time as an independent. Her supporters eagerly await her appearance at the Hellenic community centre.
9:42 p.m.
Naoibh O'Connor on Hedy Fry's victory celebrations in Vancouver Centre:
"Red dress. Red shoes. Dancing in to 'Simply the Best.' Danced for the WHOLE song.
9:29 p.m.
Looks like Liberal incumbent Joyce Murray will retain her seat for Vancouver Quadra.
Results in #Vancouver Quadra: With 85 of 169 polls reporting incumbent Liberal Joyce Murray remains in the lead with 41.6%.
2. Kathleen Dixon (Con) 30.6%
3. Leigh Kenny (NDP) 15.5%#elxn43 #cdnpoli https://t.co/l3slHjex3x

— Vancouver Courier (@VanCourierNews) October 22, 2019
9 p.m.
Results on #Vancouver East: With 105 of 206 polls reporting incumbent Jenny Kwan (NDP) maintains a comfortable lead with 52%.
2. Kyle Demes (Lib) 17.9%
3. Bridget Burns (Green) 13.9%
4. Chris Corsetti (Con) 13.2%#elxn43 #cdnpoli https://t.co/l3slHjex3x

— Vancouver Courier (@VanCourierNews) October 22, 2019
8:57 p.m.
Sandra Thomas waiting for Vancouver South Conservative candidate Wai Young at the Golden Swan Restaurant: "They've brought out pitchers of water and bottle of Great Value cola to a few tables, so maybe soon? But also, the manager just came over and yelled at one of the organizers in Cantonese so I have no idea what's going on."
8:50 p.m.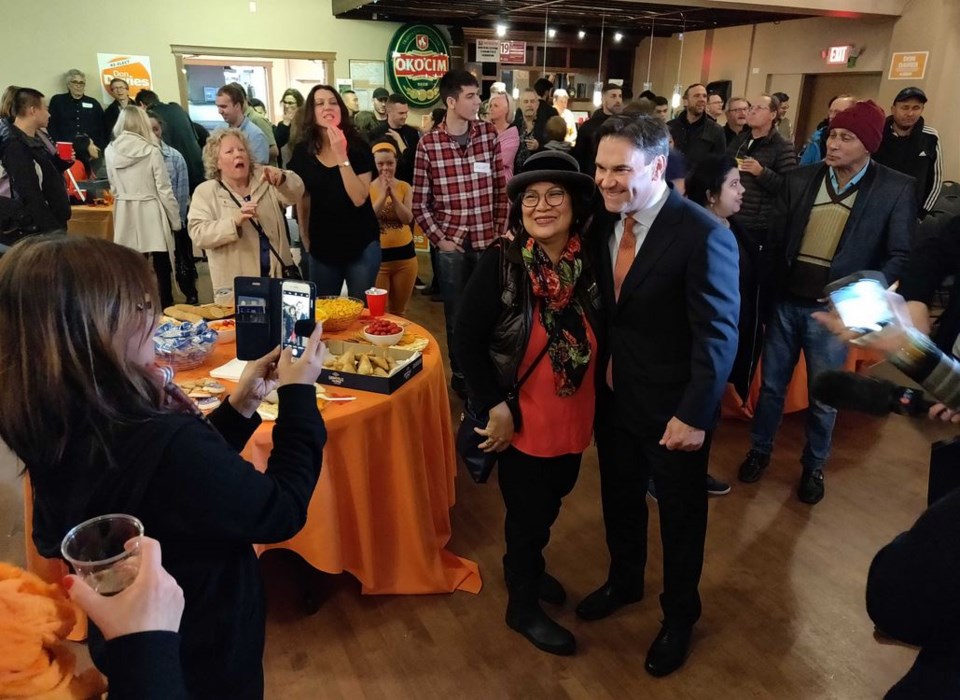 John Kurucz: "Don Davies victory predicted by campaign staff just now. 'We will rock you' on PA as Davies walks in... Crowd going insane. It's like when a hockey team gets a powerplay and this song is played before the puck is dropped."
8:48 p.m.
The rollercoaster of emotions continues in Vancouver Granville as independent candidate Jody Wilson-Raybould takes the lead.
It's a tight race in #Vancouver Granville! Jody Wilson-Raybould has taken the lead with 27.7%. Taleeb Noormohamed (Lib) has 25.5% and Zach Segal is a close third with 25.4%. 58 of 205 polls reporting.#elxn43 #cdnpoli https://t.co/l3slHjex3x

— Vancouver Courier (@VanCourierNews) October 22, 2019
8:46 p.m.
John Kurucz: "Led Zeppelin 'Rock and Roll' plays for less than two minutes. Songs cut out and segues into 'Video Killed the Radio Star.' This. Is. Madness."
8:44 p.m.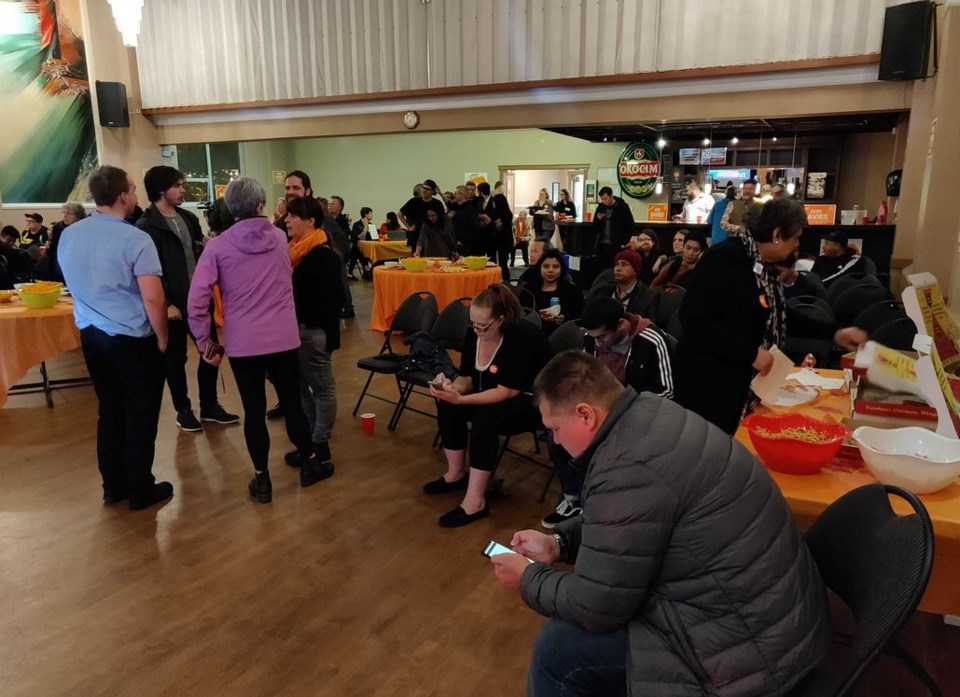 John Kurucz: "Scandal alert! The pizza at Don Davies' party was brought in from Cloverdale! And it's brutal."
Photographer Kevin Hill: "This place is filling up. The pizza will claim many victims tonight."
8:41 p.m.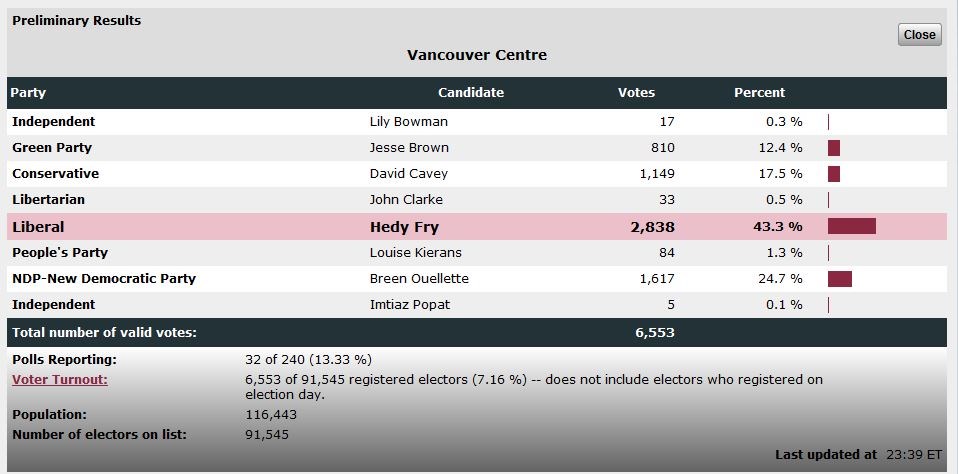 Longtime Liberal MP Hedy Fry appears to have a lock on Vancouver Centre.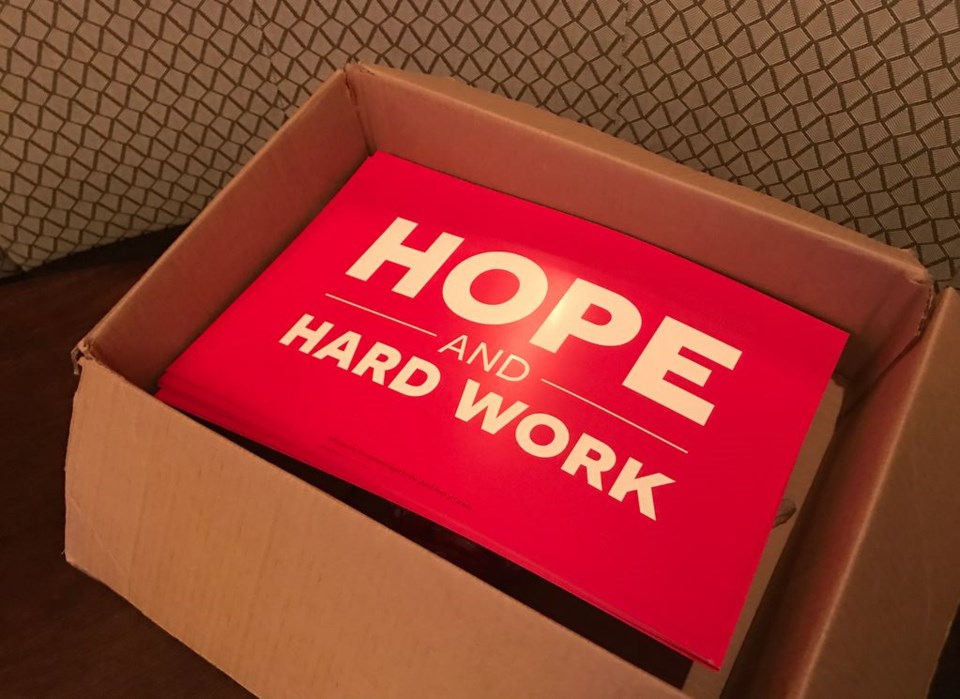 8:36 p.m.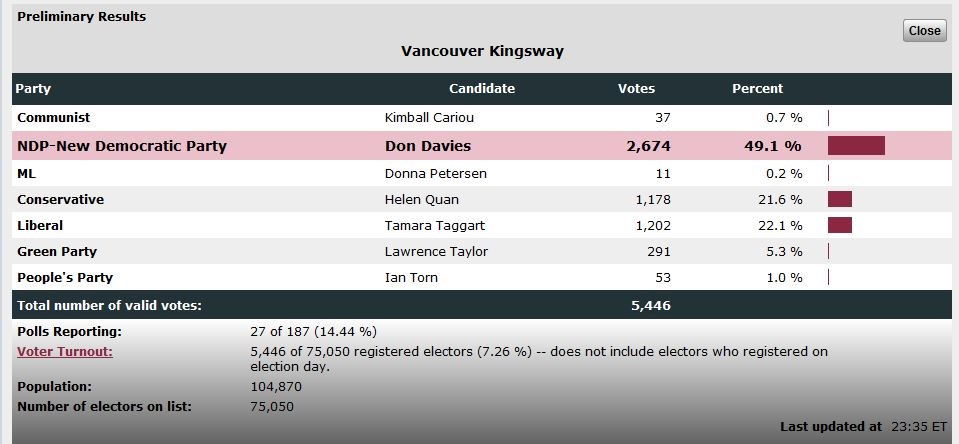 John Kurucz: "20 polls reporting. Davies huge lead. Big cheer. Now back to the horrific music - 'Que sera, whatever will be.' Unreal."
8:33 p.m.
Things are heating up in Vancouver Granville, as Conservative Zach Segal jumps into the lead.
Conservative candidate takes the lead in #Vancouver Granville (20 of 205 polls)
1. Zach Segal (Con) 26.8%
2. Taleeb Noormohamed (Lib) 26.3%
3. Jody Wilson-Raybould (Ind) 24.1%#elxn43 #cdnpoli https://t.co/l3slHjex3x

— Vancouver Courier (@VanCourierNews) October 22, 2019
8:25 p.m.
Sandra Thomas at Wai Young's election party: "I have my official media badge."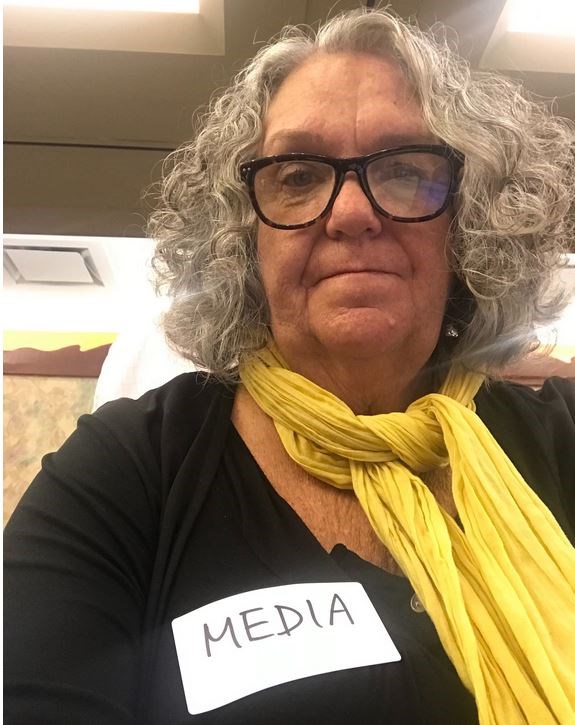 8:24 p.m.
John Kurucz at Don Davies' election party: "Redemption! Stompin' Tom Connors' Hockey Song playing. First and only song I'll recognize all night."
8:17 p.m.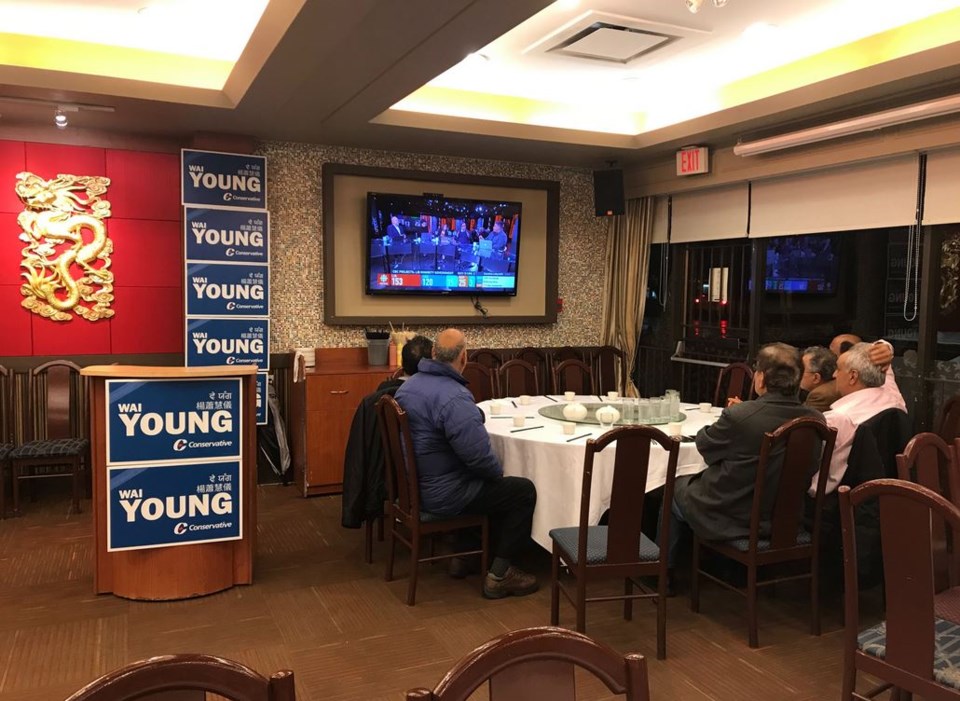 All's quite on the Wai Young front. Sandra Thomas says she's not showing up until all the results are in. Even worse: "No wifi."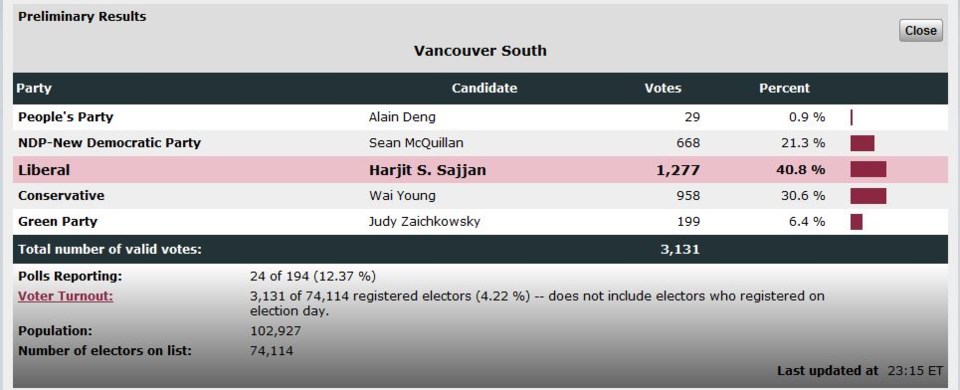 8:13 p.m.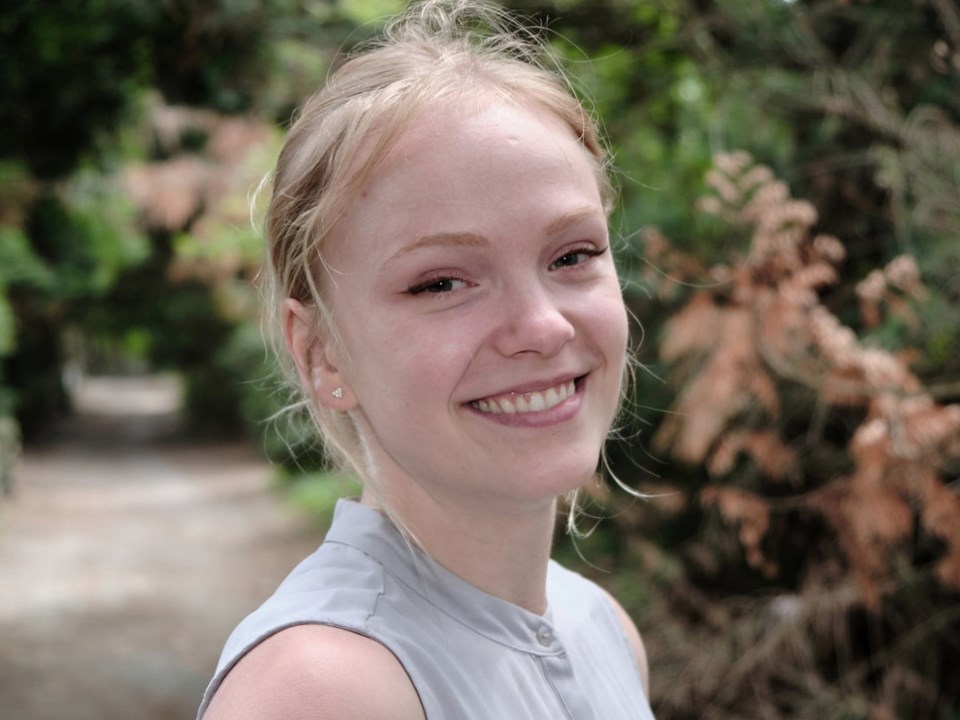 John Kurucz: Q &A with Yvonne Hanson, NDP candidate for Vancouver-Granville. Interview done around 4:30 p.m. today.
Q: You were pounding the pavement door knocking today. What did you hear on the door step?
Right now we have a lot of people who are still considering voting Liberal and they're feeling really bad about it because they feel like they have to vote strategically. They don't actually want to vote Liberal, but they're feeling coerced by the fear of having a Conservative government.
Q. How do you explain Jagmeet Singh's popularity?
I think the leaders' debate really had a huge impact on people's perception of him. People didn't really know him before, so they didn't really have high expectations. He was making the rounds but still people didn't know he was or what he was about. He really proved himself and proved he's a man of the people. He comes across as extremely genuine both on TV and when I met him in person. I absolutely believe that he is fighting for what he says he's fighting for.
Q: You're unemployed as of today. What are your employment plans as of tomorrow?
I'm going to be in Ottawa.
Q: Finish this sentence: I will be the MP for Vancouver-Granville if…
There are enough people inspired by Jagmeet Singh and enough people are inspired by the idea of having somebody coming in from the climate activist movement, somebody who does work retail, who does rent and who is there to represent regular people and is there to stand behind them. If people feel like they're ready to have a representative that is of that stripe, then I'm going to be the next MP.
8:06 p.m.
John Kurucz at Don Davies headquarters: "Former school board trustee Carrie Bercic here. With NDP button on. Majority of crowd here is under 35-40. Band: Doctor Hook? Song: Cover of the Rolling Stone? Blaring over the P.A. Had to ask photographer Kevin Hill what song was playing. Not enough blast beats."
7:56 p.m.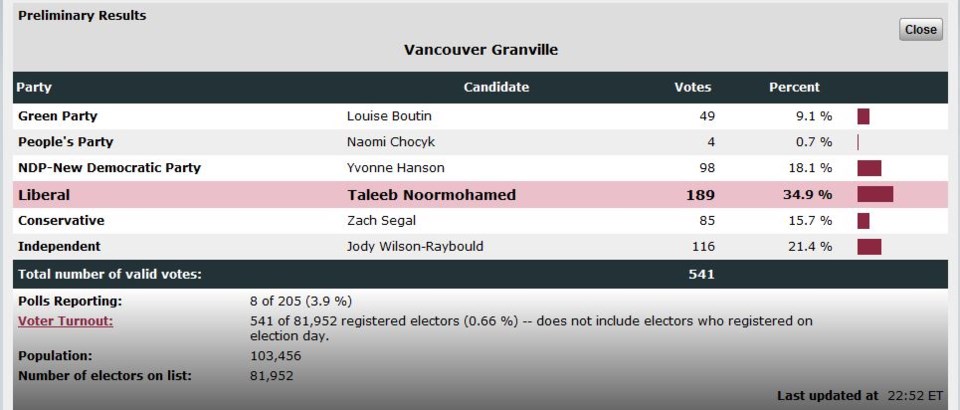 Interesting preliminary results in Vancouver Granville. Independent candidate Jody Wilson-Raybould currently trails Liberal Taleeb Noormohamed.
7:53 p.m.
Heavy metal drummer John Kurucz at Don Davies' election party: "Jesus Christ. Sweet Caroline. Third song of the night. This party just took a massive hit on style points."
7:46 p.m.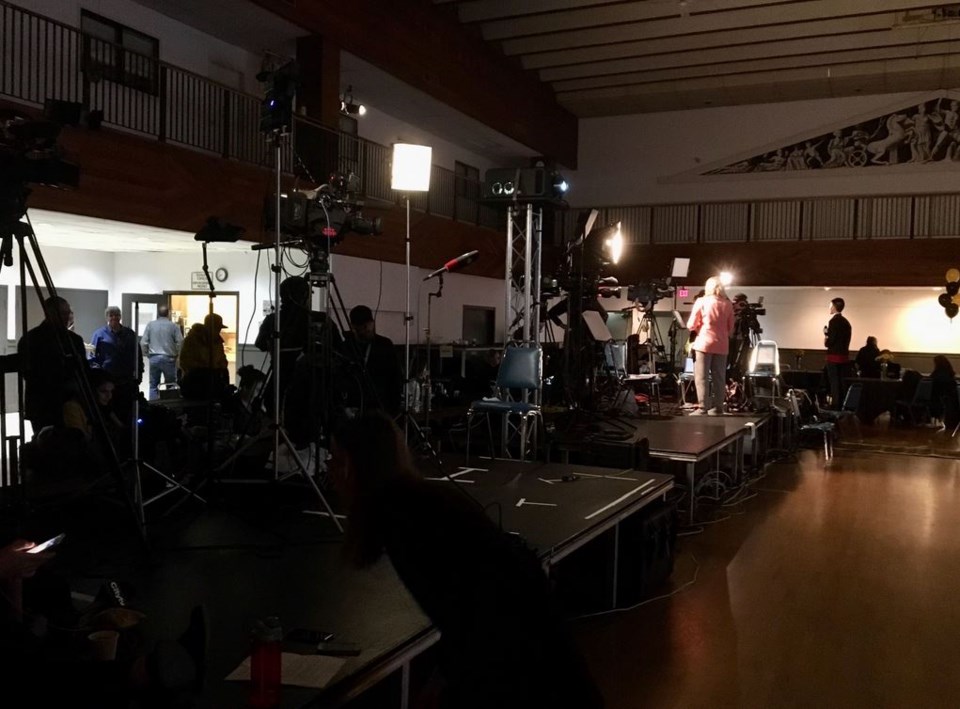 Mike Howell: "Not a lot to report from Jody Wilson-Raybould's gathering at Hellenic Centre, except there are a lot of cameras here."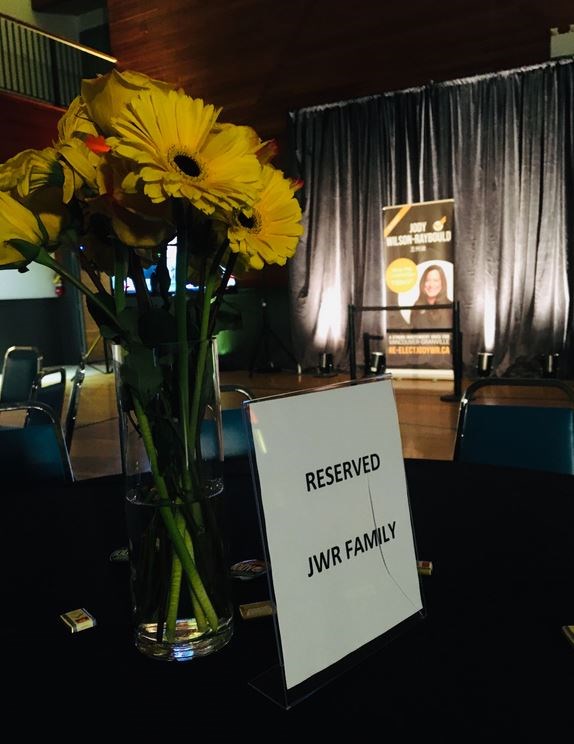 7:44 p.m.
Naoibh O'Connor: "Here's what the Liberals will be dining on."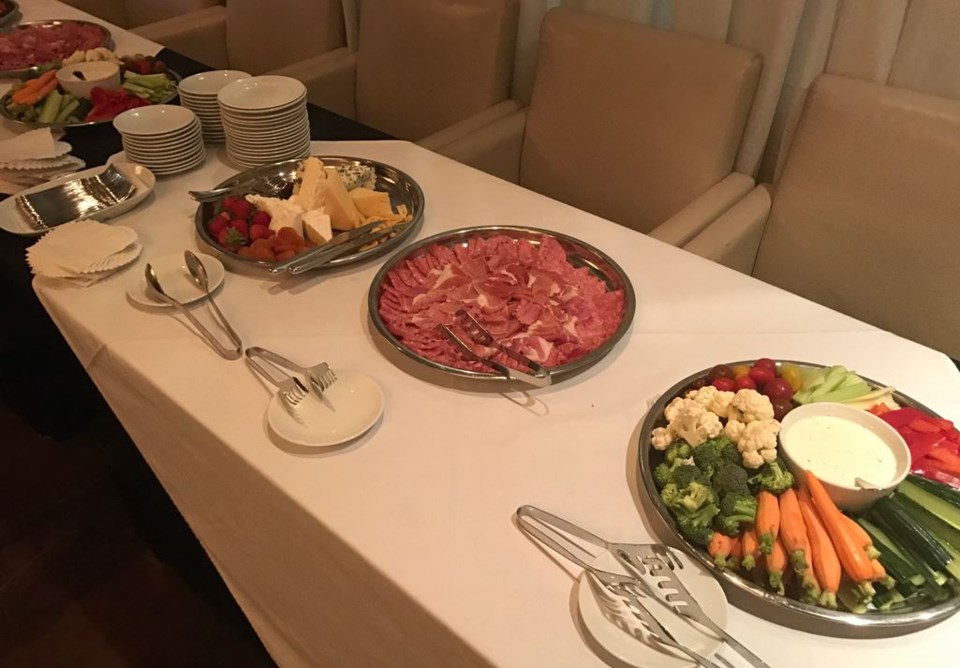 7:41 p.m.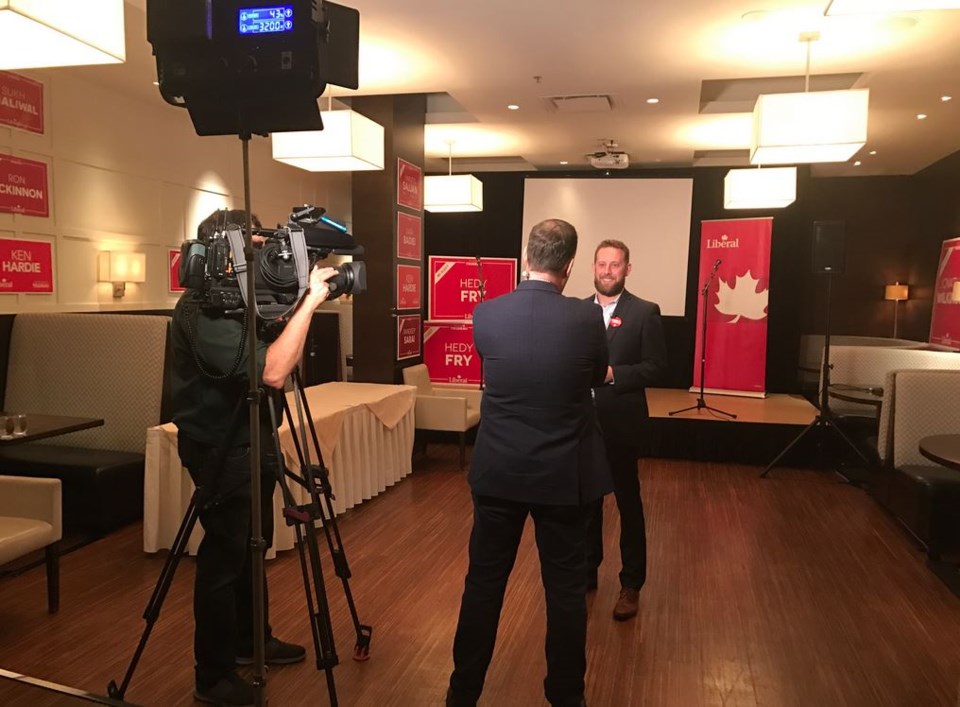 Naoibh O'Connor: "Walked several rainy blocks to Coast Plaza where larger Liberal party will be held. Very few people here yet. Mood here: happy... cautiously optimistic. ... believe majority is still within striking distance." 
7:36 p.m.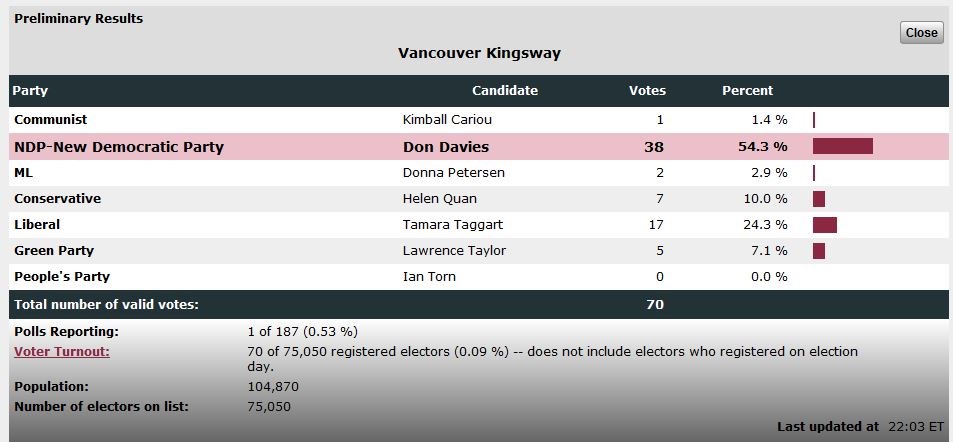 John Kurucz: "Huge cheer at Davies' campaign office, showing him with nearly double the amount of votes over Tamara Taggart. Check that --- campaign party. This is not an office."
7:34 p.m.

Various media outlets are now projecting a Liberal minority government. Pundents are already pondering Andrew Scheer's future. Ouch.
7:31 p.m.
Some of the swag (buttons and chocolates) at Jody Wilson-Raybould's election night party. No sign of Wilson-Raybould though.
7:26 p.m.
John Kurucz: "Fire sale on liquor at Don Davies' campaign HQ! Tall cans of beer and glasses of wine are all $5!"
7:20 p.m.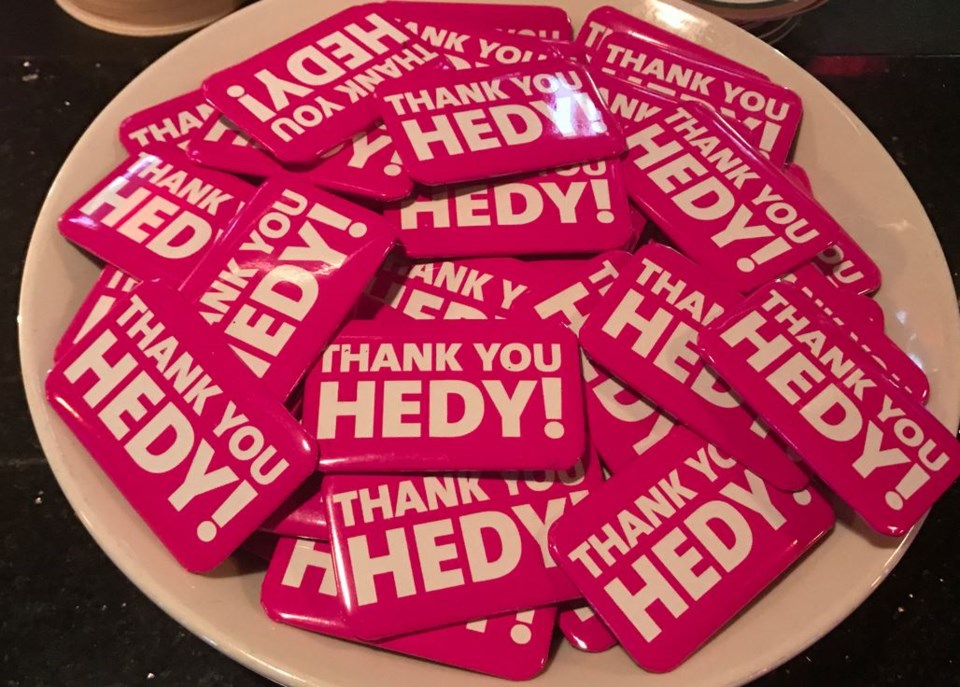 Reporter Naoibh O'Connor: "The party is (not) on (yet) at The Junction in Vancouver's West End where Liberal Hedy Fry's supporters plan to gather. I'm told she's in the vicinity but won't arrive until results known. (At least an hour from now?) I'm one of the few people here at this point. It's mainly just this reporter, a handful of people, and the signs."
7:12 p.m.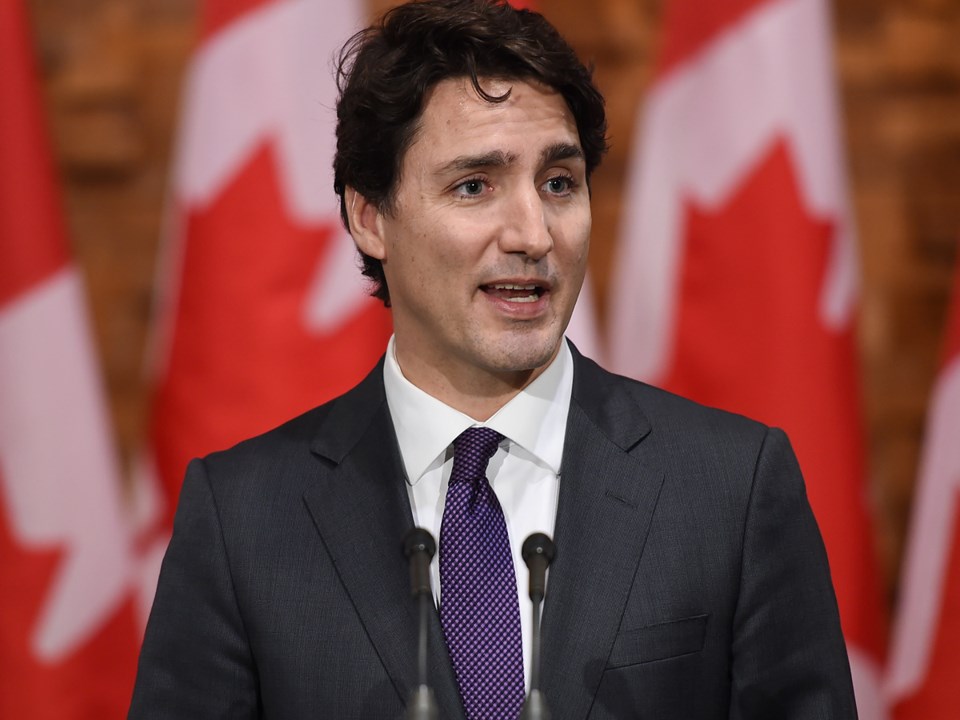 CBC has just projected that Prime Minister Justin Trudeau and the Liberals will once again form the next government. Whether it'll be a majority or minority, they aren't ready to say. 
7:07 p.m.
Polls in Vancouver and across Canada are officially closed. Meanwhile Vancouver Kingsway incumbent Don Davies is really embracinghis party's orange theme at the Polish Community Centre.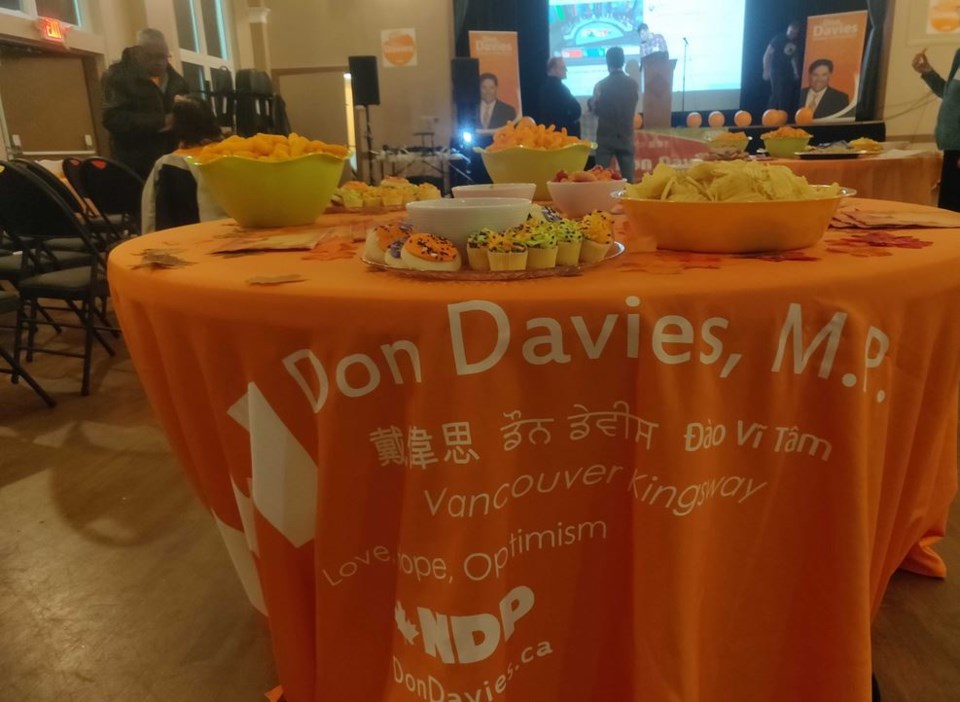 That's a lot of cheezies. 
6:57 p.m.
Reporter Sandra Thomas thought she'd check out the action at Vancouver-South Conservative candidate Wai Young's election party on Victoria Drive. Turns out she's was a little early.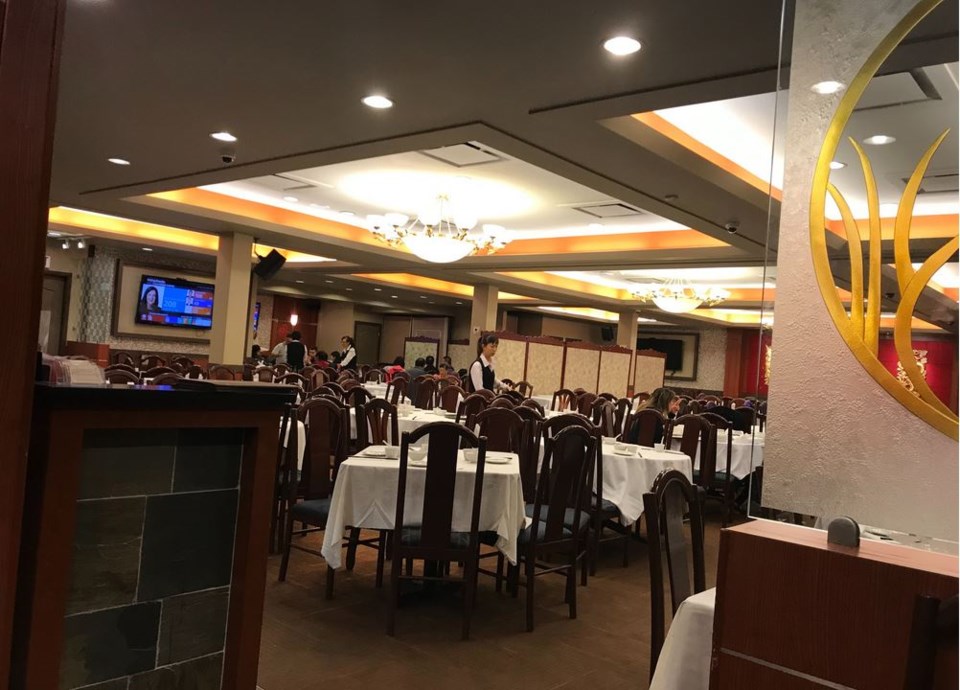 "When they said after 8, they meant after 8... I was told, 'come back after dinner.'"
6:41 p.m.

I spoke too soon. The NDP has graduated from its "other" status on the Elections Canada website. But the NDP's gain is the Green Party's loss, as they are now categorized as "other." I'm no web designer, but this seems kind of lame...
6:25 p.m.

For some reason the Elections Canada website refers to the NDP as "other." Seems a little strange. And their website is not nearly as user-friendly and visually appealing as Elections B.C. and the City of Vancouver's sites were last provincial and civic elections. Just sayin'.
6:10 p.m.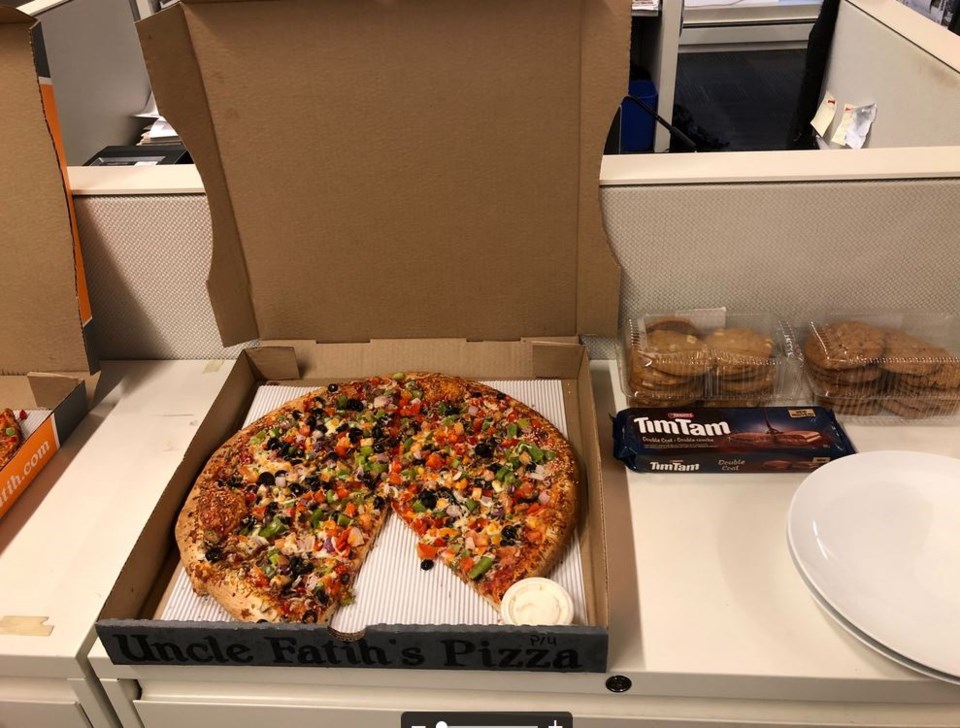 The pizza has arrived to fuel our crew before they head out into the cruel moonlight. One veggie for reporter Naoibh ("rhymes with Steve") O'Connor and a meaty one for rest of us heathens. Oh, and that's a pack of Tim Tams. Sweet relief. For further insights into the seductive delights of Tim Tams, click HERE.