Vancouver's smallest commercial district is in big trouble.
You don't need spreadsheets or a business degree to see what ails the westernmost stretch of West 10th Avenue.
Walking the three blocks spanning Discovery to Tolmie streets, the first thing that pops to mind: "Where is everyone?"
Foot traffic is down significantly. Boarded-up shops with "for lease" signs dot each block. Some business owners are reporting six-digit losses, while others are giving up entirely — not just on that particular street, but on Vancouver altogether.
The Courier spent the better part of last week visiting independent shops and speaking to locals in the West Point Grey Village area, near the entrance to the University of British Columbia.
Many factors contributing to the business crisis are unique to the immediate area. Safeway leaving in November 2018 killed much of the foot traffic. House prices are well beyond the reach of anyone outside the one per cent. Online shopping is hurting retailers both big and small. Families are smaller, there are less children and more seniors in the area.
That UBC has grown into a city unto itself has resulted in more and more students opting not to leave campus to shop or eat. Whether the SkyTrain gets extended to UBC looms large on business owners, planners, residents and investors.
Some shop owners and residents who spoke to the Courier said the retail mix was off, or in need of a refresh. Others suggested the increasing number of Asian families in the area don't care for the shops and instead take their money to Richmond.
Variables aside, the problems plaguing West Point Grey are also seen in virtually every other part of Vancouver: rents are out control and the tax burden is overwhelming.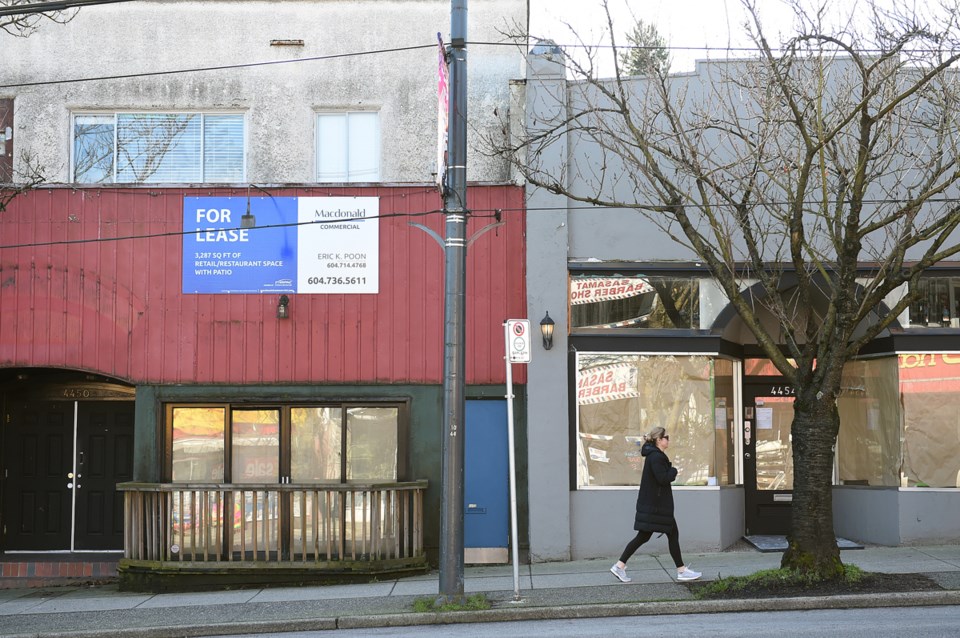 'I've never seen anything like this'
Lee Richmond is kind of like the mother hen of the neighbourhood. Owner of the Kaboodles Toy Store between Sasamat and Trimble streets, she's been in West Point Grey for 40 years. She knows everyone, everyone knows her and she's been a director with the local BIA since its inception.
That ends soon, as she prepares to close shop and move to another location in Kitsilano. Four shops will soon become three.
"My rent has gone from a couple thousand to well over $10,000 monthly. It's unbelievable," Richmond said. "I've never seen anything like this in 40 years. Nothing like this at all." 
Like most businesses in the neighbourhood, Richmond has a triple net lease — she pays rent, property tax, insurance, utilities and all the upkeep. She opens up her books for the Courier, which shows monthly costs in rent and tax alone: $4,978 in 2007 versus $11,173 last year. Those numbers exclude wages, insurance and other escalating costs that eat at her bottom line.
Going through the books further shows a $10,000 drop for three consecutive Januarys. Richmond is making $100,000 less during the Christmas season now compared to a decade ago.
Taxes and rent are the primary killers for Richmond, but she recognizes other factors. The online marketplace is a killer. A 2,200 square foot storefront is a relic from a bygone era in Vancouver. 
Though now a lawyer, there was a time when Richmond's daughter contemplated taking over the business.
"I said, 'Don't even think about it. I wouldn't wish this upon you.' It's hard work and it's nerve wracking work," Richmond said.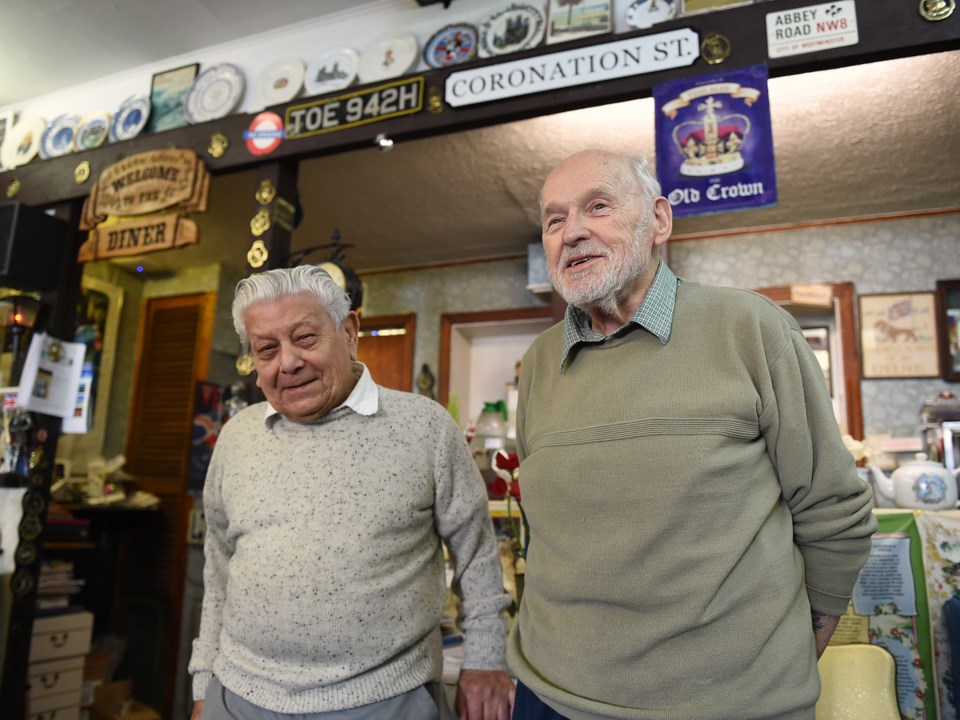 Talk of the block
After visiting Richmond, the Courier walked the span of the neighbourhood from west to east and spoke to more than a dozen residents and business owners.
They all point to the Safeway closure in 2018 as a mitigating factor in the area's current decline. The lot covers a massive footprint in the neighbourhood — close to 130,000 square feet — and its assessed value for 2020 is $125 million. What happens to the lot moving forward remains in question. The land is owned by Sun Life Assurance Company of Canada, while BentallGreenOak is the property manager.
"We have been pursuing a path for the long term redevelopment of the lot," BentallGreenOak spokesperson Rahim Ladha told the Courier in an email. "Our efforts remain ongoing and we will be sure to inform our stakeholders and members of the public with future updates."
Directly across the street from the vacant lot, Reg Lee sits in The Diner alongside chef Tom Hodgkinson and four customers. The 58-year-old, all-things-England diner is soon empty and it stays that way for the balance of the Courier's visit.  
Lee expects, and banks on, three days a week where the total take is $60. He can barely pay his staff. Hodgkinson said the most recent property tax bill was about $30,000 for just over 1,000 square feet.
The only saving grace is that Lee's wife Stella Shurety owns the property.
"Foot traffic is terrible, absolutely. Safeway was what brought people here," Lee said. "If you don't own the land here, you've had it. Impossible."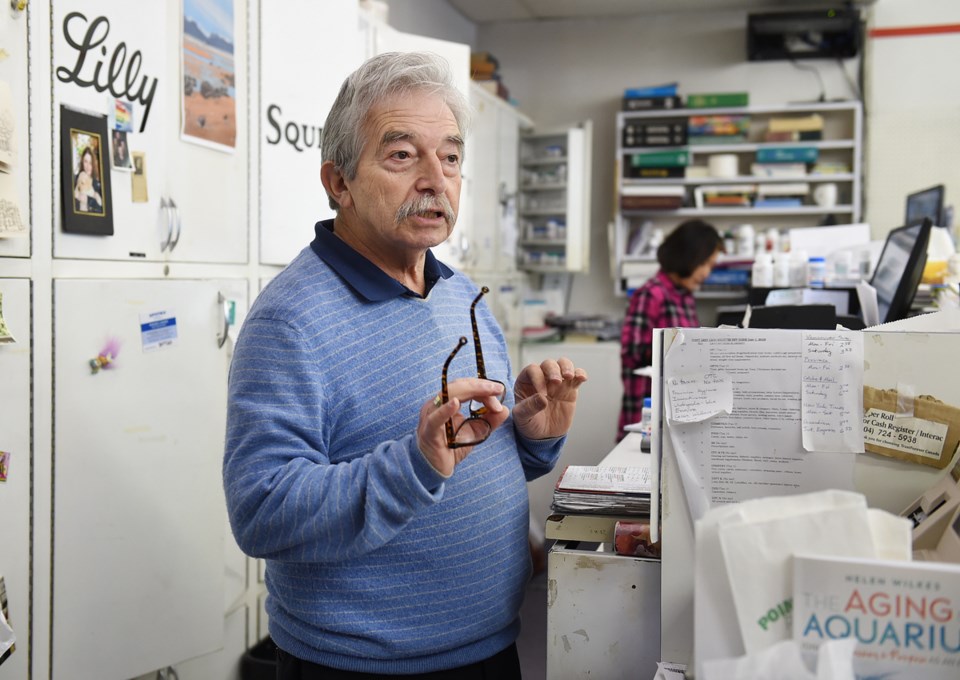 Less than 10 metres to the east, a large fluorescent sign that says "Drugs" harkens back to old Vancouver. Inside is Safouh El Rayes, head pharmacist of Point Grey Pharmacy. The next property over has a for lease sign in the window.
El Rayes is not happy — not with his landlord, the city or the province. He's been in the area since 1992 and the words "used to be" come up in every second sentence: used to be affordable, used to be vibrant.
With a triple net lease in place, El Rayes is paying about $14,000 a month to remain afloat. He's furious with the "best and highest" use model of assessment that taxes the unoccupied air above his pharmacy.
"Now, tell me what kind of business can survive that? How many prescriptions do you have to fill for that?" El Rayes asks. "The problem is this: why would you charge me for something above me when there's nothing above me? It's greed."
Across the street at Varsity Shoe Repair, Victor Tran is seated in his storefront, reading a book. 
He brings that point up specifically when the Courier asks how business is. Tran points to a shelving unit normally packed with four shelves worth of shoes. No more than five pairs are on display.
Tran's been in the neighbourhood for 15 years and his survival is based solely on having no staff. His 530-square-foot space costs him about $25,000 a year.
"I used to be really busy in the wintertime," Tran said. "Now, as you could see, I was sitting there reading a book."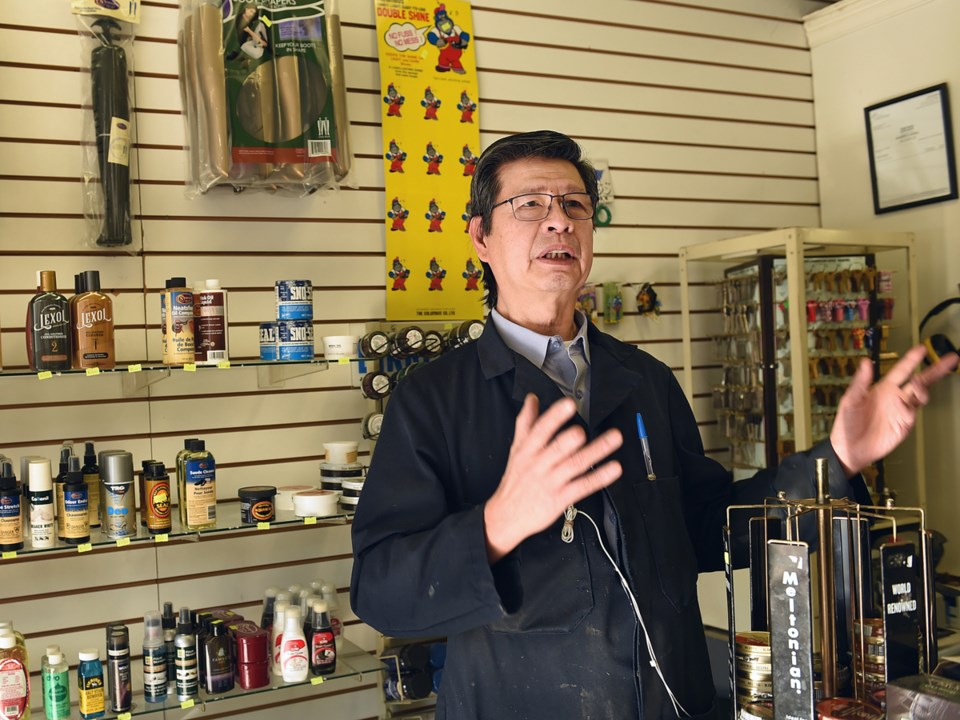 Changing demographics
Further west near the intersection of Trimble and West 10th, two storefronts have sat vacant for roughly four years. A pair of medical clinics are closing, which is particularly worrisome for seniors who spoke to the Courier.
Arguably the most ubiquitous Canadian business imaginable, Tim Hortons closed its location at Trimble and West 10th last month after a decade in the neighbourhood.
"The restaurant closure was a decision between the restaurant and the landlord due to an increase in rent," a Tim Hortons spokesperson confirmed in an email.
After 25 years as a barber in the area, Jihan Mohammed has stories aplenty. The Sasamat Barber Shop owner recalls the guy who came in recently complaining about a $200,000 property tax bill on his home. Another customer Mohammed's seen for 15 years offered this:
"He's retired but his kids can't live here," Mohammed said. "Each house, there are three or four people moving out. It is affecting everyone."
Mohammed's 380 square feet costs him about $2,000 a month. Business is down 10 per cent so far this year. Mohammed and others who spoke to the Courier for this story suggest there's been an influx of Asian homeowners in the area who simply prefer to shop elsewhere.
"The big change that's happened is this crazy, almost uncontrolled redevelopment knocking down all the houses," added Peter Munns, who's lived at Tolmie and West Sixth Avenue for four decades. "The people who are buying them, and I hate to say this, they are Asian and they don't shop here. So there's a change in the demographics and how this area works."
The city's historical tracking of the area suggests that West Point Grey has 30 per cent more seniors than children as of 2016. Over time, there has been a decline in the population with English origins and an increase of those with Chinese origins. Seventeen per cent of the population has some knowledge of Mandarin, a number that jumped by 12 per cent between 2001 and 2016. Across the rest of Vancouver, that number remained at seven per cent from 2001 to 2011 and increased to 11 per cent in 2016.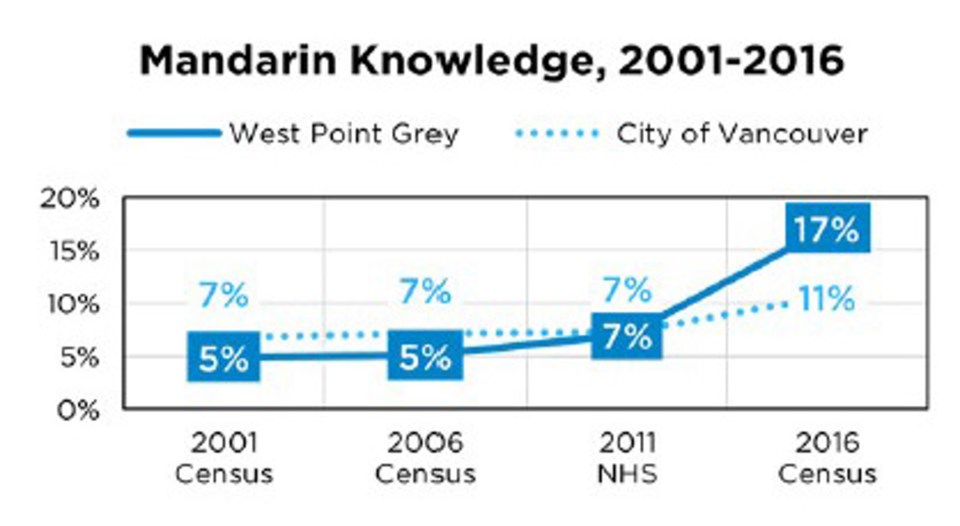 Taxes, taxes, taxes
In an interview Monday, Mayor Kennedy Stewart said he's spoken to members of the BIA and is aware of the issues facing the small neighbourhood. More density is needed, along with a commitment to extend the SkyTrain all the way out to UBC. Stewart added that a split assessment model of taxation, one that the province balked at this week, would be a game changer.  
The majority of business owners the Courier spoke to lived outside of Vancouver, though Didier Facchin is in the unique position of renting a home and owning a business in West Point Grey. He pays more than $2,000 for an 800 square foot apartment and roughly $6,000 monthly for his 780 square foot coffee shop, the Figaro Café + Bakery.
Located between Trimble and Discovery streets, Facchin's business has been there for four years.
"The base rent is almost the same as four years ago," Facchin said. "It's the taxes — they've gone up 40 per cent every year. The rent is not that bad. It's the commercial taxes."
Facchin's business is down 25 per cent since Safeway left. He and his partner have an eight-month-old son who could likely celebrate his second birthday in another city. 
"What we're paying now, it's not sustainable," Facchin said. "We are a young family. I've seen it over the last four years with my customers who are young families. They just leave, they don't stay in Vancouver. It's not possible."
@JohnKurucz