The Canucks currently have eight semi-healthy defencemen on their roster, which has made for some tough decisions for Travis Green and Nolan Baumgartner on who to sit and who to play. Ben Hutton was a health scratch for several games, but lately Derrick Pouliot has been the victim of the numbers game.
EDITOR'S NOTE: Though he is not listed on the Canucks' injury report, Pouliot apparently has a minor hand injury, explaining a couple of the more recent games in which he was a scratch.
Pouliot has been a scratch for four of the last six games. It's a disappointing turn of events after he was such a pleasant surprise early in the season. Pouliot filled in on the right side when Chris Tanev was injured, frequently playing over 20 minutes per game. He was often paired with Alex Edler on the top pairing and was effective on the power play with Ben Hutton.
More recently, however, Pouliot has been bumped down the lineup. Even before he was scratched, he was no longer playing on the power play and had some defensive struggles at even-strength.
It's astonishing to look at a split between his first half of the season and his second half. Pouliot has played 41 games. In his first 20 games, he had a corsi percentage of 53.6%. The Canucks out-shot their opponents 155-131 when he was on the ice at 5-on-5. The Canucks only out-scored their opponents 10-9 with him at 5-on-5, but they did, in fact, out-score them.
In the last 21 games it's been a completely different story. A corsi percentage of 46.9%. The Canucks have been out-shot 185-161 at 5-on-5. Worse, they've been out-scored 22-9 with Pouliot on the ice at 5-on-5.
With numbers like that, it's not surprising to see him sit.
It brings to mind Pouliot's time with the Penguins. Pouliot played 22 games for the Penguins during the 2015-16 season and, in that time, led the Penguins in corsi percentage and saw the Penguins out-shoot and out-score their opponents when he was on the ice at 5-on-5. His numbers that season were even better than his numbers with the Canucks in the first 20 games of this season.
The following year, however, everything fell apart. In his 11 games in the 2016-17 season, he was one of the worst on the Penguins in corsi percentage, and the team got badly out-shot and out-scored. His results that season were even worse than his last 21 games with the Canucks this season.
Is that simply who Pouliot is? Should we expect stretches of games where he's a dynamic presence, transitioning the puck up ice with aplomb, and maintaining offensive possession with his control at the blue line, followed by stretches where he can't moved the puck, loses puck battles, and gets trapped in the defensive zone?
Perhaps. But there might be other explanations available.
First, we can look at the team as a whole and how they've performed. Looking at a rolling average of corsi percentage, we can see that Pouliot's average mirrors the team's average.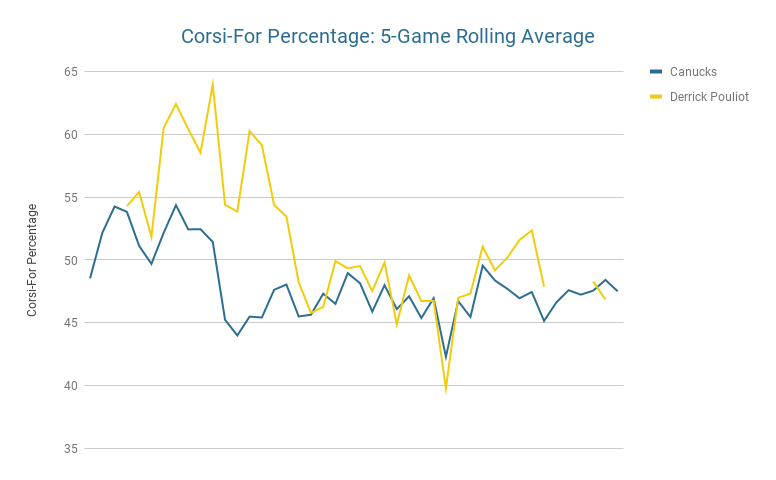 It's hard to tell what is correlation and what is cause and effect here, of course. Was the team bad, dragging down Pouliot, or did Pouliot's struggles contribute to the team's struggles? It's likely a mix of both.
What's interesting is that Pouliot's average corsi percentage is almost always above the team average. That suggests that Pouliot hasn't necessarily been the problem: as the team crashed and burned while several players were out with injuries, Pouliot didn't crash and burn quite as hard.
The other thing to keep in mind is his defence partner. Pouliot excelled early in the season with two different partners: on the left side of a pairing with Alex Biega in a sheltered, third-pairing role, and on the right side with Alex Edler in more of a top-pairing role, if offensively inclined. He's also had some success with Erik Gudbranson in a smaller sample size.
Where he's struggled is with Michael Del Zotto and, in a smaller sample size, with Ben Hutton. Pouliot's puck-moving, chance-taking game seems to be a poor fit for Del Zotto, who also likes to jump up in the rush and take chances. Combining their respective struggles in the defensive zone has been a recipe for disaster.
Pouliot was really only paired with Del Zotto in the second half of the season, when his struggles kicked in. This isn't to blame Del Zotto, but they just don't seem like a good fit together and the numbers appear to back that up.
It seems clear that Pouliot isn't the type of defenceman that can provide a boost to any partner he plays with. He needs a complementary partner and a role that fits his skillset. With the right usage, Pouliot should be able to get back to being the pleasant surprise he was earlier in the season.