Up in the air, high above the city, Sophi Rose says life feels serene.
"It's just so calm up there," the Vancouver-based window washer told the Courier.
"Nobody really bothers you. You're kind of in your own world. If you just take a moment and look around, the city is so beautiful," she continued. "You get to see the most beautiful landscapes and the mountains and the ocean and everything. Multimillion-dollar views every day at work."
While most Vancouverites spend their days milling around on or near the ground floor of the city, some like Rose earn their keep working at great heights, affording them a daily view of Vancouver that few enjoy.
Originally from Maple Ridge, Rose began washing windows soon after moving to East Vancouver eight years ago.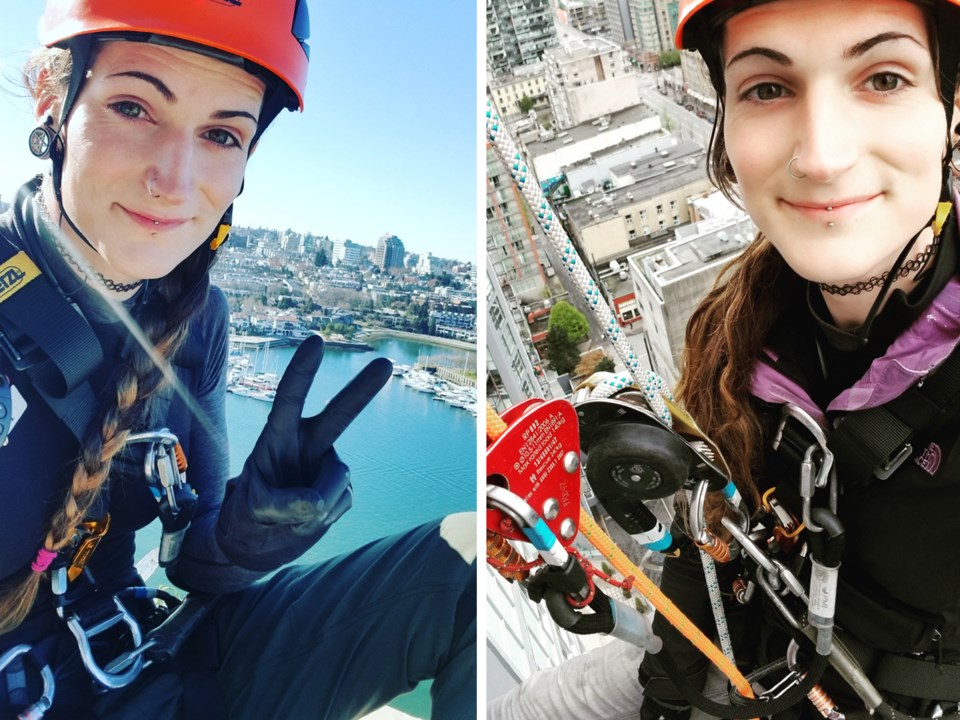 "I was into rock climbing before that. So, I was used to heights, and I had some experience working with rope, tying knots and stuff," the 26-year-old said. "But it was a pretty big adjustment once you start working on 30-storey buildings."
The Private Residences at Hotel Georgia is the tallest building where Rose has ever washed windows. The 48-storey highrise is currently the third tallest building in Vancouver, though not for long.
The first time she was fastened to a skyscraper, Rose felt her heart pound as she kept checking her harness. "Is this safe?" she recalls thinking at the time. Despite her initial fears, Rose quickly developed a love for the work.
But some scary moments would follow. In one particularly nasty incident, a concrete ledge took a "nice chunk" out of her leg after Rose slipped on an algae-coated building in the rain.
Then there's the wind. The breeze typically picks up as Rose moves higher and sheds the shelter that the surrounding buildings below provide. When exposed like that, the wind can blow her all over the place, says Rose.
Bird's eye view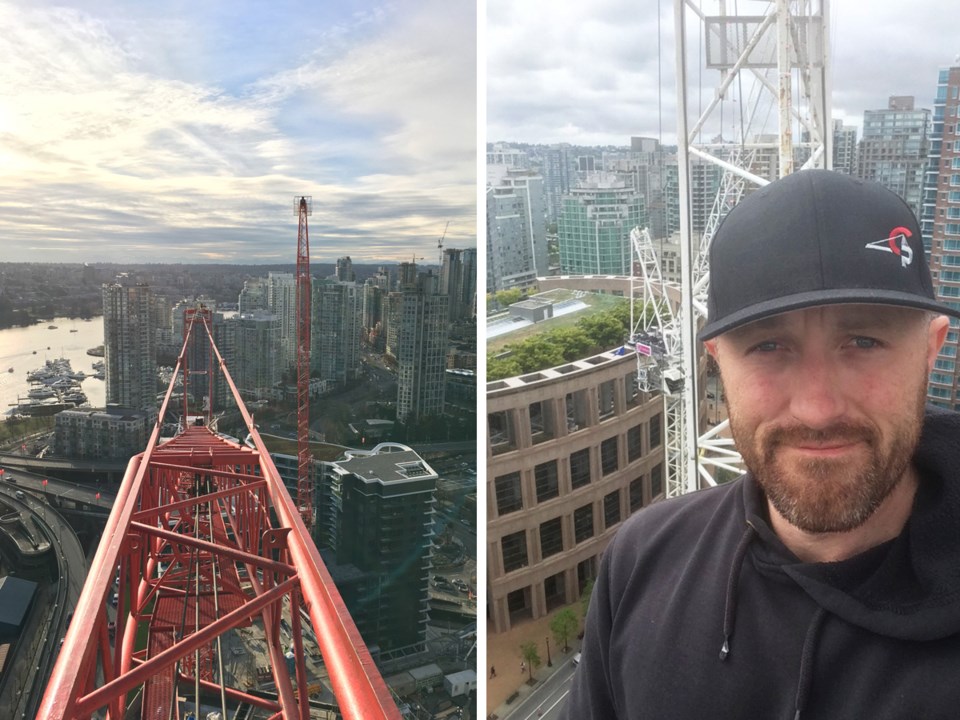 As a crane operator, wind can prove similarly meddlesome for Ryan Clancy. The 37 year old says a blustery day can transform the big panels he routinely moves into virtual kites. 
But even with little wind, large cranes are designed to naturally shift and sway to minimize the amount of torque created, according to Clancy. He says "luffer" cranes, used to lift heavy material and equipment, move the most.
"The first time I ran one of these, I climbed down, and it felt like I was on the high seas for like 10 hours," said Clancy. "[But] you just adjust to it."
And what about the heights? For Clancy, working hundreds of feet above the city came quite naturally.
"My dad was a helicopter pilot," he explained. "I grew up with the craziest situations since I was like two-years-old, being in helicopters and flying and stuff like that."
The Victoria-native is currently working on the 24-storey Westbank development at 400 West Georgia, an abstract-looking office tower with large cube-structures that jut out at different angles.
It turns out working at great heights grants window washers and crane operators a unique look into the seedier side of Vancouver.
"A lot of people in condos and office buildings don't really notice or pay attention to us. So, you definitely see a lot of stuff," Clancy said.
"We were working on [Parq] casino, and there was a brothel across from us in the new condos," he continued. "We would see girls having sex on the balcony, and they would wave to us in the morning. You'd see all kinds of guys doing coke on tables outside. People going in and out. Then we had the Vancouver Police Department — they did a stakeout in the casino building that we were building to watch [the brothel] for a couple of weeks."
Rose says she accidentally scares a lot of people when scaling buildings, sometimes when they're not at their best.
"Monday mornings are really funny," she said. "Everyone's kind of recovering from the weekend. Some people are hungover, still trying to get their life together, and [then] – 'Oh God, don't look at me!'"
Keeping Lookout
Jake McGrail's job might be more comfortable than the work Rose or Clancy do, but the sights are equally spectacular. The third-year UBC student is spending his summer atop Harbour Centre, working as a guest experience ambassador for Vancouver Lookout.
From his 550-foot perch, the 20 year old has a panoramic view of the city and beyond. Many visitors to the observation deck, often tourists coming off the cruise ships that dock at Vancouver Harbour, point east toward the cluster of distant highrises that make up Metrotown and North Burnaby and ask, "Is that Calgary?"
"Most of my week, I'm still on the ground level," McGrail said. "But then regularly I'm also up here. So, it's a pretty interesting contrast."
"I have learned a lot about some of the older buildings in the city," he continued, pointing to the Dominion Building and the Sun Tower with its distinct faux-patina steel dome.
"I've lived here my whole life, and I'm still learning interesting factoids about the city just by being here," said McGrail.
Captain Vancouver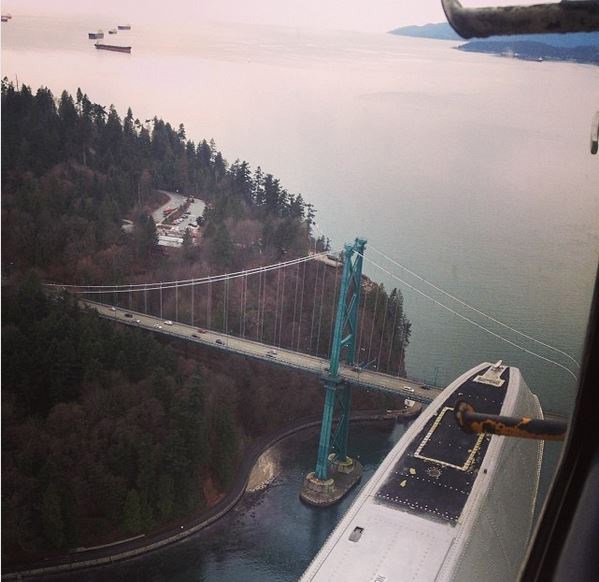 From his downtown post, McGrail can look north and watch the floatplanes take off and land in Coal Harbour.
Reggie Morisset captains some of those flights, giving the Montreal-native one of the best vantages of the city.
"After all these years flying in this area, I still find it exhilarating," said Morriset, an assistant chief pilot at Harbour Air for the past 12 years, in an email.
Morriset is still struck by the sharp contrast between urban life and the wilderness that surrounds Vancouver.
"I am always amazed at how the line between civilization and the great outdoors is dramatically drawn, just north of our city limits," he said. "Nature can be unforgiving, and you get a true sense of its ruthlessness when viewed from above."
Rose, the window washer, touched on a similar point when the Courier asked her what people who work high above the city might know that others don't.
"We definitely have a greater appreciation for the kind of natural beauty that surrounds us," she said. "A lot of people, particularly people that work closer to the ground in the city, you kind of get caught up in your own things."
ben@vancourier.com
Read more Vancouver from Above stories HERE.