After a Los Angeles coroner said that Tom Petty died of an accidental mix of medications that included opioids, the singer's family hopes to draw attention to the fact that some overdose deaths can be traced back to a legitimate need for painkillers.
"As a family we recognize this report may spark a further discussion on the opioid crisis and we feel that it is a healthy and necessary discussion and we hope in some way this report can save lives," his wife Dana and daughter Adria said in a statement on Friday. "Many people who overdose begin with a legitimate injury or simply do not understand the potency and deadly nature of these medications."
The family says Petty, who had just returned home to California after a tour of his band, the Heartbreakers, suffered from "many serious ailments including emphysema, knee problems and most significantly a fractured hip….
"On the day he died he was informed his hip had graduated to a full on break and it is our feeling that the pain was simply unbearable and was the cause for his over use of medication," the statement said.
They said: "We knew before the report was shared with us that he was prescribed various pain medications for a multitude of issues including Fentanyl patches and we feel confident that this was, as the coroner found, an unfortunate accident."
Petty died of cardiac arrest early last October but the formal cause of death was deferred pending the coroner's report. The New York Times reported Friday that that coroner, Jonathan Lucas, said it was an accidental drug overdose. "Mr. Petty's system showed traces of the drugs fentanyl, oxycodone, temazepam, alprazolam, citalopram, acetyl fentanyl and despropionyl fentanyl," the Times reported.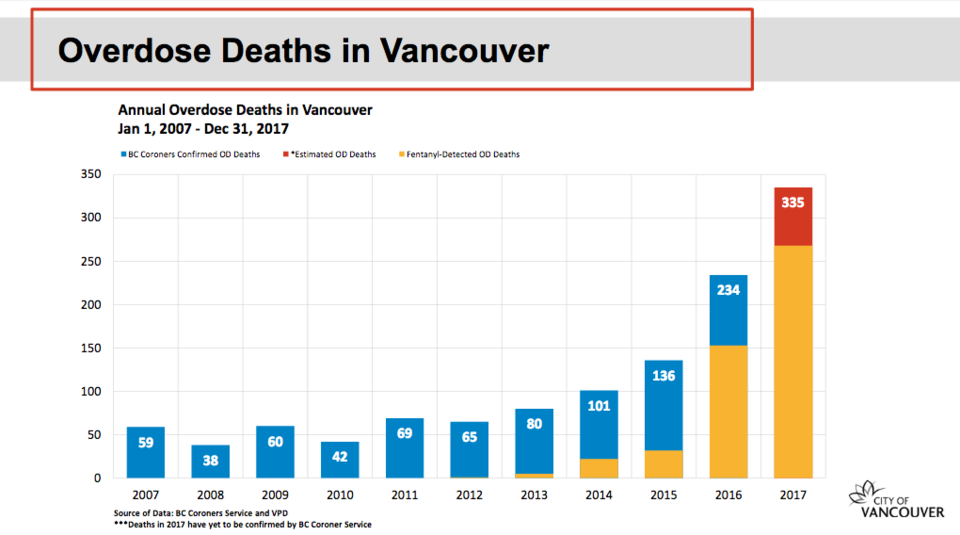 Two days before the L.A. coroner's report, the City of Vancouver revealed its own sad findings about fentanyl's impact on the city in 2017.
A total of 335 people are suspected of dying of a drug overdose in Vancouver last year, with more than 250 connected to the deadly synthetic narcotic fentanyl, says the Courier's story about the announcement.
"It's an absolute historical high; we've never experienced this," Mary Clare Zak, the city's social policy director, told council on Wednesday night. She said staff collected the year-end data from the Vancouver Police Department and it has yet to be confirmed by the BC Coroners Service.
Dr. Patricia Daly, Vancouver Coastal Health's chief medical health officer, and Dr. Mark Tyndall, the director of the UBC Centre for Disease Control, said health officials do not know exactly how many people are opioid addicts in the province, noting an example of a construction worker who died of an overdose.
"There's so many young men in construction — this kind of population — who had a steady supply of diverted pharmaceutical opioids for a long time," Tyndall said. "All of sudden, one morning it's: 'I don't have them anymore and what am I going to do?'"
Added Tyndall: "Many people who we really wouldn't associate as targets for our harm reduction are being found dead, and it's really because they've just run out of clean options."
In last February's podcast, the Courier's 12th and Cambie columnist Mike Howell ask Dr. Daly about a link between the medical profession's over-prescription of opioids as painkillers and today's overdose crisis. "There's a lot of truth to that. We still in Canada overprescribe opioids," she said. "But that it's not entirely what we're seeing here in Vancouver and the rest of British Columbia. We know that the vast majority of people who are dying are chronic opioid addicts, many of heroin addicts; they weren't necessarily people who started using opioids for chronic pain relief. There might be some of those people but it's not what's primarily at the root of our crisis here."
However, she added, "There is danger in cutting people off if they've been receiving these medications long term. They may turn to illicit sources of drugs on the street."
She said it also speaks to the deficiencies we have finding effective ways of helping people who have chronic pain. "We don't have good alternatives," she said.
With files from Mike Howell.