A Downtown Eastside man who died of AIDS-related complications in 2003 and a Japanese word for sister inspired the names of two of Vancouver's temporary modular housing complexes.
Chartrand Place, a 39-unit building at 1131 Franklin St. managed by the PHS Community Services Society, is named after Michel Chartrand. Chartrand lived at the original Portland Hotel. He was diagnosed with HIV early in the AIDS epidemic and lived longer than expected at the time.
"… His memory is a testament to the full life a person can have when provided with safe, stable housing and a sense of community," the PHS website states.
Jennifer Breakspear, the society's executive director, said staff fondly remember Chartrand and naming the complex after him seemed a good way to honour him his legacy.
"[Staff] say he, himself, credited being able to live in supportive housing — having safe, stable housing that was attached to medical care and services — for prolonging his life," Breakspear said.
"He came to us as a very sick person. By all accounts, he lived longer and was healthier because of that continuum of care. That's what we're hoping, through moving folks into modular housing, is going to be experienced by a number of folks who otherwise would be suffering from ill health due to homelessness."
The society will also be managing a new modular housing complex at 2132 Ash St., which is expected to open in September. Breakspear said they're still considering names but expect to have one picked within the month.
She said names are important because they set a tone and an aspiration for a project.
"Naming is also difficult, and it's loaded, so you want to get the right heads in the room and bounce things off of community members," she added.
The operators of each modular housing complex determine their buildings' names. So far, three have been named — Chartrand Place and two others.
The 39-unit complex at 525 Powell St., run by Atira Women's Resource Society, has been named Aneki Housing for Women.
The society says "Aneki" is meant to honour the building's location in "herstoric Japantown," as well as the organization's mandate.
"As described by the Japanese women we consulted, Aneki is an informal or slang word a younger brother would call his older sister or a 'Yakuza' man would call his female superior/boss. As one artist, an immigrant from Japan who has lived a few blocks from the site for more than a decade explained with a laugh, 'It is rough round the edges, like this amazing neighbourhood,'" the society wrote in its terms of reference in April.
The one in Marpole at 7430 and 7460 Heather St. is called Reiderman Residence. Run by Community Builders, it features two buildings with a total of 78 units and is named after Jennie Reiderman who worked for the non-profit organization between 2010 to 2016. She was diagnosed with cancer in 2016 and died in late 2017.
In its rationale for the choosing the name, Community Builders wrote in its terms of reference that the organization wanted to operate the building with the same passion and dedication that Reiderman inspired in everyone around her.
"[She] worked tirelessly with the elderly, vulnerable and sickest of our tenants and homeless individuals. She often spoke of wishing to be involved in a project that would focus on seniors and medically vulnerable people," the writeup stated.
BY THE NUMBERS
Almost 10 months after the provincial government first announced $66 million to build temporary modular housing complexes in Vancouver, 155 people have been housed.
In all, six complexes, which feature a total of 306 units, have been approved — three of those have opened and are tenanted.
Another three complexes, which include a total of 250 units, are still at the development permit stage.
That amounts to 556 of the 600 units the provincial government funding will cover.
Of the 155 people that have been housed in the completed complexes, 40 per cent are women, while 25 are Indigenous.
A future modular housing complex will give priority to Indigenous tenants because Indigenous people are over represented in the homeless population.
The city's latest homeless count, completed on March 13 and 14, found 2,181 homeless people, an increase of 43 people from 2017.
Of those counted this year, 659 were living on the street and 1,522 were living in shelters, compared to 537 street homeless and 1,601 sheltered in 2017.
People of Indigenous identity make up 40 per cent of Vancouver's homeless population but only 2.2 per cent of Vancouver's overall population.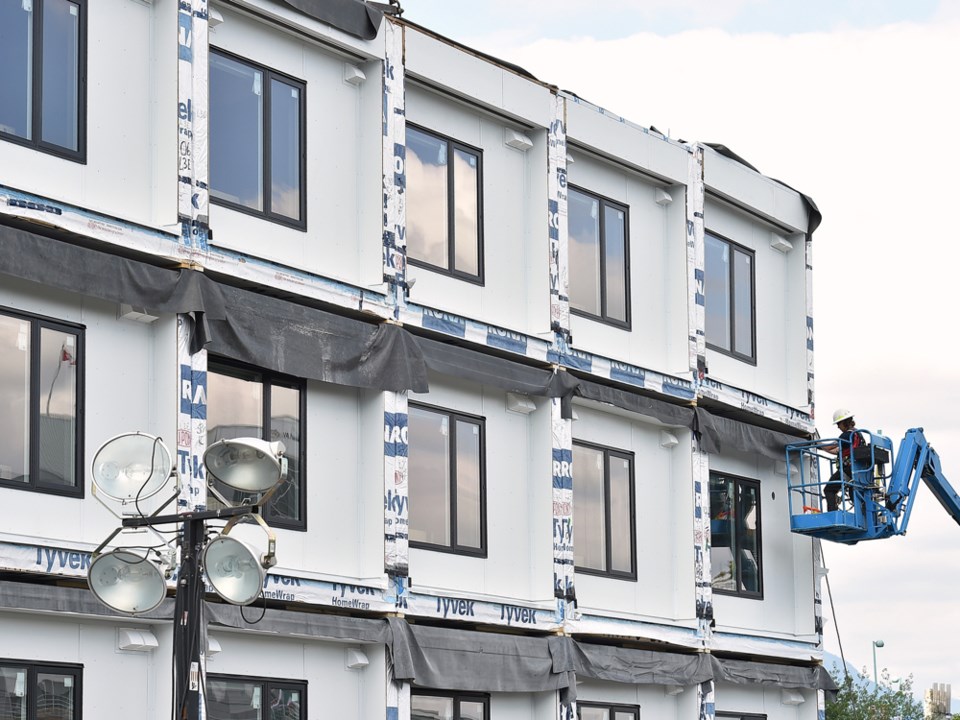 Approved:
Reiderman Residence — 7430 and 7460 Heather St. (78 homes built and tenanted)
Chartrand Place — 1131 Franklin St. (39 homes built and tenanted)
Aneki Housing for Women — 525 Powell St. (39 homes built and tenanted)
4480 (formerly 4410) Kaslo St. (52 homes under construction)
2132 Ash St. (formerly 595 and 599 West 2nd Ave.) (52 homes under construction)
Little Mountain — East 37th Avenue near Main Street (46 homes approved)         
Total: 306 homes
Sites at development permit stage:
688 Cambie St. (approximately 100 homes, development permit application has been submitted to the City)           
4949 Heather St. (approximately 100 homes, development permit application has been submitted to the City)
215 West 1st Ave. (approximately 50 homes, development permit application has been submitted to the City)
Total: approximately 250 proposed homes
@naoibh