In 1870, an Irish immigrant named Henry Valentine Edmonds got into what he called the "land business" in Vancouver.
He purchased a 465-acre block of property south of False Creek and proceeded to carve it into lots, which he put up for sale in 1890.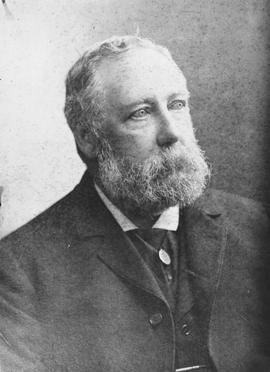 There was a reason why you could buy a lot for $125, "a far cry from the $2,200 to $2,500 being charged for lots in the swankiest portions of the city in downtown Vancouver," Lisa Smedman wrote in the Courier in 2006.
The area "had no sewer, municipal water or sidewalks. Rifle-toting parents met their children after school and walked them home through the forest, keeping a wary eye out for bears and cougars. Homesteaders kept coal oil tins filled with water on their roofs to defend their homes in case a bush fire broke out."
Edmonds called it Mount Pleasant in honour of the Mount Pleasant neighbourhood in Dublin where he was born. Streets were named after his friends and family.
Edmonds' contributions to Vancouver are worth honouring, along with other immigrants who were part of this city's growth, says Brendan Flynn, the executive director of the Ireland Canada Monument Society.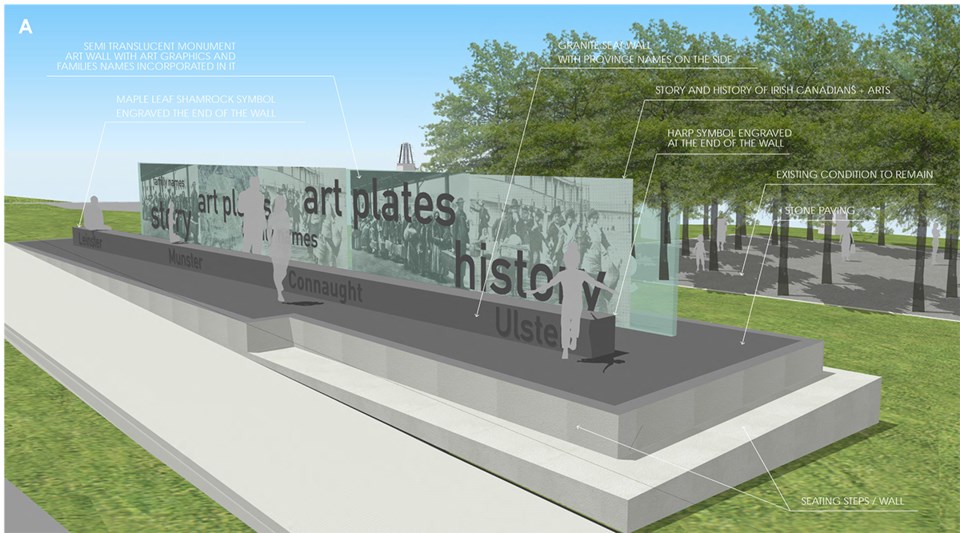 The society is in the final stages of its proposal to install a monument in George Wainborn Park just east of the Granville bridge.
Although it has yet to grant final approval, the Vancouver Park Board is asking people to weigh on which of two monument designs they like best: Discovering New Land or Seeing Through History.
The two designs are on the city's Talk Vancouver website and are also on display at the Roundhouse Community Centre until April 24. Society members will be on hand to answer questions and listen to any concerns on April 22 and 23.
There were no objections voiced at a public consultation meeting on April 4, Flynn says. Efforts were made to not affect sight lines in the park and to incorporate the treed area in the design. "We wanted something that would enhance the park, not take away from it."
In 2015, the project got the green light from the leaders of the Musqueam, Squamish and Tsleil-Waututh First Nations.
"We're absolutely humbled by the gesture," Flynn says.
He got the idea for a monument in 2005 during a trip back to Dublin. A friend introduced him to another friend "purely by accident." They got to talking and Flynn opined that, "The Irish in Vancouver don't have much to show for themselves" by way of historical markers. The man said, "Why not go back and build something for them?"
It turns out the man was just about to leave on a trade mission with then Irish President Mary McAleese. She would later give her blessing to the project, giving Flynn even greater impetus to make it happen.
The monument was first proposed for Thornton Park. However, that park already has the Women's Monument, a memorial to female victims of violence so another site was needed. The city suggested Wainborn Park.
Flynn is hopeful the monument will get final approval.
The monument, which will include the name of 256 Irish Canadians, is a way to honour "the people who have done so much for the country," he says. "We all here in life get to enjoy the efforts of others."
It will include a memorial stone from Grosse Ile, Quebec, where 7,500 Irish immigrants were buried after their wretched crossing of the Atlantic as a result of the Great Hunger of 1845-48. Other stones from burial grounds in New Brunswick, Quebec and Ontario will be incorporated in the monument.
Noting that one of the Fathers of Confederation was D'Arcy McGee, who was born in Ireland in 1825, Flynn says "The Irish didn't build Canada alone but Canada is better for [them]."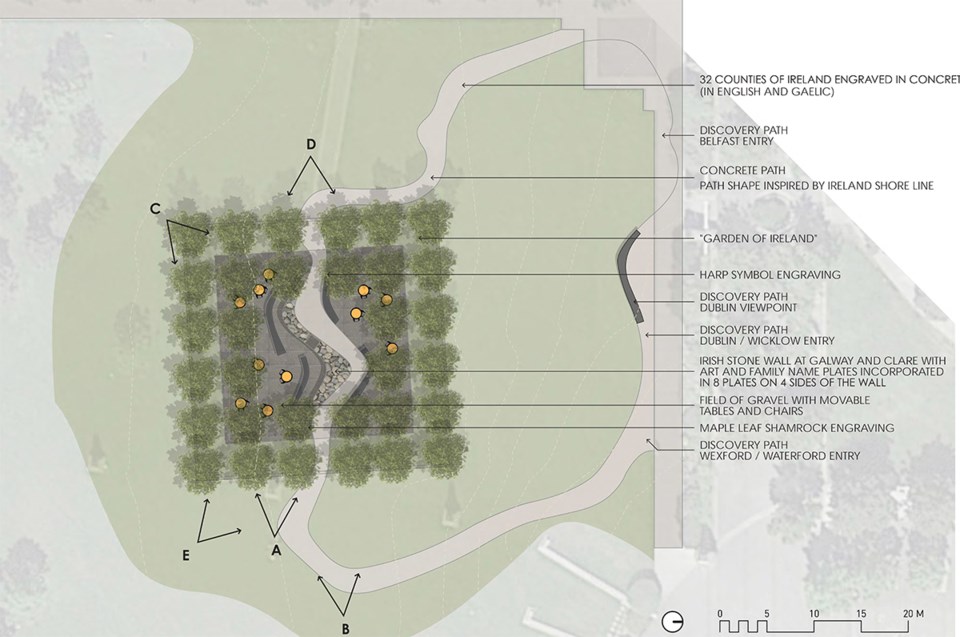 Design highlights, proposal A, "Discovering New Land"
- 32 counties of Ireland engraved in concrete, in both English and Gaelic
- concrete path's shape inspired by Ireland's shoreline
- garden of Ireland
- harp symbol engraving
- maple leaf/shamrock engraving
- stone wall incorporated with art and family name plates
- gravel field with movable chairs and tables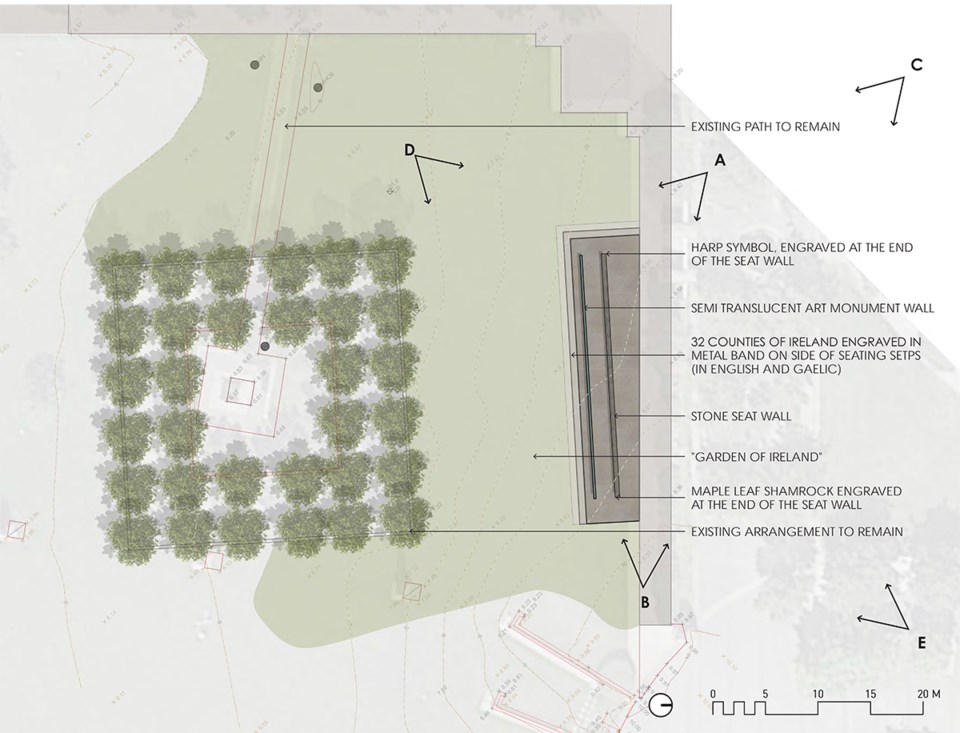 Design highlights, proposal B, "Seeing Through History"
- existing path and trees remain
- seating steps leading up to a granite seat wall with province names on the side and engraved harp symbol at one end and a maple leaf/shamrock at the other end
- the names of 32 counties of Ireland engraved in a metal band, in both English and Gaelic, on the side of seating stops
- a semi-translucent art monument wall
- garden of Ireland
Note: This story has been corrected since first posted.