It's not everyday you hear of someone walking for nine hours straight just for the fun of it.
But Jenna Mazur did just that on Monday. She attempted to walk every block of Downtown Vancouver's core.
And she did well. Covering 43.3km in her old Strike MVMNT sneakers. That's further than the length of a marathon (42.195km).
She snaked through the blocks, starting at Beach Avenue and Bidwell Street and ending at Howe and Nelson streets. She then crossed back over to complete the grid, finishing at Beatty Street. Burning 1707 calories, while she was at it.
The walk was tracked on an app called Human – which estimated she had walked more than 99 per cent of humans over her last three days.
We were curious as to why. So, we asked her.
Originally from Okanagan, Mazur said she had lived in the city for three years now, but there were so many parts she had never seen.
"The idea came to me about two weeks before I attempted it," she told the Courier.
"I live downtown and walk around often, but there were blocks I had never visited.
"I'm a dance artist, so I like challenging my physical and mental stamina.
"I had a full day off and I was just curious if it was possible."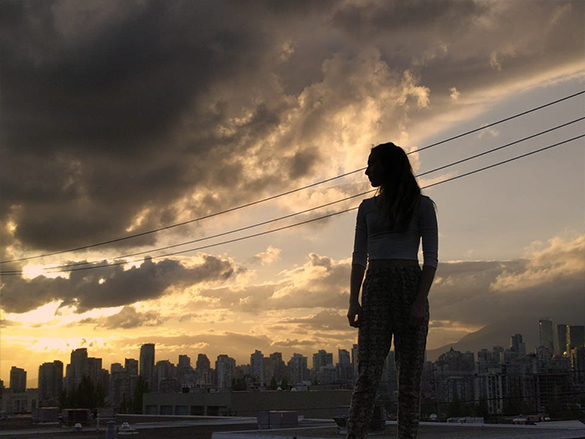 Mazur said she had previously taken part in group soundwalks, but rarely solo and never longer than two hours.
If you're unsure, a soundwalk is a walk with a focus on listening to the environment.
"I've never walked this far with this intention," Mazur said.
"Maybe I've walked similar distances when travelling, but never with the focus of being totally aware of my surroundings."
A lot can happen in nine hours.
"My senses were saturated with smells, sounds, sights and textures. There's a lot of action everywhere if you tune into it," Mazur said.
"I tagged my post #everydaymagic because of all the regular life things that become special when you really witness them happening.
"I saw new businesses replacing ones I had known. I saw countless signs for lost cats and rezoning applications.
"I was asked for directions. I was asked if I needed directions.
"One thing that stood out was the distinct architecture in different areas of the city."
She even made friends along the way.
"A stranger joined me for a few blocks in the West End, and we talked about the walk and other things. That was nice," Mazur said.
Her highlights included Bayshore Drive, which she described as "a pocket paradise" and descending down Bute Street into the sunset.
While she enjoyed the experience Mazur said, "at this point I won't be attempting it again here."
"Maybe other parts of the city, or other cities, but it's not on my agenda for now," she said.
She said after nine hours, she was "physically very sore."
"I tested my endurance, pain tolerance, attention span, patience and commitment," Mazur said.
"I think I completed over ¾ of the walk.
"I had to quit because my body couldn't handle pounding the pavement for more than nine hours. My back, hips, glutes and feet became aggravated as time went on.
"I was disappointed I didn't complete the map, but also proud for how far I got."
Mazur said she wouldn't encourage people try this same walk unless they trained for it.
"I would encourage people to look up soundwalks, though, and give that a try," she said.
"It's a simple concept and very fulfilling.
"I learned a lot about Vancouver, maybe more than I have in the three years I've lived here."