According to reports, Ryan Miller is set to follow in the footsteps of Greg Goldberg and Julie "The Cat" Gaffney, joining the formerly mighty Ducks. It's a move that makes sense for Miller, as he would join a Cup contender that is close to his family in Los Angeles, and it makes sense for Anaheim, as they need an experienced and reliable backup.
The Canucks, however, are probably feeling a little jilted, particularly since it seems like Miller will be taking a substantial pay cut to play for the Ducks. It forces them to look elsewhere for a goaltender to share the net with Jacob Markstrom.
With Jim Benning's emphasis on icing a competitive team, so as not to dishearten their young players, he may be tempted to look for an experienced veteran number one goaltender in free agency. If he does, he has options, from Steve Mason and Brian Elliott, to former number ones Ondrej Pavelec, Antti Niemi, and Jonathan Bernier.
But that seems to me to be a mistake. The Canucks need to see what they have in Markstrom, as he's reaching the age where goaltenders start to decline. If he's not a number one starter now, he likely never will be. In addition, some of those veteran options will command either too much money or term and the ones that don't are likely not any better than Markstrom to begin with.
Instead, I would suggest they find another goaltender like Markstrom: a career backup/1B in his mid-twenties, who has potential and could push Markstrom and step in if he falters, but not provide an obstacle. And, if this goaltender proved to be better than Markstrom, then so be it.
Here is where a number of Canucks fans will shout out, "Eddie Lack!" but there are a couple issues there. First, Lack isn't a free agent, so will require moving assets to reacquire. Second, that feels a little unfair to Markstrom, bringing back a fan favourite for the camera to cut to on the bench every time he falters. And finally, do you really think this management group is interested in bringing back Lack?
The Canucks were reportedly interested in someone else along these lines: Mike Condon. But he just re-upped with the Senators for three years at $2.4 million per year. I would suggest a two-year contract might be more palatable with Thatcher Demko waiting in the wings.
In any case, Condon wasn't necessarily the best option.
As much as Condon has been a "backup," he's actually played a number one role the last couple seasons, stepping in for the injured Carey Price with the Canadiens in 2015-16 and for Craig Anderson with the Senators last season. Condon was below average with the Canadiens, but put up a league-average .914 save percentage in 40 games with the Senators.
Condon doesn't look quite as good when you dig a little deeper, however. His even-strength save percentage last season was well below average — 45th among the 52 goaltenders that appeared in 20 games last season — and he especially struggled on what is termed "medium-danger" shots. Those would be shots from outside the "home plate" scoring chance area, but not low-danger shots from distance.
His Goals Saved Above Average per 60 minutes (GSAA/60) was below average as well, suggesting that if he faced a higher volume of more difficult shots, he would struggle more than a league-average goaltender.
The two goaltenders I would look at instead would be Anders Nilsson and Keith Kinkaid.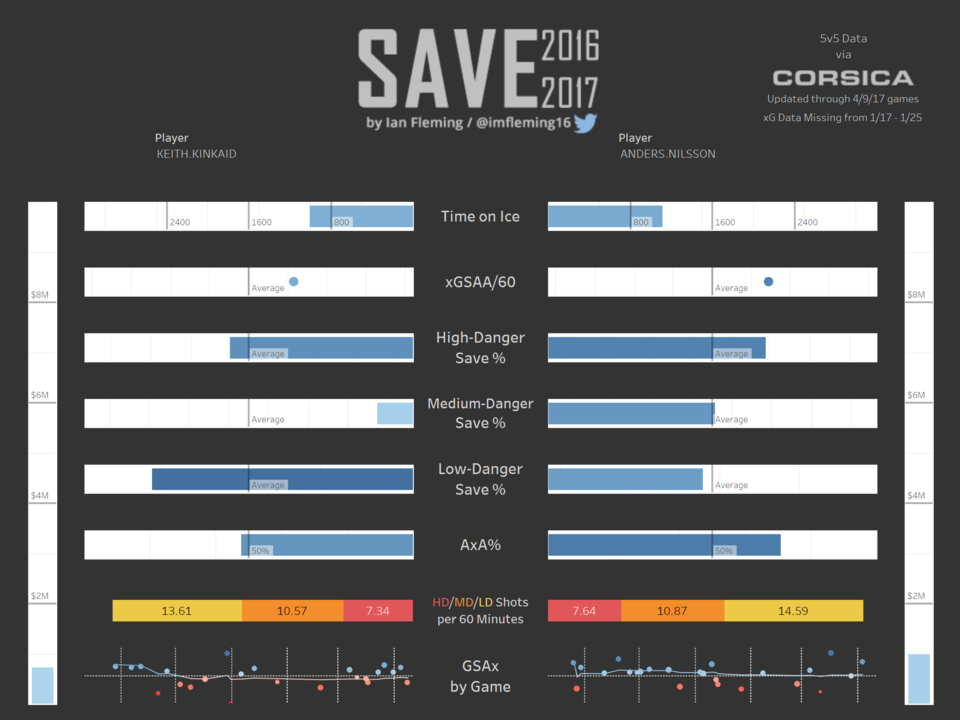 Signing Nilsson, who is 6'6" like Markstrom, would give the Canucks the tallest goaltending tandem in the league. He's coming off his best season in the NHL, posting a sparkling .923 save percentage in 26 appearances for the Buffalo Sabres.
That save percentage behind the Sabres' defence might get him some serious attention in free agency, but his overall lack of experience might keep the price down. Still, there's reason to believe he might be the best goaltender available in free agency.
His even-strength save percentage was .933, good for 8th in the NHL among goaltenders with at least 20 appearances. His GSAA/60 is well above average, fueled largely by his very impressive .838 save percentage on high-danger shots.
The one red flag for Nilsson is that this season was so much better than his previous years, where he's bounced around New York, Edmonton, and St. Louis. Has Nilsson figured out his game or is this past season an outlier? On a two-year contract, I would be willing to find out.
Keith Kinkaid has a small connection to the Canucks: way back in 2010, he was an invitee to their development camp. He eventually signed with the New Jersey Devils, where he backed up Cory Schneider this past season.
The 6'3" goaltender was solid in relief of Schneider this past season, posting a .916 save percentage in 26 appearances. At even-strength, he was even more impressive: his .929 save even-strength save percentage was 13th in the NHL.
Unlike Nilsson, Kinkaid doesn't fair quite as well in GSAA/60, finishing below average due to a sub-par save percentage on medium-danger shots, just like Condon. The upside to signing Kinkaid, however, is that he would likely be cheaper and has a slightly better track record than Nilsson overall, posting a .915 save percentage as a backup in 2014-15, with a weaker season in 2015-16.
If Nilsson isn't interested in signing with Vancouver, Kinkaid would be a decent Plan C.
Or the Canucks could go crazy and sign Philipp Grubauer, who the Washington Capitals are trying to trade, to a surprise offer sheet. If only offer sheets were a thing that actually happened in the NHL. Trading for Grubauer would also be an option, of course, but offer sheets are so much more intriguing.