Worms are the ultimate transformers: they take waste and turn it into something valuable, says Vancouver artist Al McWilliams.
Intrigued by what they represent, McWilliams took shots of worms in 2002 as they burrowed through his compost and printed the images. Those images have now been turned into several signs, as part of a larger public art exhibition, and erected in Mount Pleasant with the text "Development Permit Application."
The "Slow Dirt" signs were produced by Other Sights in collaboration with McWilliams for Western Front Gallery's multi-site exhibition called Urgent Imagination: Art and Urban Development, which runs until Oct. 31.  
Other Sights produces temporary projects in public space that "consider the aesthetic, economic, and regulatory conditions of public places and public life."
McWilliams told the Courier at one point he envisioned his worm images on rotating billboards. "My notion was to show this underground economy against the grid of the city — the sort of rampant development that's going on, of concrete, glass and steel, but underneath it all there's this whole other activity going on that's pretty important."
When Other Sights decided to use the worm motif in its contribution to the exhibition, organizers approached McWilliams to collaborate on the faux development permit signs.
Other Sights spokesperson Jen Weih describes worms as humble, slow, careful and inevitably productive creatures whose function is additive as opposed to extractive.
"It's not going into the community and pulling out profit. It's being in a community and generating value embedded in that community," she said.

Slow Dirt evolved from an earlier Other Sights initiative called I Know What I Want, an open studio located at Kingsgate Mall in which artists created small models of Mount Pleasant residents' desires for the future of the neighbourhood.
"Reflecting on the [project], we thought one of the ideas that emerged was that the speed of development was a challenge to communities," Weih told the Courier, citing issues such as sudden, significant increases in commercial leases that force out long-term small businesses.
"Worms work through soil at a very gradual pace," she explained. "In part, this project is asking a question about how changes in the built environment might move at a pace that allows existing communities to adapt to and evolve with and inform the changes that take place in a community."
Ultimately, Weih said Other Sights wants to add to the conversation about how the city is changing.
McWilliams, meanwhile, hopes passersby are "perplexed" by the signs.
"I think there's a certain level of discomfort when you see an image like that. It's kind of like your own innards. At the same time, I think they're kind of beautiful and elegant in some other way. It'll make people stop and try to figure out what it is when they see [the words] Development Permit Application.' They'll start to say what kind of development? What's going on here? Questions are really all that I'd like people to come away with."
The multi-site exhibition included a two-day conference, as well as a reading of a poem about worms called "How To Remember" by Meredith Quartermain, which were held earlier this month at the Western Front gallery.
The gallery, which is getting community amenity contribution funding garnered through the Independent development project, is also exhibiting a pink inflatable worm cascading over the edge of its roof.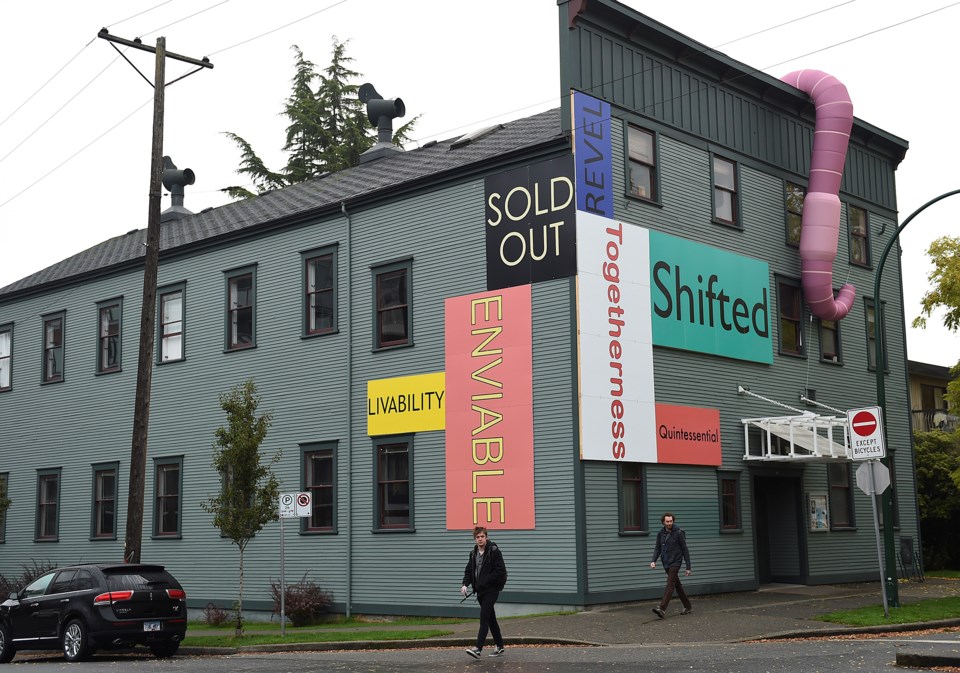 (On a side note, one of the six worm signs was removed because a leg of the sign infringed on a property owner's land, while the one that replaced it, which was erected entirely on public property, has since mysteriously disappeared. Another one installed at Keith Drive and East 10th has also mysteriously disappeared. Two of the signs have been tagged.)
noconnor@vancourier.com
@naoibh