When Coun. Andrea Reimer walks around with a City of Vancouver-branded umbrella, people often stop to ask where they can buy one.
"Not just in Vancouver — I've been in other cities with it and had people stop me and ask me how they could get it," she told the Courier.
The umbrella, modelled after a white one the city produced for the 2010 Olympics, is black on the outside with the words "City of Vancouver" printed on it. When it's opened, the inside reveals a city map noting cultural institutions, bike paths and transit stops.
But if you want to buy one, you can't. It's a protocol gift handed out to visiting dignitaries during rainy months. Other popular protocol gifts include a glass mug that says "Office of the Mayor" with a Vancouver crest on it and a set of coasters designed by a Vancouver artist depicting four different city scenes.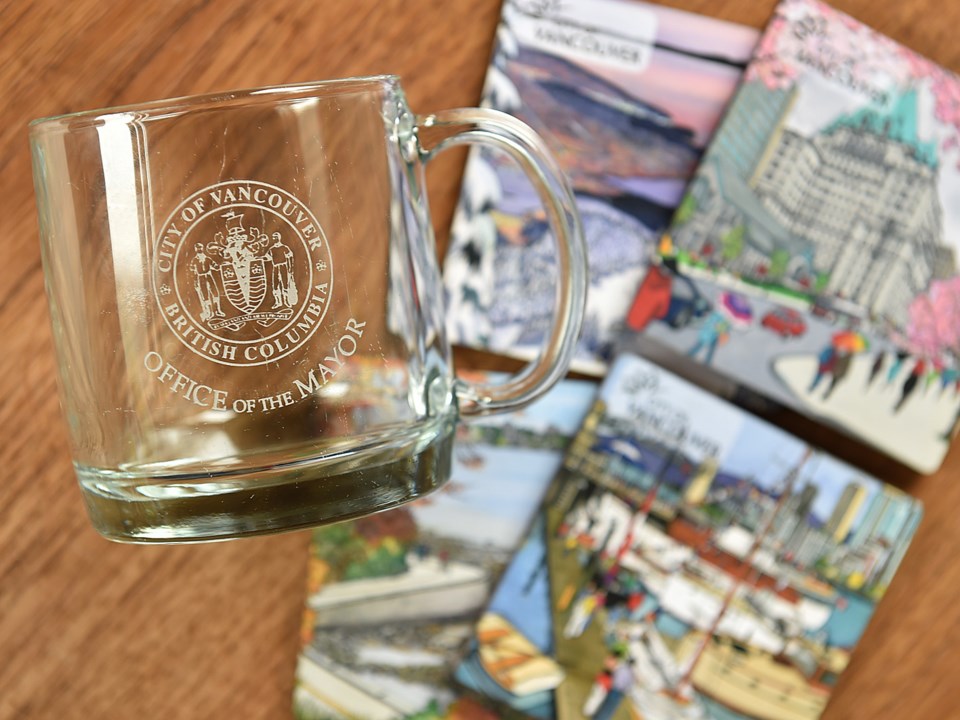 The possibility that such City of Vancouver-branded products could be sold to the public, partly as a way to build civic and community pride according to Reimer, is one of the reasons she crafted a motion to be debated at the Feb. 20 council meeting.
It proposes city staff report back on the viability of launching a "cost neutral retail operation for Vancouver branded products and other items for which the city has licensing rights."
Reimer says there's a high demand for these products from the public and visitors.  
Limited items are already sold by some departments such as the City of Vancouver Archives, which sells prints of old photographs on a cost-recovery basis and mass reproduced postcards with popular Vancouver images.
The city also gets requests for reproductions of items, including public art, street banners and street signs.
TransLink's store
Based on Reimer's motion to council, a retail operation "can be managed by a third party in a manner that allows for expanded public access to products with limited or no public financial exposure."
She'd been thinking about the idea for a while when she saw TransLink launched its own online store last fall. It's run by a third party, SVS Marketing. Reimer met with TransLink staff to find out how they did it and discovered it was being done in a cost-neutral way, and that it stands to produce a profit.
It is profitable, according to TransLink spokesperson Jill Drews, who describes online sales and sales from a pop-up shop in December as "very strong" and that they've outpaced expectations.
TransLink receives a portion of the profits based on its licensing agreement with the third party provider. Any profits earned by TransLink will be driven back into the system.
Current products include a Wayfinding throw pillow ($59), a SeaBus scale model ($25), a "Transit Stole My Heart" bus onesie ($16.95) and a SkyTrain beach towel ($38.50).
Drews said popular items are SeaBus and SkyTrain models, retro bus blind mugs, system map throw pillows, shower curtain and black retro bus blind T-shirts.
Retail opportunity
Reimer's motion makes the point that, along with transit authorities, a number of municipal governments and other local government agencies have created retail operations, either online or through brick and mortar outlets, for public purchase of their branded products.
Before she drafted the motion, she also talked to City of Vancouver staff to see what challenges they could see. As it happens, the city has to arrange for small print runs for protocol gifts and it might be easier to have a third party manage it.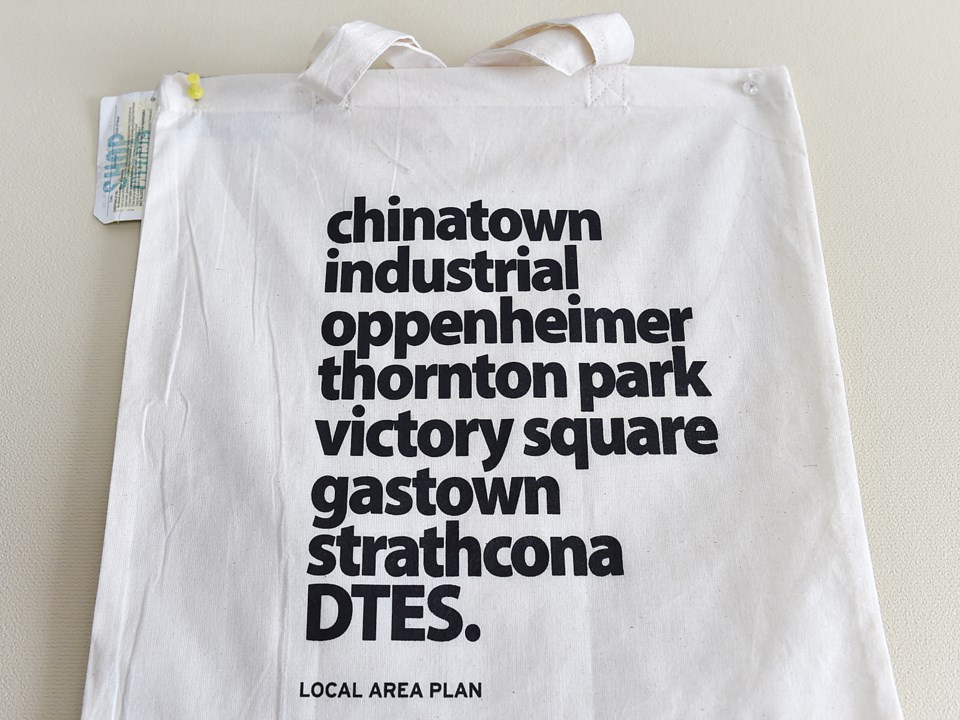 "The other thing I've been thinking about for a while is we have this incredible public art. Not every artist may want to, but if they wanted to sign a licensing agreement with the city, there's an opportunity there," Reimer said. "I, for example, talked to an artist from the Year of Reconciliation who did a public art piece and had a reproduction made of one of those prints because I love it. I have it up in my office but I'd love to have it up in my home."
But details of how such agreements would work would need to be determined.
Reimer also noted that in cities such as Toronto you can order up a personalized street sign from the city.
"[A retail operation] just seemed like such a great opportunity… to make things available to people that might want them, that help increase pride and recognition of Vancouver, [and] help get some artists out there into the community," she said.
Reimer suggested that a retail operation might also create an opportunity for small-scale Vancouver designers, who don't have the same distribution capability, to get their products out to the market.
"I think that's more of a phase two [idea] but I think creating a platform creates that opportunity for local designers," she said.
Reimer added that her main goal is not for the city to make money.
"I wouldn't mind having a profit off of it but even if it were cost neutral it would be worth doing because the opportunity for expanding the visual recognition and the brand and the pride in Vancouver is worth a cost-neutral enterprise," she said.
When asked why she's bringing the idea forward now, Reimer said it's not her highest priority, but it had been languishing on her list of things to do.
"There are things in cities that are not urgent, not critical, but important, and those are equally deserving of the attention of city council," she said.