Quinn Hughes has been a beast on the power play for the Vancouver Canucks. Despite being a rookie, Hughes leads all NHL defencemen in power play points and has been a big part of why the Canucks' power play is fourth in the NHL, converting on 26.8% of their chances.
Hughes has also been effective in transition, moving the puck up ice with his skating and passing to create offensive opportunities at even strength.
There is one question that dogs offensive defencemen, particularly rookie offensive defencemen, and particularly particularly undersized rookie offensive defencemen: how do they play defensively?
It isn't a question that Travis Green seems to worry about. He hasn't shied away from using Hughes in high-leverage situations defensively, even if he's used another one of his pairings in a matchup role. So, while Alex Edler and Tyler Myers are first over the boards against the opposition's best forwards, Hughes, with regular partner Chris Tanev, hasn't been far behind.
Hughes himself brushed off any concerns when I talked to him about the defensive side of his game earlier in the season.
"I've never worried about my defensive game, it's always been the media questioning my D game," said Hughes. "As a 5'10" defenceman, that's just the thing to do. I've always felt comfortable with my D game. For me, I've just got to keep playing hard and strong."
The truth is, Hughes has been just fine defensively. While his best defensive attribute has been his ability to keep the puck at the other end of the ice, Hughes has been adept at in-zone defence as well.
We could look at that via analytics, noting that Hughes leads the Canucks with the lowest rate of shot attempts, shots on goal, and expected goals against when he's on the ice at 5-on-5. That's remarkable for any defenceman, let alone a rookie defenceman with the fourth-highest 5-on-5 ice time per game on the team.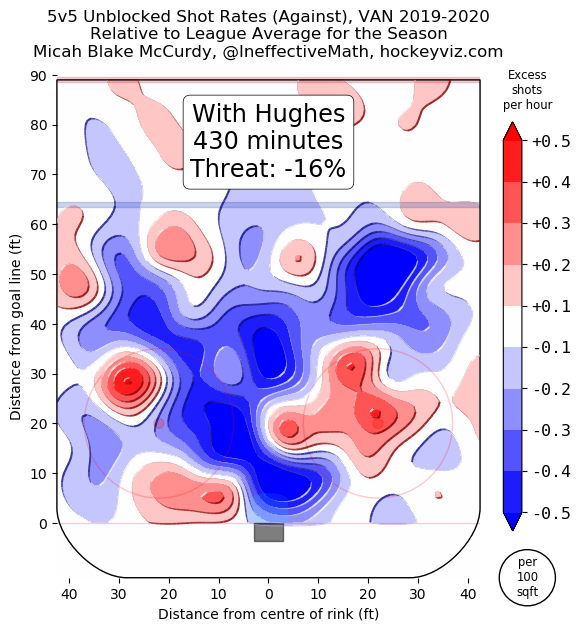 We could also point to his defensive heatmap this season from HockeyViz.com, which illustrates that the shots opposing teams do get when Hughes is on the ice are coming primarily from outside of the most dangerous scoring areas.
Or, we could watch this fantastic analysis from Will Scouch, whose Scouching website and YouTube channel is indispensable for those who love the NHL draft and prospect scouting. Recently, he has branched out into reports on current rookies in the NHL and his Rookie Report on Quinn Hughes is a great look into the strengths and weaknesses of his defensive game.
Will breaks down several plays from an October game against the Washington Capitals. In this game, Hughes had a fantastic end-to-end rush on the power play to set up a goal by Brock Boeser, but that's not the focus of the video and that clip doesn't appear here.
Instead, he focuses on the little details: his reads, gap control, and stickwork, among other things. From the video, it becomes clear that Hughes is far from a liability in the defensive zone, as he makes some excellent plays to divest opponents of the puck and turn the play up ice.
At the same time, there's still a lot of room for improvement.
For instance, the second play he breaks down, starting at around 2:08, shows some moments where Hughes doesn't make the best choices. He gets beat wide by Evgeny Kuznetsov, then flies the zone early instead of providing a safer breakout option, and gets knocked off the puck when he does come back defensively.
Mostly, however, we see a lot of very good reads and some creative ways to use his size as a strength, rather than a weakness.
At 15:12 in the video, there's a wonderful moment where Hughes neatly spins the puck away from Kuznetsov to negate a chance for the Capitals to create a longer possession in the Canucks' zone. It's a surprising move for Kuznetsov, who was likely anticipating a physical battle for the puck in that moment.
Likewise, at 18:14 in the video, we see a nice illustration of Hughes' mobility on his skates, as he spins wildly to close down a T.J. Oshie rush. While other defencemen may have tried to make a more physical play, Hughes uses his skating to give Oshie no room to maneuver.
All around, it's a great look at the details of Hughes' game and shows that he's not just an offensive threat, but has the potential to be a number one defenceman in all aspects.
"Quinn Hughes is going to be a special defenceman for Vancouver for a long time," concludes Will. "You might criticize small defencemen for certain reasons, but what Quinn Hughes does is makes up for that in very creative ways, which is something that I look for with undersized defencemen."