On the first Friday of November, Park Heffelfinger and George Siu, business partners who run Memphis Blues' flagship location on Broadway near Granville Street, received the notice they were dreading — official termination of their lease.
Their restaurant is in a building at 1465 West Broadway — one of two older buildings being knocked down to make way for a new office building, which will also feature an entrance for one of the stops on the Broadway subway extension.
Due to a demolition clause, they were given 90 days to get out.
It's been tough news to accept because they've operated the southern barbecue restaurant at that location for 18 years, and they initially thought the development and subway stop would only involve the four-storey office building on the corner, at 1489 West Broadway, where a Royal Bank branch was located..
In the summer, however, they realized an eviction notice for their one-storey building next to the Royal Bank site, which is also home to a Chinese restaurant and a breakfast place, might be coming.
They heard rumblings about a potential sale of their building. At that point, they were leasing on a month-to-month basis, but they say the owner asked them to sign another lease and suggested they'd have a better chance at getting some form of compensation if they did. Chesterton Property Management, which couldn't be reached by the Courier, is the owner.
In early September, one of the affected businesses arranged a meeting with a provincial government consultant working on the subway project, which Heffelfinger and Siu sat in on. Siu said he felt there was a hint some form of compensation might be forthcoming, although a follow-up email indicated the province didn't want to "insert" itself in the existing relationship they had with their landlord. That representative then recused himself from further discussions because he'd met Siu years ago and referred him to a colleague. (Heffelfinger and Siu plan to meet that person soon and hope for a positive outcome.)
Meanwhile, exact plans for site emerged in mid-September and early October. On Sept. 18, the provincial government publicly announced one of the Broadway subway extension stops would be at Broadway and Granville. Not long afterwards, on Oct. 2, the Courier published a story revealing PCI Developments was proposing a five-storey office building on properties at 1465 to 1489 West Broadway, which would include an entrance to the station.
The Courier contacted the Ministry of Transportation and Infrastructure, which is responsible for the subway project, near the end of October to ask about the project and possible compensation for existing business owners. The ministry stated in an email that "the property was already in the process of being redeveloped, providing an opportunity to integrate the station into a future new building."
"The arrangements with the existing tenants are a function of their existing lease terms and the current landlord," the ministry wrote.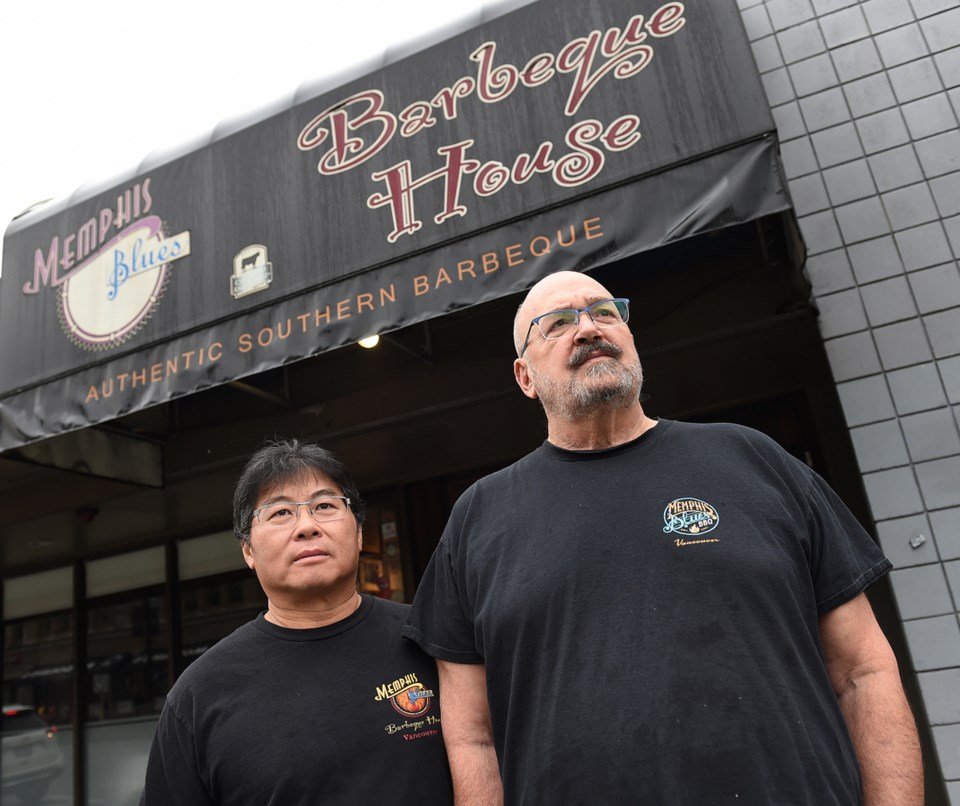 Heffelfinger, meanwhile, told the Courier the Nov. 1 eviction notice was "heartbreaking."
"This was the flagship for the longest time. This was the one that won us all the awards," he said.
Despite expecting it, Siu said the eviction notice still came as a shock.
"You don't think you're going to get evicted until it really happens," he said.
The property is where their Memphis Blues brand was born, although they own another location on Commercial Drive, which was recently renovated, and they're franchisors for one on Robson Street and others in Langley, Abbotsford, Kelowna, as well as five in Alberta.
But as the original restaurant, the Broadway location is significant to the pair, and its closure will have a trickle-down effect, hurting its suppliers as well as staff — some of whom have held positions for more than a decade — if jobs can't be found for them at other Memphis Blues sites.
For Heffelfinger and Siu, the prospect of having to leave, and potentially not being compensated, has been a major disappointment after spending almost two decades establishing and running the restaurant. Their future plans remain uncertain.
They could leave the West Side altogether and focus on their Commercial Drive operation, they could rent space in a commercial kitchen and operate what's known as a "ghost restaurant" by sticking to a delivery-only service model or they could re-locate their Broadway site — a massive financial undertaking.
Along with storage costs, it would be months of work before they could re-open. They'd either have to lease a new space and build from scratch, forcing them to deal with construction, inspection and permitting headaches, all of which Heffelfinger estimates could cost as much as half a million dollars, or they could buy an existing restaurant — their preference — which would still require cosmetic changes and cost as much as $250,000.
The expense isn't the only factor to consider — finding a good location that draws clientele, and that isn't at risk of demolition, is tricky in Vancouver.
Heffelfinger and Siu have already talked to realtors about options. Not much is available.
"We're not giving up because we want to see what's out there and see if there is a location that we could use. We're going to try because it's a serious brand issue for us. It's about keeping that brand presence and keeping the brand looking healthy and moving along," Heffelfinger said.
"So anybody out there who knows of anything please let us know because these restaurant spaces get snapped up pretty quick when they come along."
Siu's mood has moved from anger to frustration to acceptance, but he still thinks they should be compensated.
"[By] everybody that's involved in this project because now you're basically disrupting, if not bankrupting some small merchants along the way, as we know from the Cambie [Canada Line] experience," he said. "We want a fair shake and this is not a fair shake."
At the very least, he argues the city should fast-track any building permits required "because it's atrocious right now trying to get [a business] going."
When the Courier asked the City of Vancouver, if it would, generally speaking, offer any help to businesses that were evicted or displaced because of construction of the Broadway subway stations, the city said in an email that it "will work with the province to understand which businesses need to be relocated and will explore ways to expedite building permits that will be required."
@naoibh