The federal mortgage stress test is to blame for a drop in sales that has led to an average B.C. home price decline of nearly 10 per cent, according to the British Columbia Real Estate Association (BCREA).
In its February 2019 market report, released March 13, the BCREA said that there were 4,533 MLS home sales in B.C. in February, which is 27 per cent lower than February 2018.
The average MLS home sale price in the province last month was $678,625, a drop of 9.3 per cent from one year previously.
The combination of lower sales and falling prices meant that total residential resale dollar volume in February was down 33.8 per cent year over year, to $3.08 billion.
"Prospective homebuyers continue to be sidelined by the mortgage stress test," said Brendon Ogmundson, BCREA's deputy chief economist. "As a consequence, and despite a strong B.C. labour market, sales remained slow in February."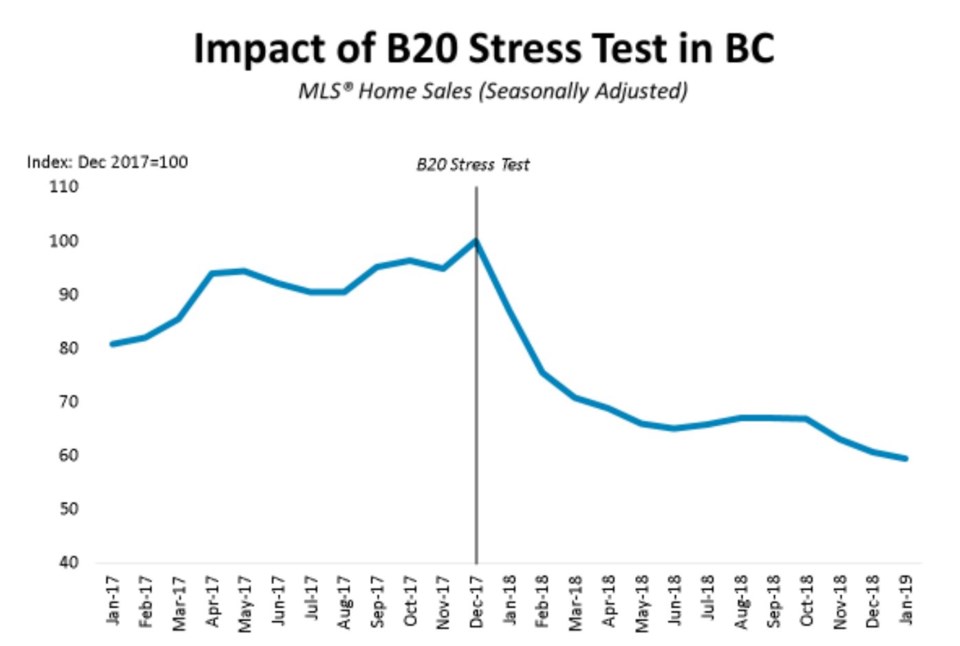 Falling home sales across the province have led to a rise in available home inventory. Listings on the MLS have risen by 36.5 per cent over a year to 30,891 homes for sale in B.C. This brings the overall sales-to-active-listings ratio to a balanced market, at 14.7 per cent, compared with the strong seller's market at 27.4 per cent one year previously.
As ever, markets vary widely across the province, and a decline in the average provincial sales prices doesn't necessarily mean better affordability in certain areas or among certain home types. Of the 12 real estate boards cited in BCREA's report, 10 saw February home sales down from a year ago, but seven boards are still seeing higher average home prices than one year previously. These areas are Victoria, Vancouver Island, Powell River, Kamloops, Kootenay, Chilliwack and B.C. Northern.
Of the larger markets, the area to see the biggest annual price decline was Greater Vancouver, at 11.5 per cent. A significant reduction in sales of expensive Metro Vancouver detached homes has brought down the average sales price significantly, while entry-level home prices have not fallen by as much.
Calls to scrap stress test
The BCREA is now repeating its calls for the federal government to scrap the mortgage stress test. In a note released this week, BCREA chief executive officer Darlene Hyde said, "We would like to see a review and reconsideration of the current mortgage underwriting 'stress test,' as well as a return to 30-year amortizations for federally insured mortgages. These rules must be changed now before B.C. families are left further behind."
Hyde said that it was not only the real estate market that was affected by the stress test, but also the wider economy. "The B-20 stress test is also having a negative impact on homeowner equity, family spending and the housing stock itself. There's a knock-on effect to the overall economy as families who are worried about declining home equity cut back on retail spending, home renovations and other products and services."
However, the dampening national economy could potentially result in improved housing affordability, which in turn could spark in a turnaround in home sales. While many pundits had previously forecast further interest rate hikes this year, the Bank of Canada's dovish stance on the back of the slowing economy has held overnight rates steady, and there is now talk of possible interest rate reductions. Government bond yields, which dictate fixed mortgage rates, are at an 18-month low, which is likely to push mortgage lenders to reduce their fixed rates. This could ease pressure on buyers subject to the mortgage stress test, creating a little more affordability that could prompt an uptick in home purchases.
"Falling mortgage rates should provide some relief for homebuyers, providing a small boost to affordability heading into the spring," added Ogmundson.