Whether it was the intended consequence or not, Canada's tough new mortgage qualification rules have made it harder for many people to buy homes, which has led to a lull in activity in the country's hottest real estate markets.
In B.C., "less frenetic housing demand" has resulted in July home sales across the province dropping 23.9 per cent compared with July last year, according to B.C. Real Estate Association (BCREA) figures released August 13.
Cameron Muir, BCREA chief economist, said, "The B.C. housing market continues to grapple with the sharp decline in affordability caused by tough new mortgage qualification rules. However, less frenetic housing demand has created more balanced market conditions in many regions, leading to fewer multiple offers and more choice for consumers."
The BCREA's graph below shows how July's sales compare with provincial sales totals since 2002.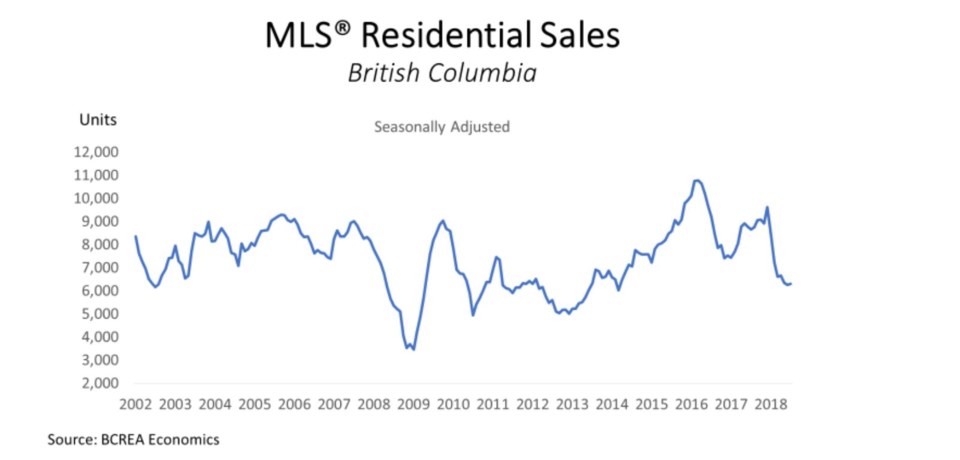 The balanced market and additional choice do not seem to have translated into lower purchase prices for buyers in most regions, at least not compared with a year ago. Although the average MLS® residential price in B.C. was $695,990, down 0.4 per cent from July 2017, this decline was entirely driven by Greater Vancouver's annual price drop of 0.5 per cent. All the 11 other B.C. real estate boards posted average sale price increases in July, compared with the same month last year.
Even in Greater Vancouver, according to recent stats released by the Real Estate Board of Greater Vancouver, the year-over-year overall price drop was caused by a correction in detached home values in some of the pricier areas, while condo and townhome prices continued to rise on an annual basis.
That said, July's B.C. average price of $695,990 was 2.8 per cent lower than June's $716,326, and seven out of 12 boards reported an average sale price that was lower than the previous month.
Year to date, the average resale price is 2.1 per cent higher than in January-July 2017, at $725,639.
Trend-defying regions
Some B.C. real estate boards are defying the provincial trends. B.C. Northern, which includes Prince George, saw July home sales rise 22.5 per cent year over year, with average prices up 8.6 per cent and active listings down 10.7 per cent. The region is still in a balanced market but its sales-to-listings ratio is heading towards a seller's market, now at 18 per cent. (A balanced market is between 12 and 20 per cent for a sustained period.)
Victoria Real Estate Board, despite posting resale transactions down 19 per cent year over year, saw average prices up 9.7 per cent on an annual basis. The capital region is in the grip of B.C.'s strongest seller's market, with a sales-to-active-listings ratio of 30.5 per cent for combined property types. However, this is weaker than the same month last year, when it was 53.2 per cent.
Powell River was the board to post the steepest annual jump in average sale prices in July, up a whopping 35.4 per cent. However, Powell River is a small market where average prices can fluctuate greatly each month, so this figure doesn't necessarily indicate a trend.