It may have been a relatively mild January for weather, but it was definitely chilly on the homes sales front across B.C., according to the latest data released February 15 by the B.C. Real Estate Association (BCREA).
The association reported that there were 3,456 home sales on B.C.'s MLS in January, which is 33.2 per cent lower than the same month in 2018, although 1.4 per cent higher than December.
"B.C. households continue to grapple with the policy-induced affordability shock created last year by the federal government," said Cameron Muir, BCREA's chief economist. "The resulting pullback in consumer demand is largely responsible for January's lacklustre performance."
Last month saw the slowest January market for total B.C. home sales since 2013 (see graph below).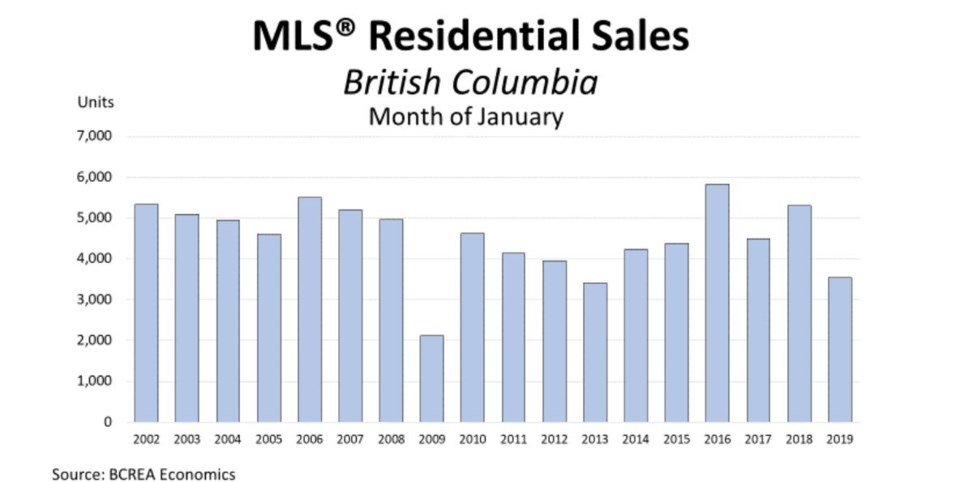 All 12 of the province's real estate boards saw annual sales declines, ranging from a drop of 7.9 per cent in the Kootenay to declines of more than 50 per cent in the South Okanagan and Northern Lights regions. However, these are small markets with few monthly sales and therefore more prone to volatile percentage changes than larger markets.
The average sale price of a home, across the whole of B.C., fell 7.7 per cent year over year to $665,590. Of the individual boards, only Chilliwack, Vancouver Island and B.C. Northern cited annual average price gains.
B.C.'s overall residential real estate market is on the cusp between a buyer's market and balanced conditions, with a sales-to-active-listings ration in January of 12 per cent. A buyer's market is defined as being below 12 per cent for a sustained period. However, this again varies widely by region.
"Many B.C. regions are now exhibiting buyer's market conditions," added Muir. "However, B.C. Northern, the Kootenay, Okanagan Mainline and the Vancouver Island markets continue to reflect balance between supply and demand."