While it's important to increase the stock of purpose-built rental buildings in the city, it's also important for those buildings to be well managed.
Karen Sawatzky, a life-long renter and chair of the City of Vancouver Renters Advisory Committee, made that point May 3 during a press conference at Emerald Terrace in the West End. LandlordBC organized the event to highlight the Certified Rental Building program. Launched in 2015 in B.C., the program, which also exists in Ontario, aims to give renters confidence a building is well run. It's geared towards larger landlords with apartment buildings of 20 or more units. (Another quality assurance program called the Landlord Registry targets smaller landlords in the secondary market)
Sawatzky spoke in support of the CRB program alongside LandlordBC CEO David Hutniak, Vancouver-West End MLA Spencer Chandra Herbert and Paul Sander, director of Hollyburn Properties, an early adopter of the program. Hollyburn recently completed certification on four more of its rental buildings. Now, Hollyburn has certified 49 buildings, representing 3,272 units.
For her part, Sawatzky emphasized the importance of purpose-built rental buildings because they provide a more secure, long-term form of housing for renters because they can't be taken out of the rental supply as easily as secondary suites and rented condos.
"That's really important but at the same time, even if we have purpose-built rental buildings like we're surrounded by here [in the West End], if they are not maintained properly, if they are not repaired when they need to be, tenants in those buildings are not going to have that housing for the long-term.  They're not going to be secure and they're not going to feel secure in those buildings even if they are purpose-built rental buildings," she said. "Similarly, the way those buildings are managed in terms of notification and communication with tenants and following rules and things like that — if that's done in an arbitrary and unpredictable manner, then tenants are also not secure in those buildings."
Sawatzky credited the CRB program for upholding standards and setting a higher bar.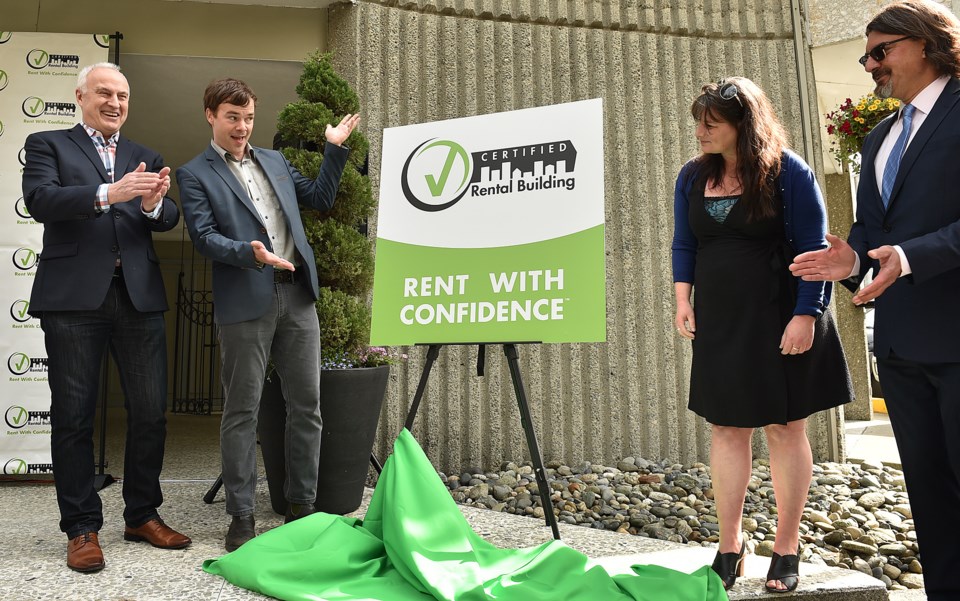 In B.C., more than 80 buildings, representing about 10,000 units, have earned the certification, according to Hutniak. Buildings go through a third-party audit by J.D. Power and Associates to ensure they meet requirements.
Although there are costs involved in certification, such as licensing, training and auditing, Hutniak said they're not onerous. The bigger investment, he explained, is in the time it takes to prepare to implement the required 50 standards of practice into the day-to-day operation of a building. Buildings also have to recertify every three years.
Hutniak, who noted the program is endorsed by a wide range of groups including the Tenant Resource Advisory Centre, described it as "rigorous" since companies need to adopt best practices from headquarters on down.
Sander, from Hollyburn Properties, said it's "committed to providing safe, secure, well maintained and sustainable rental housing."
"The CRB program remains the only tenant-focused, quality assurance program of this type in Canada and North America, for that matter. It assists rental housing consumers in identifying professionally managed, multi-residential apartment buildings by providing the proverbial Good Housekeeping seal of approval," he said. "It gives prospective apartment dwellers confidence in the housing that they choose."
Chandra Herbert, who Premier John Horgan recently named to head up a new rental housing task force, called the relationship between a landlord and tenant one of the most important because, "what's more important than your home and the ability to live in your home in peace, with security, and knowing that it will be there tomorrow and next year and, ideally, years and years after that."
Like Sawatzky, he pointed out many British Columbians are now renting, instead of owning, and renting for the long-term.
"We need to raise the bar when it comes to rental housing. I want to eventually get to the place where landlords compete for tenants, as opposed to where we are right now with the low vacancy rates where renters have to compete for landlords. That's why building more purpose-built rental and making that an attractive option for people is so important," he said.
Chandra Herbert maintains the certification program also sends the message to other housing providers that they have to follow the rules.
"That's the other reason this Certified Rental Building program is so important — it does raise the bar. It creates that incentive, I hope, overtime, to get other buildings to join up, to learn the rules, to follow the rules, to ensure that they are being fair to those who live in their homes."
Both Hutniak and Chandra Herbert acknowledged many Vancouver residents don't have a choice where to rent because of the near-zero vacancy rate, but Hutniak said certification is still important.
"When we announced this [program], and it was the same with the Landlord Registry, people said, 'Well, there's zero vacancy, why do you care?' This is precisely the time to introduce programs like this because we need to ensure that the industry, broadly, is respecting the law. It doesn't change our commitment to safe, secure housing. We want the industry to up its game," he said.
Sawatzky agrees the program helps set higher expectations and standards for all rental housing, not just the buildings that are officially part of it. She also believes it is helping to change and improve the perception people have about renters and rental housing.
"While home ownership is still a goal for many, it's important that we increasingly and assertively take steps toward putting rental housing and renters on an equal footing with owning in terms of tax policy, in terms of security, and in terms of quality of life it can offer," she said.
"I see this program making a contribution to that shift because renters should not have to put up with inferior homes and living environments on the grounds that they are just passing through. Many of us, in fact, are not just passing through and increasingly people are renting for longer periods of their lives or their whole lives. So that makes programs like this even more important."
@naoibh