Priced at $40,000 when it was first constructed, a spacious house in First Shaughnessy was once described in a newspaper article as "easily the most costly and handsome home" built in 1921 with "a very liberal use of fireplaces" (10). But it also has a modern-day claim to fame. Between 2002 and 2005, Hollywood stars Goldie Hawn and Kurt Russell owned it after moving to Vancouver so their then-teenaged son Wyatt could play hockey.
Now, in a move that's sure to please both local history lovers and the Hollywood obsessed, the historic home is one of nine properties on Vancouver Heritage Foundation's 16th annual Heritage House Tour June 3.
The tour is one of the foundation's main fundraisers, typically bringing in around $50,000, which, after tour costs are covered, is used for the charitable organization's many endeavors.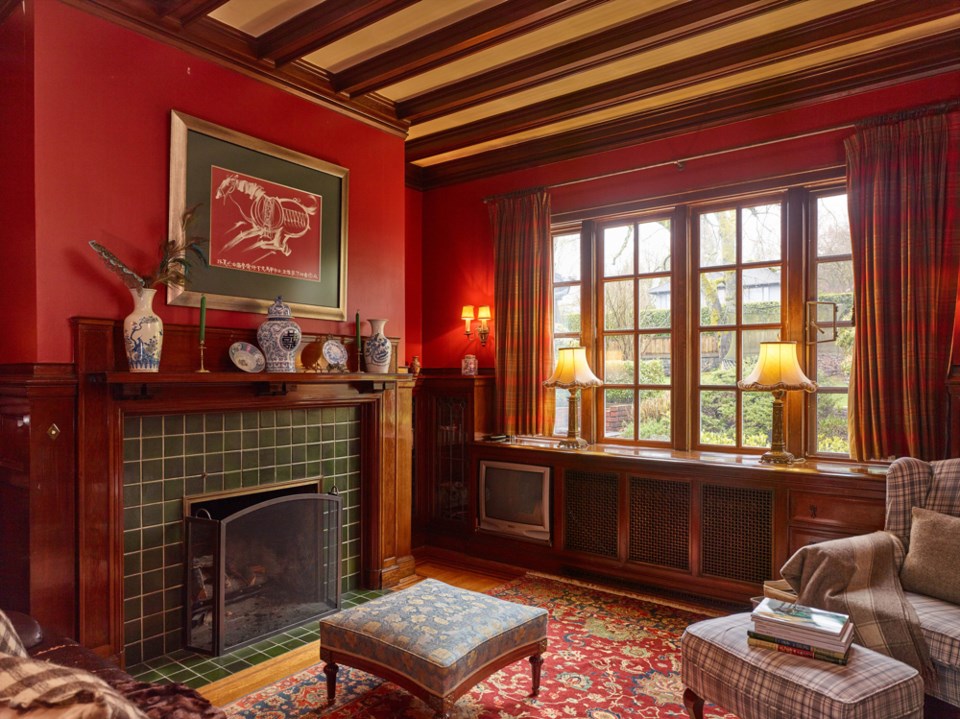 Judith Mosley, executive director of Vancouver Heritage Foundation, expects both its historical significance to Vancouver and the Hawn-Russell association will attract some tour-goers.
"There are many different reasons why places are important, whether it's a historic house like this or a more modest building or other places in our city," she said. "There are different ways that people connect to that. The fact that Hollywood stars lived there — people connect to that. And, of course, [it's] another chapter in its history and interest. Whatever helps people to connect to different places in the city and enjoy them is part of that history and value that those places have."
Many original features have been retained in the home, according to Mosley.
"Clearly, it was a special house when it was built and the current owners appreciate that," she said. "I think when they saw it, they really loved it. They retained the interior and just did a little bit of decorating. That's about it."
The owners
For much of its history, the house was owned by successful businessmen.
Architect Bernard C. Palmer designed and built it for Captain Montague Tuck and his family in 1921. Tuck was was president of a tea and coffee company called Braid, Tuck and Company Limited. He was also a director of Gold Seal Brand, an importer of fine wine and liquor, during Prohibition times. The Tucks lived in the home until 1928.
The next owner was Arthur Barden Palmer (no relation to the architect), his wife Lillian and family. Originally from Prince Edward Island, Palmer was once shipwrecked in his youth on the way to France. He went to the Klondike for the Gold Rush and did well running stores with his brothers. Palmer later came to Vancouver and set up a road construction contracting business, which built the first Cambie Street Bridge — not the one that exists now. The Palmers lived in the house from about 1929 to 1935, before moving to an apartment in one of the other buildings on the Heritage House Tour.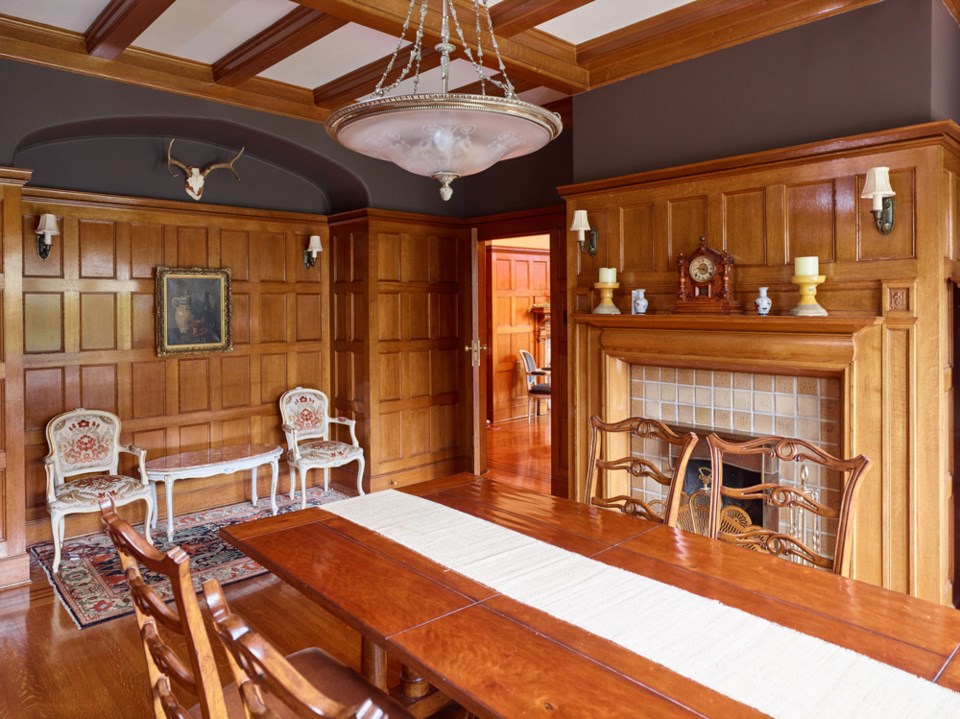 Charles Pretty, president of Pretty's Timber Co. Ltd., and his wife Rowena, lived in the home for many years, from the late 1940s to the 1970s. (Pretty's father, Charles Fenn Pretty, moved from Ontario to New Westminster in 1890 and made money in the fishing industry before he began investing in timber lands as that industry took off.)
"Having a long-term resident like that can often be a really great thing for a house like this because it can mean it was well looked after and enjoyed. And, they clearly didn't do lots of big changes," Mosley said.
After Hawn and Russell owned the property between 2002 and 2005, someone owned it for a short time before the current owner, who Mosley won't reveal for privacy reasons, bought it in 2008.
Mosley also isn't revealing the address of the home for privacy reasons.
"When people get their tickets, the booklet has a write-up of each of the stops in the tour and that's when they get the addresses," she said.
History lesson
Jim Wolf, an architectural historian, said a mix of house styles are represented in First Shaughnessy, a neighbourhood that was developed over 1909 through the boom and leading up to the First World War. One of the most distinctive aspects is that a large majority of the homes were done in what's called "Bankers' Tudor," a variation of English Arts and Crafts.
During the Arts and Crafts movement, architects looked back to the Elizabethan and Tudor eras when "beautiful, romantic houses" were built with a construction method called half-timbering, Wolf said.
"They would create framed timber buildings and, of course, you would have this framing exposed… you'd have these exposed frames that were stuccoed in between. When the revival came, the English Arts and Crafts architects wanted to evoke this style," he explained. "They did it with decorative stucco and beam work, which we call Tudor-style, but it really is mock-Tudor because it isn't an Elizabethan building. It's one that's harkening back to that era because it's a very romantic style."
Bernard C. Palmer, the architect, worked on many of the homes in First Shaughnessy prior to the First World War at an architectural firm called Fox and Maclure where Palmer became very successful. Cecil Fox, however, died in the First World War.
"When the boom came in the 1920s, Palmer was known to all of the families as the person to call if you wanted one of these [types of] houses, so he obviously got the contract for the house based on all the work he had done," Wolf said.
It was big news to build such a large house after the war because it took a while for the trades and goods to come back to pre-war levels. There was also a scarcity of cash. As a result, the home was featured in a newspaper article headlined: "Ten Fireplaces for Shaughnessy Home."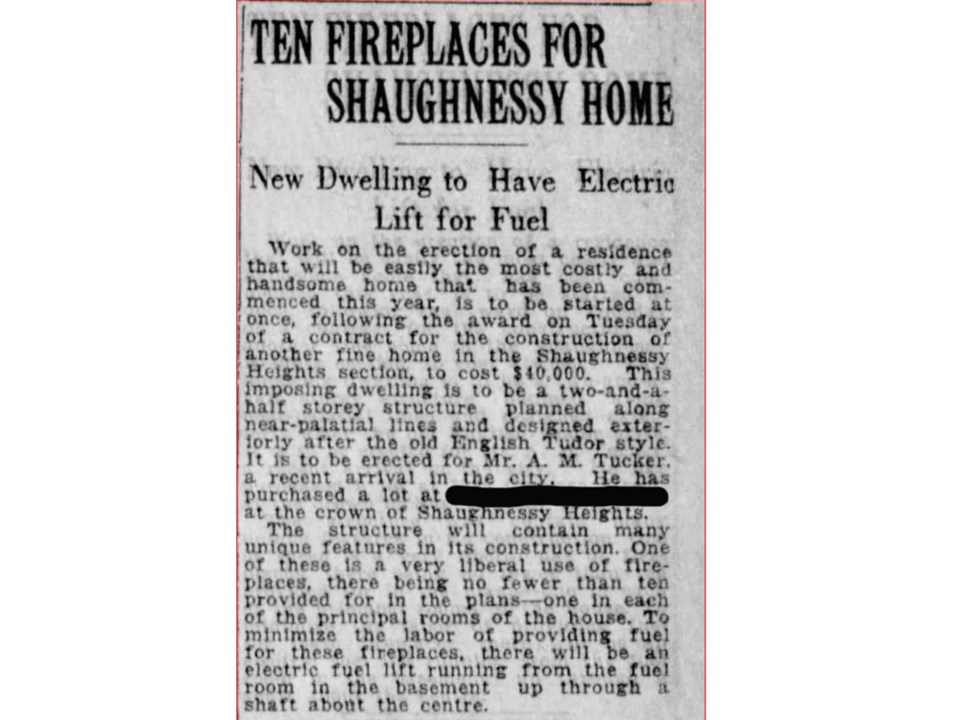 "This house was one of the first and few built after the war that was still quite grand —10 fireplaces is a lot of fireplaces," Wolf said.
One interesting feature was a built-in lift for both wood and coal "to minimize the labor of providing fuel for these fireplaces." Batchelder tile, meanwhile, was used on the fireplaces — it's a tile from California made by a well-known family that produced Arts and Crafts tile.
"It shows that Palmer adapted. He probably couldn't get English tile as easily in that period after the war, so he's going to North American sources and getting something from California," Wolf said. "These houses really reflect their time. Here, he's looking to California and an American source to give that house the character that he wants to create."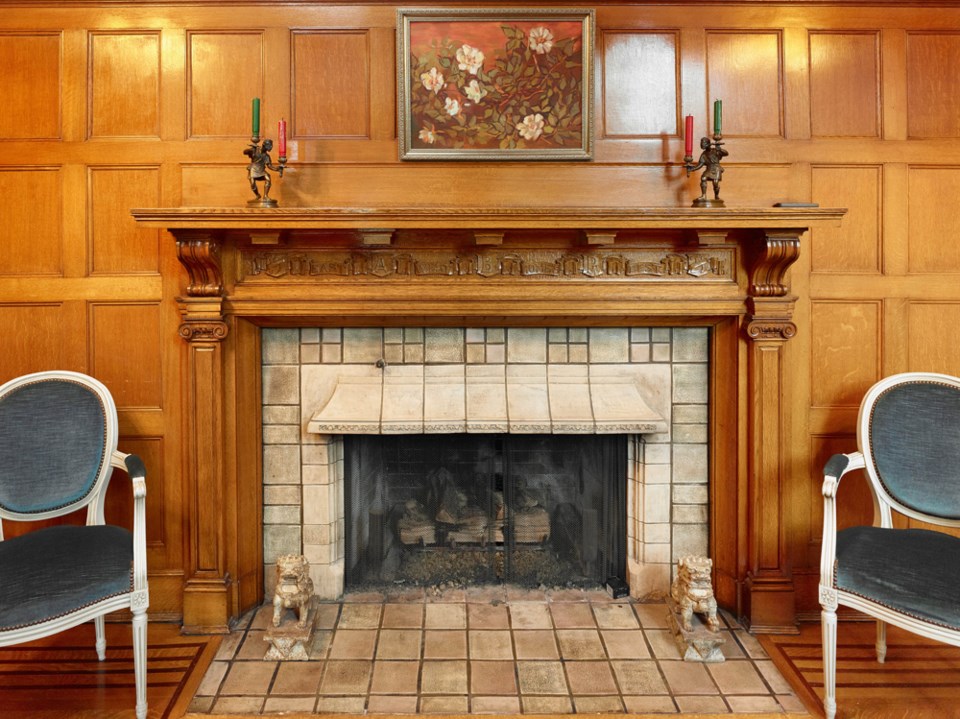 The home also reveals beautiful design work throughout, including woodwork that creates "instant atmosphere" and a sense of permanency, which suggests it had been there for decades, according to Wolf.
"You didn't want new wealth, so to speak, you wanted to show that your money was old and established and that you had style. This idea of coming into rooms that had this beautiful paneling and beamed ceilings — that all evoked both style and wealth," he said.  "Architects were really pandering to their clients' taste for exhibiting their wealth and style. It's not any different than today except the style was, of course, quite different."
As many older homes have been torn down or remodelled to fit modern tastes, it's becoming increasingly unusual to see heritage homes that have been preserved.
"When you get an owner who appreciates all of those qualities and does everything that they can to preserve them and care-take them for the next generation, that's rare. It's rare to find it and it's rare for people, not only to take care of them, but to restore them," Wolf said.
"We've had houses that have gone through a period of restoration and care only to have the next caretaker or owner come along to say, 'I don't want any of this' and rip it all out and replace it. When you get the chance to see a house that's fully intact, of its era and with all this quality behind it, it is something to be cherished, something to be valued and certainly something to be celebrated."
The self-guided Heritage House Tour runs from 10 a.m. to 5 p.m., June 3. For prices and tickets, go to vancouverheritagefoundation.org or call 604-264-9642.
noconnor@vancourier.com
@naoibh