Following the unveiling of designs for a 52-storey high-rise at the new "Granville Gateway" on the downtown end of Granville Bridge, the City is seeking interest to redevelop the land currently used by the bridge's downtown off-ramp loops.
In an "Invitation to Offer to Lease" on the City's website, the City is marketing both the east and west loop lands for redevelopment, following its decision to demolish those loops.
The opportunity being offered is not to buy the lands, but for a 99-year lease on the properties at 625-675 Pacific Street and 777 Pacific Street.
The sites, which total 1.86 acres, are currently home to the curved off ramps that connect the bridge to Pacific Street. The lot inside the west loop is currently occupied by the Black Top & Checkers Cabs HQ, whose lease is up in July 2018, and the east loop is vacant. After the loops are demolished, the sites will be subdivided into four blocks.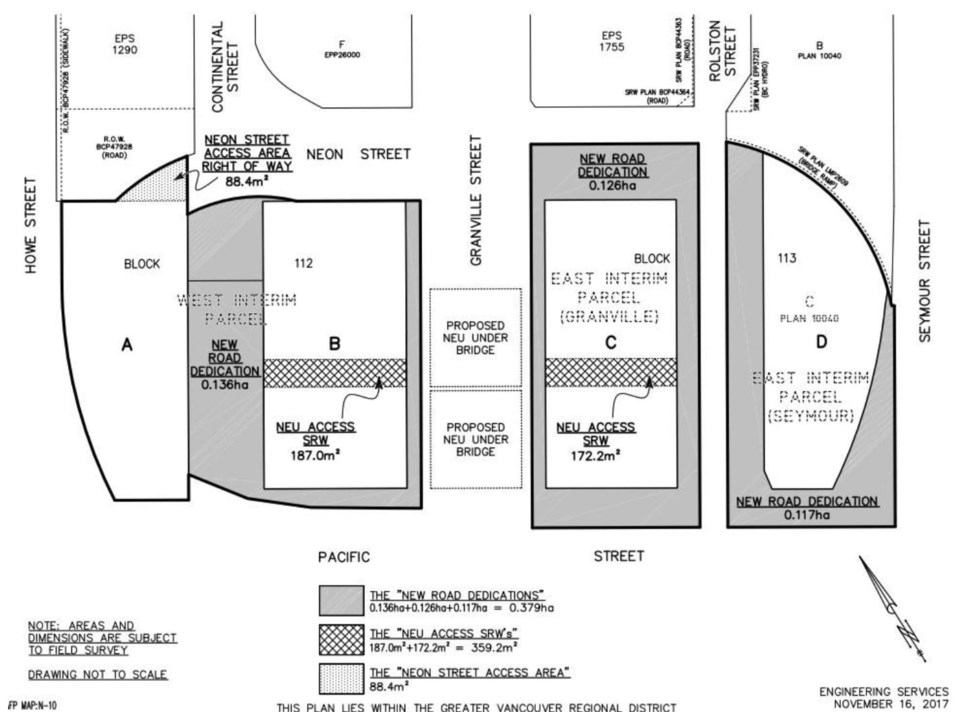 The invitation calls for 725,000 square feet of residential, commercial and non-market housing in various new buildings in the four new blocks. At least 58 social housing units must be built as part of the east loop redevelopment, and 51 social housing units and a 37-space childcare facility are required for the west loop. In addition, the notice stipulates that two of the four blocks should be rental buildings with 20 per cent of the units at below-market rates.
The redevelopment of the area is intended to create a "Granville Gateway" neighbourhood, with 493-foot Vancouver House and the proposed new 535-foot building 601 Beach flanking each side of its entrance.