When an accident happens on the Second Narrows Bridge, traffic comes to a standstill on East Hastings Street, sometimes for hours. Cars and buses have trouble getting through, and excess traffic spills onto residential side streets in an often futile attempt to avoid the congestion.
The area's "extreme traffic" problem is one of the reasons Gabriel Hasselbach opposes two 14-storey rental buildings being constructed on the last block of East Hastings in Vancouver.
PCI Developments wants to construct one of the buildings on the south side of Hastings at Kootenay Street and the other at the opposite end of the block at Boundary Road.
They're being considered under the city's Moderate Income Rental Housing Pilot Program (MIRHPP), which means at least 20 per cent of the residential floor space must be reserved for units geared towards households earning between $30,000 and $80,000.
Mayor Kennedy Stewart has been vocal in support of the pilot program as a tool to create more affordable rental units. Launched by the previous council, it's limited to 20 rezoning applications.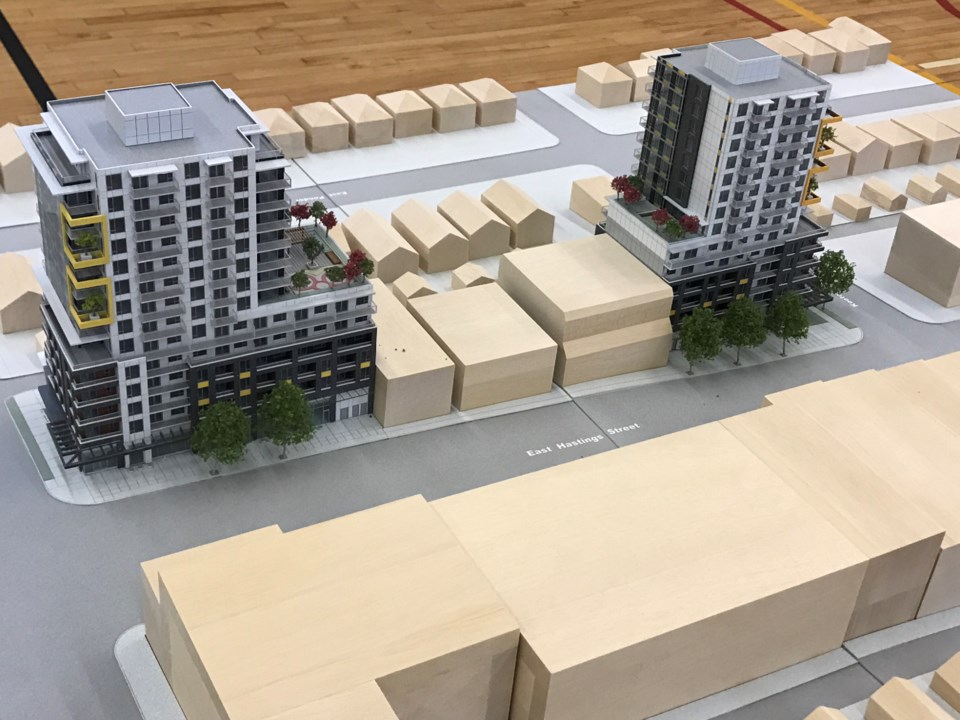 Together, the two buildings proposed for the East Hastings sites would produce 212 rental apartments, 43 of which would be rented at non-market rental rates. Existing zoning allows for buildings up to 13.8 metres or four storeys.
The proposals went before a well-attended open house in the neighbourhood June 4.
Hasselbach, a strata council chair and building manager who lives on the Burnaby side of Boundary, maintains the infrastructure in the area isn't capable of handling the additional 212 units.
"That's a great pilot program. It's just they've chosen this area and it's the wrong area — there's too much stress on it already," he said.
"I think the general consensus here is that this pilot program for moderate income housing at 14 storeys is fine — it's all good, we like that vision. It's just the wrong place because this area can't handle it."
Hasselbach added that the new buildings would push out the few successful businesses along that strip, including Oscar's Pub, a nail salon and a liquor store. He also said not enough parking stalls are planned for the 212 units, and that the density being proposed is more typical for near a SkyTrain station.
In this case, there's no SkyTrain station, but the Kootenay bus loop is across the street from the proposed development sites.
Hasselbach suggested the buildings would be better suited for a property such as the old BC AirCare emissions testing site, which is not far away. It's south of Hastings Street, off Boundary Road, at 3608 Charles St.
Steve Canofari, who's lived in the neighbourhood his whole life, said he's not opposed to the project, but he argues not enough parking is being included in it.
An 86-unit market rental building, constructed under the city's Rental 100 program, opened on Hastings at Skeena Street in recent years, which Canofari says doesn't provide sufficient resident parking. It's created problems, according to Canofari, because many tenants have cars and they park on side streets, which has pitted "neighbours against neighbours."
"I don't have an issue with market rentals in this neighbourhood because this part of Hastings Street has been a commercial wasteland for years. It's important we bring more vibrancy to the neighbourhood. I think tenants are no different than [homeowners] — they shop, they drink, they eat — it's good for the neighbourhood," he said.
"What I'm opposed to is not necessarily the scale of the development, but it's the lack of parking that's being included in the plans. That's my single biggest concern."
While he has "no issues at all" with 14 storeys, Canofari said he'd like to see one parking spot per unit.
Currently, a total of 98 parking spots — 41 in one building and 57 in the other — are proposed.
Canofari suspects some neighbours might object to the buildings' proposed heights, but he believes they might accept ones that were seven, eight or nine storeys.
"You have to accept people have to work in the city and it's expensive. I have kids and I want my kids to grow up and I want my kids to be able to afford to live in Vancouver. I don't want them paying $3,000 a month for rent. So, we need more density but we need smart density and somebody needs to be accountable to make that happen. In this case, no one's stepping up to take accountability."
Prior to the open house, someone posted numerous signs on utility poles around the neighbourhood to raise concerns about the developments and the city's notification process.
Kierra Morgan called the signs "alarmist" and cited them as the reason she dropped by the open house to support the projects.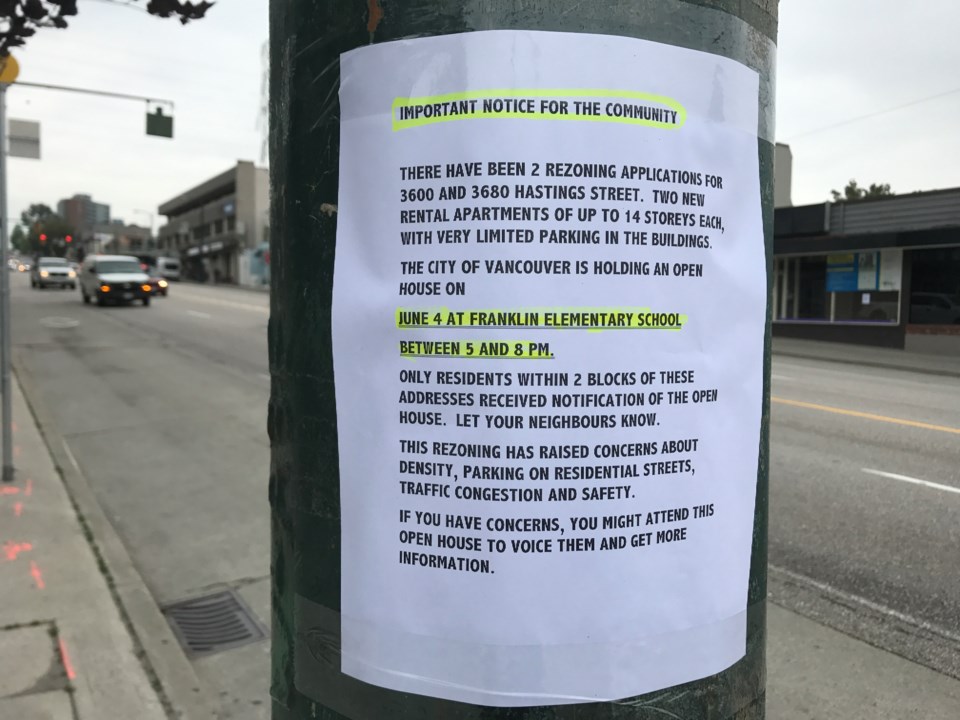 She rents nearby in Burnaby, works in the area, and is a member of the Vancouver Tenants Union.
Morgan hopes limited parking proposed for the building will translate to fewer cars on the road and more transit users.
"Parking is obviously a concern but we are also next to a transit loop, which is a great spot to develop for transit accessibility," she said.
Morgan hadn't heard of the "moderate income" program before the open house but said it's "the only chance I'll have of living in a place that's not full of bugs."
Stuart Smith, a member of Abundant Housing Vancouver who's a regular at development open houses, also stopped by to express his support.
"There may be people here who have concerns of some sort but we should remember Vancouver is a big city. There's 650,000 people who live in Vancouver, and two and a half million who live in Metro Vancouver — some of them might wish to join us. Only a very small percentage of those people are here," he said.
"We're asking whether more housing should be allowed, and we're basing our idea of community feedback on a very small number of people who just happen to show up… that's a mistake. If we want to know about public opinion of whether or not people should be allowed to live at this address, we should ask everyone in Vancouver. We should ask everyone in Metro. We should ask everyone in Canada because we're allowed to move around the country. If we don't want to build housing, we're effectively building walls around our city, around our neighbourhood. We're building walls to keep our kids out and that's not very equitable."
Smith rejects arguments against the projects that are based on traffic or parking problems, calling those criticisms a car problem not a housing problem.
"If we want to fix car problems, we should have less cars. So let's welcome the people and let's get rid of the cars. Let's have less parking, let's charge more for parking, let's have less highways and more transit, but welcome the people," he said.
Smith maintains one of the best neighbourhoods in Canada is the West End, which he said is special because so many buildings were built with no parking and very few people drive.
Tim Grant, vice-president of development for PCI Developments, described reaction at the open house as "balanced," with a vocal group raising concerns around traffic management. He said the company will work with residents and the city to try to address those issues.
"There's a good turnout — lots of neighbourhood residents who are obviously very passionate about what's going on in the neighbourhood, so we're going to work through it with them over the next several months and try to address some concerns and then, hopefully, identify some improvements," he said, adding, "There's a lot of street parking that's going on in the area already. I think a lot of it is somewhat unregulated so I think that's maybe one issue the city could be looking into."
The company will be conducting a detailed traffic analysis, and Grant noted that everything that's being proposed is in line with city bylaws, policies, and "very much in keeping with the moderate income policy."
He said most people understand the need for rental housing, and moderate income housing, and this is the type of "innovative" proposal that the city needs to address the affordability crisis.
"With those intents, and working with the neighbourhood, we're hopefully going to get to a place where everyone's comfortable with what we're proposing," he said.
@naoibh
Note: This story has been clarified since first posted.